C9 ME 109 SPC - 100 Piece
Limited Edition
C9 ME 109 SPC - 100 Piece
Limited Edition
Being honest has always been an important part of what defines us here at Christopher Ward, so we'll go ahead and say it: designing watches can sometimes be a long and arduous process. Yet there are also times when a watch emerges so organically - from the inspiration behind it, to its dial design and movement - the process flies by.
Such was the case with the C9 Me 109 SPC. CW co-founder Mike France and Pilot Magazine editor Philip Whiteman were at the end of a business lunch at White Waltham, an airfield situated just a few miles from our Maidenhead HQ, when Philip retrieved a vintage Junghans clock from his bag. Taken from a Messerschmitt Bf 109, a Luftwaffe fighter that had seen service between 1937 and 1945, it was in need of repair (a new mainspring, it transpired).
But it was the movement inside, a Unitas 6497, that caught Mike's attention. After all, our in-house modification of the Unitas, Calibre JJ02, would later awe the horological community upon its release inside the C9 Single Pusher Chronograph in 2012. Combining JJ02 with a Junghans-inspired watch seemed the perfect choice, whilst also marking its first appearance in a watch outside of our dress Collection.
Despite being a watch of Germanic styling in a predominantly British-influenced aviation collection, the inside of the C9 Me 109 SPC is just as special as its exterior. Marking only the second time our award-winning Calibre JJ02 will appear in any Christopher Ward, one thing is for certain: JJ02 is flying high.
More
Less
Calibre JJ02 Single Pusher Chronograph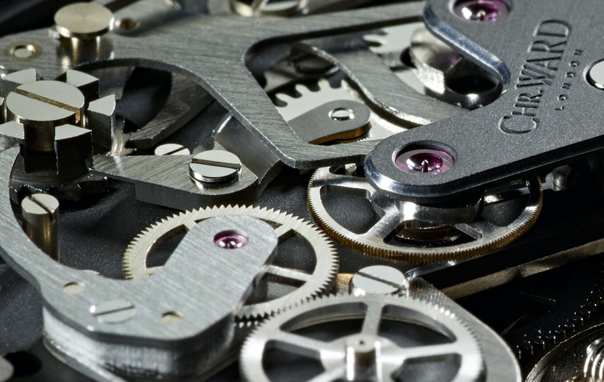 Calibre JJ02 Single Pusher Chronograph
Using the Unitas 6497 movement as a base, our master watchmaker Johannes Jahnke worked alongside Jean Fillon - an artisan with over 50 years of expertise working upon movements including the 6497 - to create a horological masterpiece. How? By deconstructing the Unitas and effectively re-designing its chronograph function with a new main plate, winding mechanism, and centre and second wheels.
This enables a continuous-seconds sub-dial and a 30-minute totaliser to be operated through a single pusher in the crown, all of which are perfectly visible through the Me 109's museum-grade reverse sapphire crystal.
Calibre JJ02 has also been overhauled cosmetically, with its balance bridge, chronograph bridge and chronograph module receiving a black PVD coating and chamfered edges.
Beautifully engineered and gorgeous to behold; this is the art of horology writ large.
More
Less