At Christopher Ward, we love those who share our underdog spirit: the doers, the daredevils and the downright determined.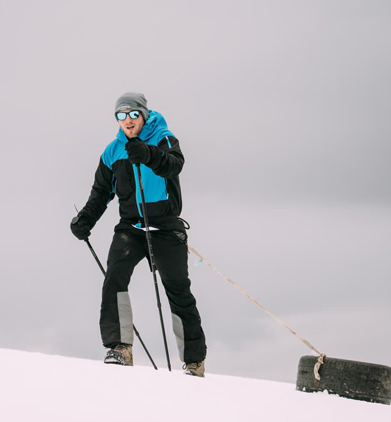 And our Challenger programme is our way of helping people with exceptional talent, but less-than-exceptional bank balances. Whether they're musicians, athletes or explorers, we've got their back.

Since its inception, the programme has helped to create four world champions and one Olympic gold medallist (step forward Henley's Will Satch MBE).

Our latest Challengers demonstrate Christopher Ward commitment to those who go the extra mile – literally – to achieve their goals.

Tom Hicks is a conservationist and explorer. In 2022 he'll be travelling to the North Pole to measure snow depths and melt rates for the David Shepherd Wildlife Foundation (Charity No. 1106893).

The Foundation runs wildlife preservation schemes in Asia and Africa, and while far from the Arctic, flooding caused by polar meltwater will destroy the habitat of the animals it's trying to save. Tom's work will be vital in protecting at-risk species from the effects of climate change.