Introducing the new C1 Worldglow. It's a dress watch, it's an advanced travel tool and it boasts a lume like you wouldn't believe
What are the most influential watches of all time? An argument could be made for the Cartier Santos, the first pilot's watch, designed in 1904 for Franco-Brazilian aviator Alberto Santos-Dumont, who'd become tired of grappling with pocket watches while wrestling early fixed-wing aircraft through the sky. Or there's Blancpain's Fifty Fathoms, which introduced the idea of a rotating bezel and defined the modern dive watch. Or Audemars Piguet's Royal Oak, which combined 'steel' and 'luxury' in polarising fashion – at the same time creating one of the hottest categories in watchmaking.
Would it be too much to mention the new C1 Worldglow in the same breath? After all, it too defines a new category – something we're calling the 'high-vis dress watch'. Let us explain…
"It's no secret that the C1 Moonglow is the bestselling dress piece we've ever made," says Christopher Ward CEO and co-founder, Mike France. "Nor that the C60 Sapphire is another major hit. People enjoy how innovative we've been with our dial designs recently, and the Worldglow is part of that. A sister watch to the Moonglow, it combines a useful complication with an unbelievably bold, sexy application of lume. The Worldglow has everything: the sophisticated elegance of our C1 dress-watch case, a world timer function courtesy of our ingenious in-house Calibre JJ03 on a Sellita SW330 base, and all that Super-LumiNova® lume. This 'glow' category is definitely something we're beginning to own."
It's all part of a greater thread running through everything Christopher Ward has been doing of late. The company has already established itself as an innovative constructor of watch cases; it's been lauded for its daring in-house complications; and now it's having esoteric fun with other areas of watch design, too.
"Quite simply, we want to be bolder and braver than everyone else," says Mike. "And creating a new category is a perfect example of that. Now we've worked out how to do exciting, unusual things at a price point that suits, you can be sure we're going to have fun with it."
Quite simply, we want to be bolder and braver than everyone else
For Adrian Buchmann, CW's head of product design, the Worldglow was almost a no-brainer. "Why not take the things we learned from the Moonglow," he says, "then apply them to a second JJ complication?"
Calibre JJ03's world timer function works through a rotating 24-hour disc, read in conjunction with the international cities around the dial's outer edge; it allows you to instantly tell the time in each with just a twist of the crown. A slim red 'radar' wedge, meanwhile, lets you quickly focus on a key time zone.
But though a no-brainer in some ways, this wasn't a watch without its technical challenges. The biggest was making sure the world map, which makes up the bulk of the face, glows as brightly as possible – a tougher job than anyone initially thought. "The first prototypes we made weren't quite right," Adrian says. "The dial proportions looked 'off', and – even more of a concern – the glow wasn't as pleasing as we'd hoped for."
The issue, it turned out, was to do with the amount of transparent material separating the luminous world map from the eye. "On the Moonglow, there's just one layer of sapphire between the glowing moon and you," Adrian says. "But construction of the Worldglow is more complex. You get the glowing material at the bottom, then a sapphire dial printed with the black sea areas of the map above that, then another transparent disc for the GMT elements, then finally the sapphire that seals the watch. And every layer of transparent material can take out some of the glow."
It's as striking as a tuned car with neons underneath – although much more cultivated
The solution? A new, super-strong lume formula – and a reworked map, too. "When you compare this watch to our C1 Worldtimer, you'll see the proportions are completely different," Adrian says. "We've rotated the map and made it larger, pushing it right up to the outer edge. This means the city names are a little smaller, but it's a trade-off we're happy to make. Finally, we've added a glowing ring of luminous material to the outside edge, too, creating a border which really makes it sing."
The end result is handsome in the daylight, but even more spectacular at night, when huge swathes of the face glow a bright light-blue. "It's super-funky," Adrian says. "And as striking as a tuned car with neons underneath – although much more cultivated! This is a watch that appeals to both the sophisticate in us – and the child."
All of which makes us wonder why traditional dress watches use lume so sparingly – and certainly never like Christopher Ward has here. After all, as you can see from the pages, it's a match made in the heavens.
The C1 Worldglow is available now, from £1,750 / $1,995 / €2,100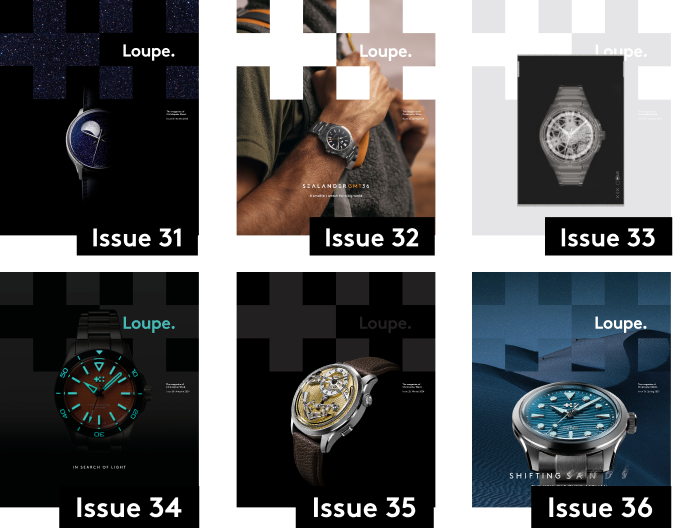 Sign up to Loupe magazine
Loupe is Christopher Ward's quarterly in-house magazine. If you want to know what's happening at CW (and you love great journalism), this is where to start. Alternatively, you can read all our back issues on your computer, tablet or phone.
Order your free copy
Read Loupe online