The result of a collaboration between Christopher Ward and Worn & Wound, two unique watches bring a distinctly Saharan feel to the world of watchmaking
The natural world has always influenced timepieces. From John Harrison's marine chronometers (created to calculate longitude) to the professional dive watches of the 1950s, the sea, in particular, has been the driving force for so much horological design.
The desert, on the other hand, well, less so. Until now.
When we decided to create a timepiece with watch blog Worn & Wound, we were determined to make something that reflected our shared values – quality, accessibility, value, honesty and a lack of pretension.
"We could have made a beautiful diving watch," says Christopher Ward CEO Mike France. "But that would have been a bit obvious. Instead, after lengthy discussions with the team at Worn & Wound, we looked somewhere else for inspiration: the Sahara desert."
The result is a pair of watches that speak not of the sea, but of sands of time and 'ships of the desert': the C65 Sandstorm and C65 Sandstorm Blackout Chronometers.
The key influence for the watches are the rugged, all-terrain vehicles of desert rallying. Built for the likes of the Paris-Dakar rally, these cars have exaggerated mudguards and improved suspension to cope with the conditions. "Translating these elements into the dial was the task we set ourselves," says Mike. "And it took a lot of back and forth before we were happy with it."
That work has certainly paid off, because the dial is an absolute gem, revealing more with every look. Concentric rings of raised metal (which match the case) alternate with 'valleys' of matte colour, and add an industrial feel. Punched-out numerals in a 'military' font mark the 3, 6, 9, and 12 hours, while lume spots at every hour and on the metal hands deliver visibility in low light. Finally, instead of a regular date window, there's an interior rotating date disk – another example of how both watches challenge watchmaking conventions.
Despite their shared DNA (including the use of Light-catcher™cases), the watches have distinct characters. The C65 Sandstorm's 38mm stainless steel case is bright, brushed and polished, while the dial is dark and understated – reflecting the look of classic 'explorer' watches. On the other hand, the C65 Sandstorm Blackout has a matte-black steel case (also 38mm) with a contrasting camel-coloured dial – perfect for after-dark excursions.
The power behind the watches comes courtesy of a COSC-certified, Sellita SW200 movement, which delivers ultra-high accuracy and reliability. It's also been engineered to withstand serious knocks, something you'll appreciate if you find yourself 'doing a Palin' and crossing the Sahara by camel.
When you turn the watches over, you'll see the vortex motif, representing the Sandstorm concept, deep-stamped into the caseback. Each watch also has its own unique serial number, reflecting their limited-edition status: there are only 200 C65 Sandstorms and just 100 of the Blackout.
For Mike France, the watches are a product of passion, expertise and watchmaking philosophy.
"The greatest compliment I can pay the C65 Sandstorm and C65 Sandstorm Blackout is that part of me wishes they were Christopher Ward main-range series watches as they'd become instant best-sellers."
Zach Weiss, executive editor at Worn & Wound, is equally pleased. "We're very proud of the C65 Sandstorm and Sandstorm Blackout Chronometers. Not only was it a joy to work with Christopher Ward, whom we've admired for years, but we feel the watches stand on their own as exciting and unique."
The limited-edition C65 Sandstorm and Sandstorm Blackout Chronometers are only available from Worn & Wound's Windup Watch Shop. For full information and prices, please visit windupwatchshop.com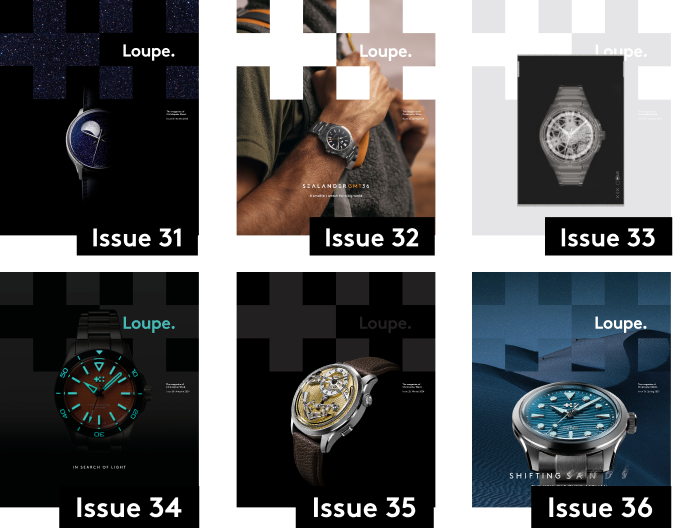 Sign up to Loupe magazine
Loupe is Christopher Ward's quarterly in-house magazine. If you want to know what's happening at CW (and you love great journalism), this is where to start. Alternatively, you can read all our back issues on your computer, tablet or phone.
Order your free copy
Read Loupe online