The limited-edition 36mm Sealander Automatic delivers a hit of vibrant colour with a case size that looks to the past – and points to a more fluid future
Colour has recently been having a bit of a 'moment' in the usually conservative world of premium watchmaking.
It's a trend that Christopher Ward has embraced. The C65 Chronograph, launched in 2020, brings late-'60s pop-art colours together with stopwatch timing, while the C65 Super Compressor's sunray-blue dial is complemented by yellow and white accents, plus an orange/white handset.
As 2022 has progressed, the appetite for challenging colours has grown in watchmaking with vibrant shades appearing on the dials of watches from both established players and micro-brands. And, as with Harry Styles ripping up the gender rule book, you're now free to choose whatever colour you want: rules around 'boys' and 'girls' shades have been consigned to the dustbin.
The second – and not unrelated – movement in watchmaking is around size. After the giant dials of the 2010s, there's been a movement to smaller case sizes that are less about showing off, and more a measured expression of personal style.
These trends sparked conversations at Christopher Ward's HQ in Maidenhead and the atelier in Biel, Switzerland. Discussions which led to initial drawings, prototypes and then the firm commitment to launch a range of watches smaller in size and courageous in colour.
Welcome to the 36mm Sealander Automatic Limited Edition.
A six-watch collection inspired by the colours of Swiss topography and English flora, and one that takes us from summer into autumn effortlessly: available in a case size that both looks back to timepieces of the past while appealing to those with slimmer wrists who've felt left out of premium watches before.
For the watch's designer Will Brackfield, case size is key to its appeal.
"It was the transitioning of Rolex's Explorer back to a 36mm case that convinced me that smaller watches were viable again," he says. "We've reached 'peak big' – with 42mm for a dive and 40mm for a dress model about as large as we'd go. People want to be less showy about what they own: now it's more about subtlety."
Francesca Robinson, Christopher Ward's Marketing director, says the 36mm Sealander is a significant sign of how the company is attempting to widen its appeal – without alienating its existing customer base.
Rules around 'boys' and 'girls' shades have been consigned to the dustbin
"It's perfect for me, not just because of the size, but because the colours let me express my personality. For women, we appreciate an accessory with power, and these watches do this."
In the metal, the watch is a beauty. As a Sealander it's immediately wearable, and the combination of the range's design aesthetic and reduced case is a joy to behold.
"We decided to expand the Sealander Automatic range with an offering for those that loved the #GODO Sealander attitude but wanted a smaller case size," says Christopher Ward CEO Mike France. "The colours make this collection suitable for everybody: 10 years ago I wouldn't have worn a watch with a bright red dial, but now I'd actively seek it out. Maybe it's the Harry Styles effect!"
Aside from black and white, there are four colour options available – each limited to just 200 pieces each.
'Lucerne Blue' is inspired by the blue of Lake Lucerne in central Switzerland, while 'Jura Green' references the Jura mountains that run between France and Switzerland. 'New Forest Yellow' takes its name and inspiration from the autumn leaves in the ancient Hampshire woodland, while 'Acer Red' pays tribute to the trees and shrubs of the maple family. And as a bonus, each of the four LE watches comes with a free leather strap – matched exactly to the dial colour.
Perfecting the colours was the job of Will Brackfield. "We could only achieve the deep shade we wanted by using layers of lacquer," he says. "The result is a dial incredibly rich in colour – and one that provides the perfect background to the indexes and handset."
Another big win for buyers is the replacement of the old 'Christopher Ward' logo-type with the fresh twin-flags emblem, which has – until Aquitaine – played a supporting role to the name on the dial. "Not having the brand's full name on the dial is something we've been planning for," says Francesca Robinson. "Again, from a female perspective, I prefer to have the abstract logo rather than the full name: it makes it a bit more mysterious."
Like the original Selander Automatic, the 36mm version is powered by Sellita's SW200-1 – an automatic movement known for its accuracy and anti-shock mechanism. And despite the attractive price, it boasts an elaboré finish more associated with timepieces many times the cost.
Finally, apart from the free matching straps that come with the limited edition versions, you can buy the watch on a vintage oak leather strap or a marine-grade steel bracket – all with our quick-release system for easy swapping.
"These watches have an easy wearability," says Will. "It's not about what gender you are, how big your wrist is, whether you work from home or go to an office every day. It's about wearing a timepiece that suits your personality, that lets you play by your rules. Not anyone else's."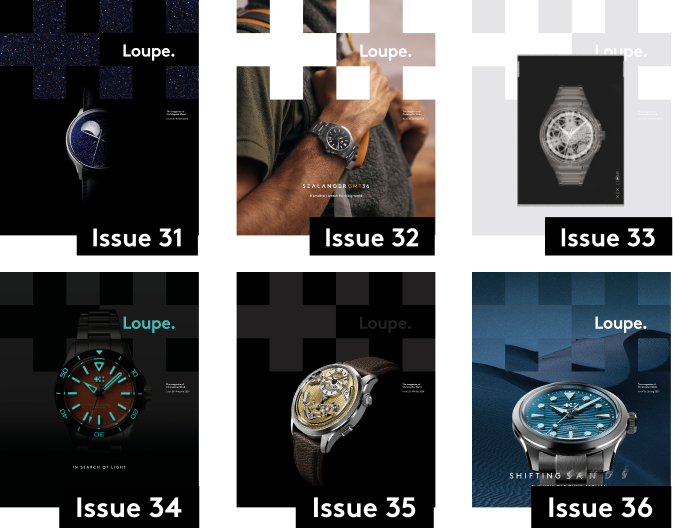 Sign up to Loupe magazine
Loupe is Christopher Ward's quarterly in-house magazine. If you want to know what's happening at CW (and you love great journalism), this is where to start. Alternatively, you can read all our back issues on your computer, tablet or phone.
Order your free copy
Read Loupe online