When darkness falls, a watch's 'lume' comes into its own: here we tell the story of how luminescence went from the wristwatches of World War I to the advanced timing instruments of today
I've heard a lot about 'lume'. But what is it?
As you might guess, 'lume' is short for 'luminescence', which, according to the Oxford English Dictionary, is the 'emission of light by a substance that has not been heated'.
What does that mean for watches?
Before the advent of lights on watches, luminous paint – daubed onto the hands and numerals of the timepiece – enabled the wearer to tell the time in the dark. Luminous watches first appeared in the early 1900s and were indispensable for British officers during World War I. The first luminous paints were made with radium – a degraded product of uranium – combined with zinc sulphide, which, though bright, did have the slight disadvantage of being highly radioactive. Despite this, zinc sulphide paint was used on military, pilot's and civilian watches until it was banned in 1967 due to (rather obvious) safety concerns. 
What lume does Christopher Ward use?
Our watches carry only the best contemporary lume: Super-LumiNova®. Made from strontium aluminate, it's not only 10 times brighter than zinc-sulphide lume, but isn't at all radioactive. We use different shades of Super-LumiNova®, depending on the model, but all are guaranteed to deliver lume – or 'afterglow' – for the watch's lifetime. 
What's Super-LumiNova®? I've seen the name around
LumiNova began life as a luminous paint company, Nemoto, in Japan in 1941. Founded by Kenzo Nemoto, it initially made paint for the Japanese war effort, but after the war ended, it switched to applying paint to clocks and watches. The company then developed phosphorescent pigment technology, inventing a paint which is 'charged' by light – both sunlight and artificial illumination. In 1993, Nemoto changed its name to LumiNova and began licensing its products to a Swiss company, RC Tritec AG, under the name Super-LumiNova®. 
How does the lume work?
When sunlight shines on the paint, its electrons energise, which in turn produces a phosphorescent glow. After a while, the electrons slow down and the lume's light fades. There are various different shades of Super-LumiNova® available: from C1 (white) and C3 (yellow) to C5 (green-yellow) and 'Old Radium' (which delivers a 'vintage' lume).
What are some examples of lume in the Christopher Ward collection? 
An excellent place to start is the C60 range of professional dive watches. When we decided to completely revamp Trident for its third iteration, we were determined to improve its lume. On Trident 3, not only have we used Grade X1 GL C1 Super-LumiNova®, we've doubled the amount, so it shines brighter – for longer. We've also deep-filled the numbers on the bezel with lume for the first time, something that ensures a diver can time ascents safely, no matter how far down they are.
You've made a number of watches with the suffix 'glow' recently. Is something happening?
Yes, the Glow collection is a new range of Christopher Ward watches that make luminescence central to design and functionality. We started with the C1 Moonglow, our fastest-selling dress watch, and a piece that captured the imagination of customers all over the globe. While it's a moonphase watch – ie, it follows the moon's orbit with the utmost accuracy – the levels of finishing, detail and luminosity make it, not just an advanced piece of engineering, but a wearable work of art. 
How is lume used on the Moonglow?
The dial features two intricate textured 'moons', both solid parts that are injected with Grade X1 GL C1 Super-LumiNova® – a world-class lume that emits an otherworldly glow in low light. The first moon sits behind the transparent smoked sapphire dial, while the second moves across the dial as it follows the real moon's movements. Instead of a date window, the watch boasts a rotating indicator wheel that lines up with the date ring, whose numbers are also covered in X1 GL C1 Super-LumiNova®. The hands are also generously coated.
Now the C1 Worldglow has joined the Glow collection
The new C1 Worldglow has our most ambitious use of lume yet. Engineered so you can monitor all 24 of the world's time zones at once, its dial carries a 3D diagram of the world as seen from above the North Pole. We used the talents of a Swiss lume applicator to ensure the map's neon-like glow can be seen through the watch's three layers of sapphire crystal. This is achieved by upping the volume of the lume: as we've seen on the C60 Trident Pro 600, more lume equals increased brightness. We also take this into account when determining the depths of our hands and indexes. 
Will there be any further additions to the Glow collection? 
It's looking that way. We'd describe both the C1 Worldglow and new C1 Moonglow as 'hi-visibility dress watches'. They're a fresh take on classic staples, and thanks to their popularity, will provide the basis for a range of ambitious luminescent timepieces.
Something that gives us a warm glow all over.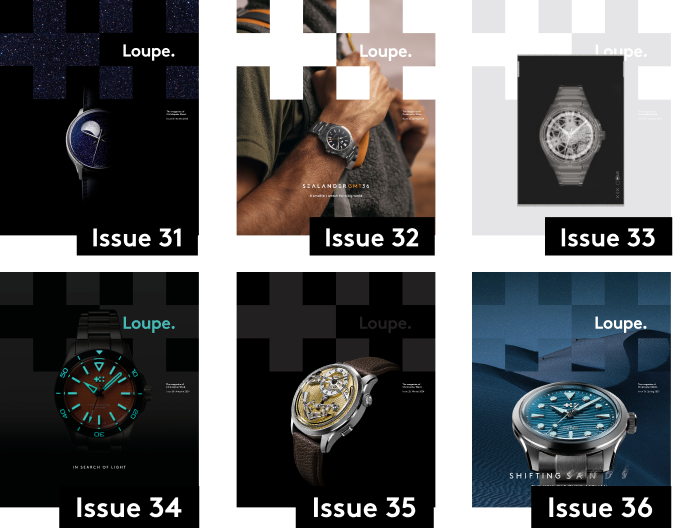 Sign up to Loupe magazine
Loupe is Christopher Ward's quarterly in-house magazine. If you want to know what's happening at CW (and you love great journalism), this is where to start. Alternatively, you can read all our back issues on your computer, tablet or phone.
Order your free copy
Read Loupe online