A legend at Chelsea and one of England's greatest midfielders, Frank Lampard is now manager at Everton, and has a lot to say about footballing philosophy and what the beautiful game has taught him about life
When it comes to elite football, Frank Lampard has seen and done it all. As a player, he won Premier League and Champions League titles with Chelsea, while playing 106 times for England. Now he's one of the brightest young managers in the English game, and is currently at Everton, where he's aiming to revive the fortunes of this famous old club. As Everton's official global timing partner, Christopher Ward's team were granted time with Frank at the club's Finch Farm training complex just outside Liverpool to talk about his plans for the Blues, his leadership style and why he's sizing down his watch size.
Hi Frank. You've made a strong connection with Everton. Why?
It's a mixture of circumstances. It was a tough time on a footballing level when I first came in and there'd been a breakdown between the fans and club. I knew it was important to build the bridge again. I was a bit concerned about being a London boy coming up to Everton. But from the moment I came in, I felt this real support. Those things – particularly in the Liverpool area – they need to be authentic. If you fake it, Evertonians will see through you.
That's true…
I threw myself into it! Around 80 percent of the people who work here [at the club] are Evertonians – you see the Everton tattoos everywhere. It got me. I felt comfortable very quickly, especially when I saw how the fans were supporting the players, from the incredible coach welcomes at the stadium to the send-offs they gave us at the training ground.
When was this?
The Chelsea game in May [which Everton won 1-0]. Burnley had beaten Watford the previous day, and we were five points away from safety with two games in hand. The fans stepped in and helped. What we saw from them is something I've never seen in football. It lifted us and brought us all together.
"We need to reconnect with our history… and I want us to reproduce it"
Going into a new club is difficult. What did you do when you came in?
We took the non-playing staff – medical, kit and analysis staff – into Liverpool city centre for a big dinner after about two weeks here. We all mixed together: we just had a beer. Football, business and life is about people. If you're a player you're selfish, but as a manager you have to think about the group. When you come into a club that's struggling, the priority is: how do we build confidence? That started with the training, the team, the squad – and then the club – the club needs positivity, too. The fans appreciated the honesty.
How do you cope with the spotlight?
You prioritise. You take on a lot more responsibility. Can you find time to be with your family or have down time? My family is what makes me happy. I go out a lot less than I used to. I find a nice balance of my job and being with my family. You realise you're driven – and I want to do the best I can.
How did you learn to be a manager?
I finished playing, worked in the media for a year and at the same time I was also doing my FA coaching badges. You work up some coaching hours, and get together with other coaches, and the FA teaches you about media and other scenarios. But, ultimately, nothing can fully prepare you for it – it's only when you become a manager that you really start to learn what it's all about.
Then you went to see Derby County…
I met the Derby owner by chance. He said, "Do you want to be interviewed for the [manager's] job?" I sat with him for two hours and was offered the role. I took the job. And I learned on the job. I had experience of being a player but about 20 percent of that relates to being a manager. The amount of questions you get: what time do you want to travel? Do you want them to wear tracksuits? When do you want to train? There are so many things to think about! You make mistake after mistake initially.
Is there a 'Frank Lampard' way of playing football?
You need a basic philosophy. Most modern coaches are the same: they want their team to play great football: high press, win the ball back. It's not that simple though and it can take time and a lot of work. The important thing is that you have firm beliefs in what you want your team to look like, and also the idea of how you communicate it to your players. At the top level you also have to understand that you will be judged on results. You build the week around your own ideas. Preparation is key. My job is to help the players in the best way to win the game. One of my main things is how to simplify the message. But I can't tell Anthony Gordon how to cut inside and put it in the top corner – he can do that himself.
Is practice important?
Absolutely. It's something I grew up with. That work ethic was passed down to me from my parents. You have to fail, you have to improve. If you watch Manchester City play, there's a lot of work that's gone into that. In elite sport, any small improvements will help you. We practice for an hour and a half to two hours every day. We have to utilise that time – if you don't, someone else will.
How important is the mental side?
Culture is huge. Unless you can set a culture, a lack of identity is a problem. When things are going well you can get by, but when times are tough that's when you rely on culture and values. Look at the best teams, they have values that revolve around the manager, and then around the club. When I first walked in here, I saw quotes on the wall by Alan Ball and Howard Kendall. We need to reconnect with our history, as our recent history isn't what the long-term history of the club is. And I want us to reproduce it.
What's been yo ur highlight at Everton so far?
When Dominic Calvert-Lewin scored that header against Crystal Palace [which kept Everton in the Premier League]. It was one of the best moments of my career – up there with winning the Champions League. From 2-0 down, we have 2-1, 2-2, then we're 3-2 ahead. I've never experienced elation like that! I was delighted for so many people we got it over the line.
Now, onto watches. We've got the C60 Trident 300 for you to try on. Blue or green?
In terms of aesthetics, I love blue! But I like green, too. I love the slim nature of this watch. As I've got older, I've sized down in terms of watches – the older I get, the more I love that 'flush' look.
Finally, here's the Bel Canto watch. You'll notice the mechanism on the front…
I remember the first time I saw a watch mechanism – I thought, wow – amazing! That's a beautiful watch. It's got a lovely blue dial colour, too.
Christopher Ward is the Global Timing Partner for Everton Football Club, to discover more click here.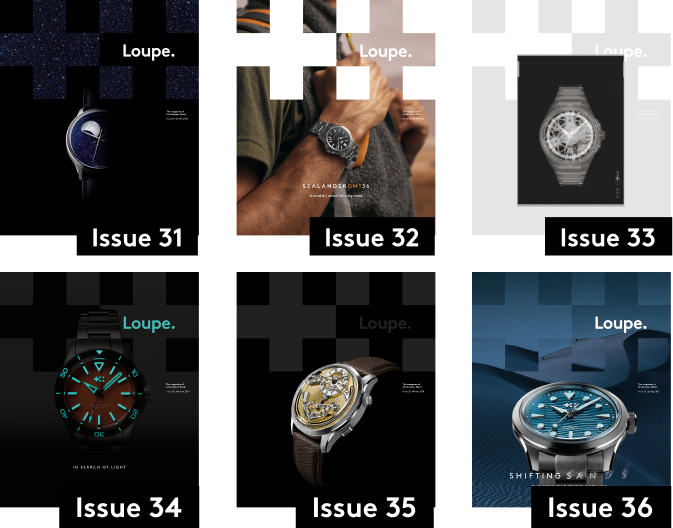 Sign up to Loupe magazine
Loupe is Christopher Ward's quarterly in-house magazine. If you want to know what's happening at CW (and you love great journalism), this is where to start. Alternatively, you can read all our back issues on your computer, tablet or phone.
Order your free copy
Read Loupe online