Ultra-endurance cyclist. Engineer. Watch lover. Christopher Ward's latest Challenger is someone you're going to be hearing a lot more about
Hi James! How did you become an ultra-endurance cyclist?
When I was 19 or 20, I moved to London to go to uni and started commuting by bike. I lived in Streatham near the Herne Hill velodrome, and one Tuesday evening, went down to see what was going on. I realised I was pretty good at cycling and enjoyed it. I then joined a local club.
How did you get on?
Pretty well. I began to win events and ended up racing at the top level in the UK by the time I was 22. I did it for a couple of years but had some bad crashes and never became entirely professional. So I went back to uni to study engineering. At the same time, I started cycling for fun, but this time it was ultra-endurance, real long-distance stuff. One thing led to another, and here I am now!
Are you a competitive person?
I'd say no. But other people might say yes! I don't think it's about competition with other people: it's with myself and being the absolute best that I can be. When I was younger, I was competitive, but with maturity, you realise you're in a losing game from the beginning. Whereas when you compare yourself to yourself, you can constantly improve and win.
Is that why the Challenger programme is a good fit?
Yeah, one of the things that attracted me was how CW focuses on being the best it can be in an industry with huge players
"If you can control your emotions, you can control the physical side"
"I came off and broke most things on the right side of my face"
So as an engineer, you appreciate the mechanical side of watchmaking?
Yeah, I do. I have a degree in civil engineering but have always been interested in taking things to pieces and putting them back together. When I was allowed to choose a watch, I asked for the C60 Abyss SH21 as it has the in-house Calibre SH21 movement, and you can see it from both sides thanks to the sapphire dial. I've also got the C63 Sealander Elite, which I wore recently for a race – and which felt great because it's so light and slim.
In general, how do you use a watch when you're racing?
'Stop time' is the biggest problem in a race. When I get off the bike to go into a shop or sit down, I use my watch as a timer to reference back. When you're fatigued after three days, you're not moving well, and you can quickly lose an hour. I'd be interested to see how much weight a timer function would add to the Elite and if it could be introduced. It's a handy thing to have: telling the time but also tracking it.
What's coming up next, race-wise?
Everything's still up in the air at the moment. There's the Silk Road Mountain Race this August in Kyrgyzstan which I first did in 2019, but the problem here is getting flights out through Turkey, but fingers crossed it's looking possible – it's a tough but beautiful 2,000 km through the Tian-Shan mountains. Also, there's also an off-road race in Morocco I did last year called the Atlas Mountain race – and that's in October. So hopefully, I'll be able to do at least one.
How does it feel when you're pushing yourself to the limit in an endurance race?
There are two types of feelings – physical and emotional. And if you can control your emotions, you can control the physical side. There are highs and lows in every race where everything feels against you, but I've done it long enough to know those periods pass. They allow you to access the door to the next level, where you get the super-high highs. You have to earn them.
Have there been moments when you've thought, 'This is sensational'?
Vividly. The easiest one would be from the Highland Trail – the race I finished recently. There was a gruelling moment in a remote section called 'Fisherfield', which takes about 12 hours. Because it had been raining hard, we had to cross a few flowing rivers and about 50 metres of waist-deep water at a Loch opening. You're wet, you're cold, it's raining relentlessly, and you have to hike another couple of hours out of the valley, then ride for another five hours to get anywhere. It's also incredibly beautiful!
What's the most challenging hill you've ever gone up?
I don't know. But I've done some ascents in Kyrgyzstan where you're climbing from 1,000 metres to over 4,000 metres off-road, which takes seven to eight hours from bottom to top.
Can you tell us about the engineering side of the bike?
The bike I rode for the Highland Trail 550 is a Canyon Neuron. It's 'full suspension', so you have suspension on the front and back. Everyone rides different bikes, but I went for a full suspension because it soaks up vibrations. It also means you can be a bit more reckless as you have the suspension front and rear when descending, and can track well over rocks and rough terrain.
Have you ever had any serious injuries?
I've had a few bad ones. Six or seven years ago, I came off and broke most things in the right side of my face – exterior skull, jaw, cheekbone, eye socket. That was quite… fun!
What are your ultimate goals?
I have specific races that I'm interested in, but my overarching goal is to become the absolute best athlete that I can be at ultra-endurance racing and find a way to excel.
Within the niche sport I do, some races are considered the race or races. One is the Tour Divide, an off-road race in the USA that runs down the Great Divide mountain bike route. It goes from Banff in Canada to the Mexican border and is about 4,500km. The course record is held by Mike Hall who was one of the absolute best but was killed a few years ago, so there's something special about that race.
You use the slogan, 'Pushing limits, inspiring change'. Why?
I do what I do because I enjoy it. I hope I can help to inspire other people to have the confidence, desire, motivation or belief they can do something to challenge themselves. It doesn't necessarily have to be in a sporting aspect, either. For me, going to uni and getting my degree was a challenge because you're putting yourself out there for potential failure.
Finally, what is it about cycling and cycles you love so much?
I love the bicycle as an object. It's the most efficient and fantastic mode of transport. It makes you happy, and it's good for your health. If I can get people out of their cars and onto bikes, the world would be a much better place. It's transformational. It takes you back to being a kid. What I do is on the absolute end of the spectrum, but it's not about that. It's about challenging yourself to be the best version of yourself.
Discover more about James Hayden:
https://jamesmarkhayden.eu
https://www.instagram.com/jamesmarkhayden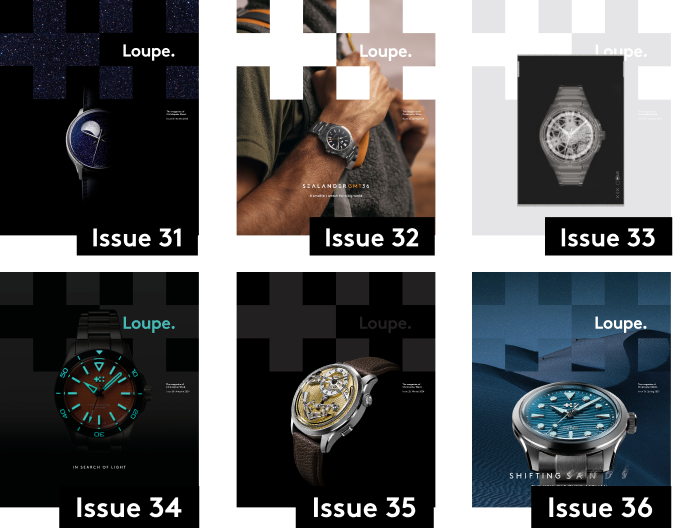 Sign up to Loupe magazine
Loupe is Christopher Ward's quarterly in-house magazine. If you want to know what's happening at CW (and you love great journalism), this is where to start. Alternatively, you can read all our back issues on your computer, tablet or phone.
Order your free copy
Read Loupe online