At Christopher Ward's atelier in Biel, Switzerland, Jörg Bader Snr and his son Jörg play a big role in the brand's success. But how do they work together? And do they always get on? We went to find out…
Hi guys! What are your roles at Christopher Ward's Swiss HQ?
Jörg: I'm the product manager here, and together with Adrian Buchmann I lead the product team. I manage the life cycle of watches: starting from idea creation and ending with the termination of the watch's production.
Jörg Snr: I'm the CEO of Christopher Ward in Biel. Other than being responsible for the overall performance of the Swiss company I 'own' all troubles and difficulties! I also enjoy solving problems. I motivate people, regardless of whether they're staff or suppliers and make sure that a no-nonsense, low-cost and high-efficiency approach prevails.
Is there a tradition of watchmaking in the Bader family?
Jörg Snr: Absolutely, both my parents were watchmakers. My mum got work delivered to our home, and three of us kids helped her. My dad was responsible for several watch ateliers, too, but I also remember him working from home on movements.
Jörg: I've been working in watchmaking for nearly 10 years. At first, I didn't like it at all and couldn't understand why people wore fancy watches. As time moved on, however, my understanding grew. A lot of the processes are still done by hand, and this craftsmanship fascinated me. If you ever witness the marriage of the hairspring with the regulator, you'll get the bug, too!
"If a person does not enjoy detail and micro mechanics he can never be a good watchmaker"
–Jörg Snr
"Arguments can be heated at times but with a great respect for each other. We've never fallen out"
–Jörg
Jörg, what do you admire about your dad's approach to watchmaking?
Jörg: It's less about watchmaking and more admiration about his style of leadership. His calmness mixed with positivity and passion gives a good working vibe. Even in tense situations he keeps a clear head and leads us in the right direction.
Do you ever disagree on work things?
Jörg: We do but it's rare. Arguments can be heated at times but with a great respect for each other. We've never fallen out. We share the same vision for Christopher Ward as a mature direct-to-consumer watch brand with a clear focus on its core DNA.
Jörg Snr: I'm thrilled to work with him! We complement each other as he has a bit of Austrian laissez-faire and wit from his mum's side. Though sometimes I see a part of my character in him, too. But I've always treated him the same as any other member of staff.
Jörg Snr, did you want to pass your watchmaking skills down to your son?
Jörg Snr: No, I wanted both our children to have total freedom in their careers. Jörg's personal situation evolved in a way that it was straightforward to offer him an entrance into our product development. We had an experienced product manager at the time, and I thought she'd be able to transfer her know-how to him and foster his interest in watchmaking. My assumption was right.
Why are the Swiss such great watchmakers?
Jörg Snr: It's probably the love for detail which I believe is part of our DNA. Car-dealers in the watchmaking regions say people complain about all the little noises and vibrations a car may have – and which are missed by most other people. Fundamentally, if a person does not enjoy detail and micro mechanics he can never be a good watchmaker.
Finally, what are your favourite Christopher Ward watches?
Jörg: My favourite watch at the moment – I'm currently wearing it – is the C65 Aquitaine Bronze COSC. It's the perfect summer watch for the lake or sea, and the sapphire bezel resists any scratches when I'm out on the boat. I also like how the bronze case patinates quickly after jumping into water. And thanks to the webbing and rubber strap, I never have to take it off.
Jörg Snr: The C63 Sealander Elite – it's constantly on my wrist during summer.
I recently wore it during four days mountain-biking in Alsace, while early this morning, it accompanied me as I rowed on Lake Biel. It's super-light – thanks to the crafted titanium case – while the telescopic crown is an incredible innovation.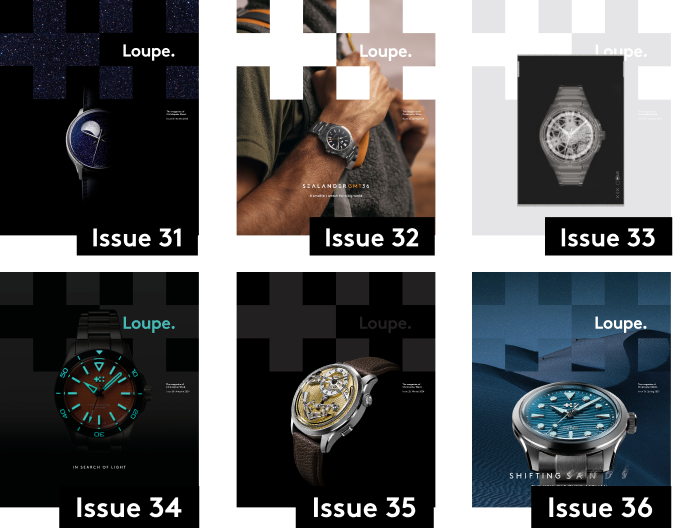 Sign up to Loupe magazine
Loupe is Christopher Ward's quarterly in-house magazine. If you want to know what's happening at CW (and you love great journalism), this is where to start. Alternatively, you can read all our back issues on your computer, tablet or phone.
Order your free copy
Read Loupe online