A warm but tough alternative to stainless steel, bronze is the perfect material for two new Christopher Ward timepieces: the C63 Sealander Bronze COSC and C60 Bronze Ombré Green COSC LE
What do we think of when we think of bronze? Of ancient warriors and early sailors, perhaps, and the tools that kept them alive. And, increasingly, of an intriguing material for watch cases, warmer than steel but less bling than gold: a rich, deep metal with heft and history to it.
We love mechanical watches for the way they feel alive on our wrists – part equipment, part jewellery, but almost part pet, too – and bronze watches, which react to the world around them and change subtly before our eyes, are perhaps the most animated of all.
"Bronze initially gained traction in the watch world because it offered a different look to other metals: equal parts rugged and retro," says Christopher Ward co-founder and CEO, Mike France. "Everyone got excited about the way it develops a distinct patina as you wear it, the metal oxidising through exposure to moisture and air to develop a thin, mottled protective layer. And people liked its history, the feeling of rediscovering a forgotten, ancient technology. But there's more to bronze than this, and it's now starting to be appreciated as a thing of beauty in its own right. As bronze becomes less of a novelty, we're starting to see a wider range of watches employing it, too."
"Bronze is now starting to be appreciated as a thing of beauty in its own right"
This is the first time anyone has paired a bronze case with a sapphire dial – and it won't be the last
Christopher Ward has been offering select watches in bronze for a few years, but is now upping the ante with two new pieces: one a limited-edition model that showcases horology's hottest colour, and the other an open-series watch that takes bronze in a fresh and exciting direction. Any niche technology tends to either fade from view after a while, or turn a corner to become part of the mainstream – and bronze as a watch material is this year accelerating out of that curve.
As evidence, may we first present the latest addition to CW's collection, the C63 Sealander Bronze COSC. This isn't just the first Sealander with a bronze case, but the first with a sapphire dial too, thus revealing the movement through the front as well as the rear of the watch. Never before has anyone paired a bronze case with a sapphire dial, but it's such a winning combination we suspect it won't be the last.
While very much a sports watch with outdoorsy qualities, the Sealander offers a more elegant, sophisticated and compact experience than more dive-orientated pieces, and starts to feel especially luxurious when presented in bronze. The understated bezel puts the case material centre-stage. The result is a decidedly modern, even somewhat futuristic, take on this oldest of alloys: one that CW watch designer Will Brackfield describes as "more Metropolis than Captain Nemo".
The understated bezel puts the case material centre-stage… the result is a modern, even futuristic take on this oldest of alloys
The other new bronze offering, the C60 Bronze Ombré Green COSC LE, is a take on the Trident in its larger 42mm size, a watch that's been offered in bronze before but never with a green dial.
Green has been the colour du jour in watchmaking for a few years now, but some shades are more attractive than others, and the muted hunter-green here is particularly fine, halfway between a military khaki and emerald.
The dial enjoys one of Christopher Ward's distinctive ombré treatments too, where the colour fades from dark at the edges to lighter in the centre, then each is hand distressed with a unique combination of scratches. When paired with the bronze case, it's a look that absolutely sings. "The other unique aspect of this watch is that it comes with the more intricate and precise Elite-style bezel, which is becoming our standard for COSC-certified dive watches," says Mike. "It's a style we've rendered in ceramic before, but never in bronze. With the raised numerals polished on their upper surfaces, and the lower surfaces sand blasted to a matte finish, it offers so much visual and tactile intrigue."
Both watches come on a range of straps – and since CW's quick-release mechanism makes swapping straps a doddle, it's tempting to order more than one. These include vintage oak leather, black webbing, a black hybrid and an eco-friendly #tide strap with a thin Marine Nationale stripe.
"The watch brings a cultivated style to bronze's tough, hearty nature"
The C60, though, seems particularly suited to a unique offering for that piece only: a green webbing that shows off the case metal and dial colour a treat. Inside, a chronometer version of Sellita's SW200 automatic movement makes both new pieces among the top six percent of Swiss mechanical watches for accuracy.
Some might still consider bronze a leftfield choice for a watch case, and it'll never be for everyone. But at the same time, it's rapidly developing a more mature and nuanced appeal. Until now, the alloy has led with its raw, practical and hard-working qualities, epitomised by a piece like the C60 Trident Bronze Ombré COSC Green LE, a piece better suited to Indiana Jones than James Bond. But a new generation of bronze watches shows it can have a more subtle, urbane appeal too. The C63 Sealander Bronze is in the vanguard of this, bringing a cultivated style to bronze's essentially tough, hearty nature. It takes the unpolished appeal of bronze then buffs it up a little, combining it with a plethora of simple but just-so details – from its gorgeous faceted indexes to that black sapphire dial – to create something altogether fresh and new.
C63 Sealander Bronze COSC Prices from £895 / $1,095 / €1,150
C60 Bronze Ombré Green COSC LE Prices from
£950 / $1,150 / €1,195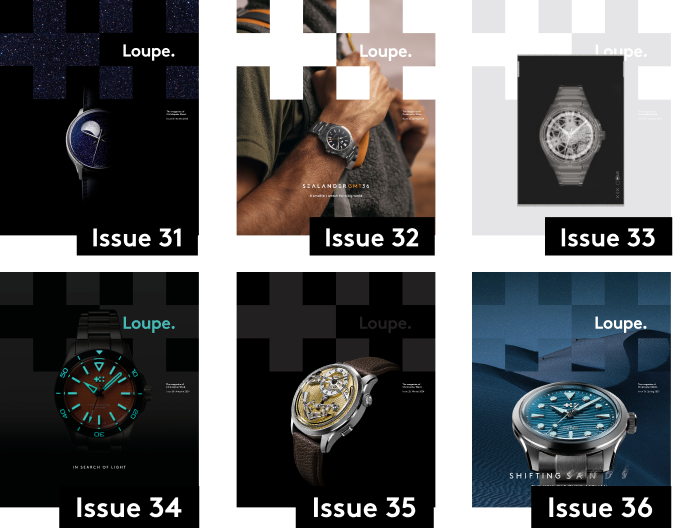 Sign up to Loupe magazine
Loupe is Christopher Ward's quarterly in-house magazine. If you want to know what's happening at CW (and you love great journalism), this is where to start. Alternatively, you can read all our back issues on your computer, tablet or phone.
Order your free copy
Read Loupe online