We talk to CW Challenger and explorer-conservationist Tom Hicks about his upcoming expedition to the North Pole – and the new watch inspired by his efforts
Christopher Ward isn't prone to hubris. Faced with a global challenge such as polar ice melt, all are aware that any action, individual or collective, however small, makes a difference. "We're supporting new CW Challenger Programme member Tom Hicks, as he prepares to reach the North Pole," says Mike France, Christopher Ward's CEO.
The CW Challenger Programme helps people with exceptional talent, but less-than-exceptional bank balances, to achieve their goals. Tom has been involved in the development of the new C60 Anthropocene GMT alongside his preparations for an unsupported last-degree trek to the North Pole, where he will measure Arctic snow depths and melt rates, and support the David Shepherd Wildlife Foundation (DSWF) (Charity No. 1106893), which funds key conservation projects in Asia and Africa.
"The 'big off' to the Arctic is in April 2022," says Tom. "We'll do a 10-to-12-day expedition to Greenland this October as a dummy run, then I'm going to the Alps in January 2022 for a final check that I'm alright with the equipment and the equipment is alright with me. I'm preparing with intensive training and nutrition; cold- water swims and pulling tyres to simulate the sled." Tom highlights the importance of mental resilience, both in his endurance attempt, but also in our collective attitudes to climate change.
"Our individual and collective power to change is greater than we know"
"The name 'Anthropocene' triggers a conversation about man's impact
on the planet"
"I'm doing this because I believe everyone has the potential to do something positive. Our individual and collective power to change is greater than we know," explains Tom, who's also a school sports coach. "The name of the new watch, the C60 Anthropocene GMT, triggers a conversation about mankind's impact on the planet, and anything that gets people to look and act can bring about change."
'Anthropocene' means the era during which human activity has been the dominant influence on climate and the environment. This period has already been marked by one CW watch, the C65 Anthropocene Limited Edition, which highlighted the plight of the climate crisis, and fêted the then-new Scottish Opera Anthropocene, composed by Stuart MacRae. Now, CW's latest release in the Anthropocene family is a new look, open-series C60 GMT, and like its predecessor, it both turns our attention toward, and supports, environmental concerns.
Evocative design underpins the C60 Anthropocene GMT, with further exposition of CW's growing expertise in sapphire dial-making. "We were looking for a way to move the Anthropocene message on from the Limited Edition," says Adrian Buchmann, CW's head of design. "So it was important to us to find a way to integrate frosted sapphire – which looks like Arctic ice – into the watch design."
The new, upgraded Sellita SW330-2 GMT movement – available for the first time in a C60 case – is indeed faintly visible under the white 'pack ice' of the dial's frosted sapphire. "We're excited by the functionality and reliability of this new movement from Sellita," says Adrian. "The functionality of the GMT hand and the upgraded power reserve make an appreciable difference." A choice of steel bracelet, hybrid Cordura® or #tide straps adds to its versatility.
With the upgraded movement encased by theLight-catcher™ lines of the C60 case, and with its directional orange GMT hand, the new Anthropocene is a watch built for global – or polar – adventure.
Indeed, CW will be showing their support of Tom's goals by contributing five percent of watch sales to DSWF for the duration of Tom's two-year membership of the Challenger Programme. "I'm fundraising throughout my expedition prep to support DSWF," says Tom. "The Arctic is the most vulnerable region for climate change. I'll be sharing Arctic snow melt data from the expedition to highlight that climate change is real, and it's happening now, to galvanise people to act."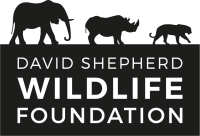 Discover more about the David Shepherd Wildlife Foundation (Charity No. 1106893) - www.davidshepherd.org
C60 Anthropocene GMT is available now, from £995 / $1,195 / €1,250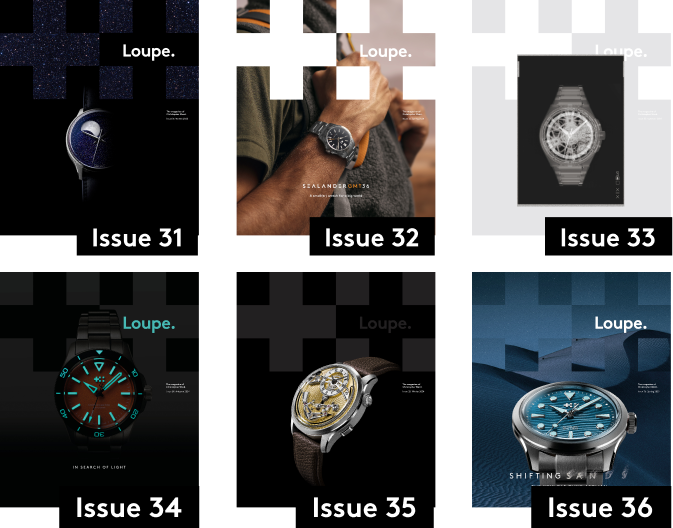 Sign up to Loupe magazine
Loupe is Christopher Ward's quarterly in-house magazine. If you want to know what's happening at CW (and you love great journalism), this is where to start. Alternatively, you can read all our back issues on your computer, tablet or phone.
Order your free copy
Read Loupe online