Meet Tritec, the Swiss company behind Swiss Super-LumiNova®, whose glow-in-the-dark paint can be found on countless iconic watches – including those by Christopher Ward 
If there's one thing that unites watch fans, it's a love of lume: the magical paint that lets you tell the time in the dark without external illumination.
As you might guess, 'lume' is short for 'luminescence', which, according to the Oxford English Dictionary, is the 'emission of light by a substance that has not been heated'.
Before the advent of lights on watches, luminous paint – daubed onto the hands and numerals of the timepiece – enabled the wearer to tell the time in the dark.
Luminous watches first appeared in the early 1900s and were indispensable for British officers during World War I.
The first luminous paints were made with radium – a degraded product of uranium – combined with zinc sulphide, which, though bright, did have the slight disadvantage of being highly radioactive. Despite this, zinc sulphide paint was used on military, pilot's and civilian watches until it was banned in 1967 due to (rather obvious) safety concerns.
"The C1 Moonglow was incredibly intense but the results speak for themselves"
"The performance never fades, no matter how long you have the watch"
Today, the watch world's primary source of lume is RC Tritec, whose range of Swiss Super-LumiNova® paints provide after-dark illumination for all the big brands in the Swiss watch sector. Plus, of course, Christopher Ward.
The giant strides made in lume by CW – see the C1 Moonglow and Trident range for proof – are down to the hard work of our Swiss production manager, Jorg Bader Jr, and RC Tritec's Albert Zeller. Which is why we asked Albert about the history of lume, how they make Super-LumiNova® and the relationship with Christopher Ward.
Hi Albert. How did Swiss Super-LumiNova® begin?
With my pharmacist ancestor, Albert Mortiz Zeller, who founded Radium-Chemie A. Zeller & Co – later RC Tritec. The company produced luminous radium compounds for various Swiss watch businesses. But it was my father (another Albert!) who found a non-radioactive solution – strontium aluminate, doped with europium. However, it was considered too hard and grainy and therefore unusable for horological applications.
Albert handed over the material to a partner company in Japan, Nemoto & Co. Ltd, which added dysprosium to the mix – and that became LumiNova®. A few years later we started the entire production of those compounds specialized for watch applications here in Switzerland under the name Swiss Super-LumiNova®.
How's the paint made today?
Every type of Super-LumiNova® is made by us here in Switzerland. We burn strontium aluminum oxide with dysprosium and europium to 1,500°C to create a new crystal structure. That's formed into a solid ceramic block, which we then turn back to powder. One gram of this pigment is enough for between 100 and 300 watches.
And then you just paint it on?
Not quite. Powders and binders are separate. For hands you need a different binder to engravings, and for a bezel it's different again. We have around 350 binder systems! The binders and powders are sent separately to specialists who'll paint the different parts of the watch.
What's your favourite lume?
We produce 4,500 colours in total, but my favourite is GL X1 'Old Radium'. Despite the name it's not actually made from radium – which we wouldn't be able do produce on health grounds. The idea actually came from my dad. He and mum restore old biplanes and he needed to develop a vintage-style paint for the instruments. The result was a luminous pigment that looked like radium – which we soon realised we could put on retro-styled watches.
How did the relationship with Christopher Ward begin?
With the visit of Jörg Bader Jr – we went out for a pizza together, and developed a strong friendship. We work together, exchanging ideas and making prototypes. It helps that I'm a fan of the brand, too – I have a C60 Trident Bronze. I'm particularly proud of the C1 Moonglow – we were producing prototypes and then CW asked if we could do entire moons. Challenge accepted! It was an incredibly intense experience but the results speak for themselves.
Where do you think lume will be in five years?
It can only become more interesting and playful, and it'll become stronger in intensity. Our lume is made up of tiny, separate grains. Imagine these as individual light batteries – how you put them together changes how it looks. There's a lot we can do with this!
Do you have any tips for readers who want to charge their lume?
Expose your watch to a strong energy source – ideally, put it in sunlight: this is what works best. And the great thing is that the performance never fades, no matter how long you have the watch. Reading the time in the dark is useful and so cool: I love seeing that glow!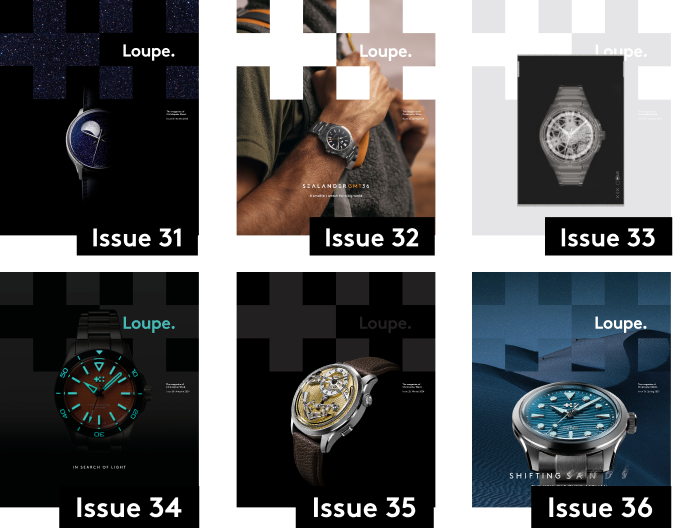 Sign up to Loupe magazine
Loupe is Christopher Ward's quarterly in-house magazine. If you want to know what's happening at CW (and you love great journalism), this is where to start. Alternatively, you can read all our back issues on your computer, tablet or phone.
Order your free copy
Read Loupe online