The author of a fascinating new book talks about how trees have shaped the history and culture of Great Britain
Illustrations: Amy Grimes
Britain has always been partly defined by its trees. Whether it's the pines of Scotland, the sycamores of Wales or the famous – and royal – English oak, they're as much a part of our island's identity as roast beef, drizzle and complicated sports.
Mark Hooper, former editor of Hole & Corner magazine, has a deep love for this country's trees, woods, and forests. And now he's written a new book, The Great British Tree Biography, which details 50 of Britain's most notable trees. It's a title that takes in everything from sports to myth, folklore to pop music – and in doing so, tells us so much about what makes Britain unique.
Here, Mark takes us through four of his favourites.
The Hardy Tree, Old St Pancras
Churchyard, London
"There's a really peculiar ash tree located in a churchyard by St Pancras station, which is surrounded by hundreds of gravestones and named after Thomas Hardy, the Dorset writer. Before he became a novelist he came to London as an apprentice architect under Arthur Blomfield, famous for his work on Covent Garden market. When Blomfield was commissioned to design a new line for the Midland Railway at King's Cross, he delegated the task to Hardy. Straight forward enough, except the line went across the St Pancras's burial ground and Hardy was put in charge of the disinterment and reburial of the dead. While he may not have physically done any digging himself, he oversaw the operation, including placing the gravestones around this ash tree. It was a process that really affected him – he talks about it in his diaries – and he went back to Dorset, gave up architecture and became a writer. Meanwhile, the tree continues to subsume the gravestones and bring them into its embrace."
"The tree is in
the video for
Strawberry Fields"
The Strawberry Fields Tree,
Knole Park, Sevenoaks
"The first thing about Sevenoaks is it's obviously named after seven oaks but no one's really sure where they were. There are two oak trees at Knole Park, and one of them is in the video for Strawberry Fields by The Beatles. In the video, one of the trees is stringed up like an instrument and Paul jumps backwards into it. They also shot the video for Penny Lane at Knole: it's odd, these are the only two songs they wrote that name-checks Liverpool, but they filmed the videos 250 miles away. There's a further Beatles link with Sevenoaks. When they were filming they went into town and found an antique shop. Here, John Lennon saw a 19th century poster for 'Pablo Fanque's Circus Royal' at Town Meadows, Rochdale. From that he took the lyrics for For The Benefit Of Mr Kite.
St Lawrence Lime Tree,
Canterbury
"At Canterbury cricket ground there's a tree on the pitch. In any other sport you'd chop it down, but cricket is different. There's some special rules around it, too. If you hit the tree it's a four but when you whack it into the branches, it still only counts as a four (rather than a six). The only person to hit a six over the tree was Kent's Carl Hooper in 1992. The original tree, which was actually inside the boundary, was blown down in a storm in 2005. But because Kent CCC thought this might happen they'd already grown a successor from a cutting – and it replaced the first lime. There's something very 'cricket' about this. It's typical of a sport where you can watch a match for five days and there's no winner at the end. Things get made up as you go along."
"The explosion
was so big it
forced the
tree to split"
The Allerton Oak,
Calderstones Park, Liverpool
"This oak tree is thought to have been the site of a 'hundred' court in the medieval era, and is nearly 1,000 years old. But in January 1864 something extraordinary happened: a boat, the Lottie Sleigh, moored off Birkenhead four miles away, exploded. It was carrying 940 quarter-kegs of gunpowder which were set alight when a crew member ignited a can of oil while trimming the wick of a paraffin lamp. The force of the explosion was so big it sent shock waves across Liverpool and caused the tree to split! When you look at newspaper reports from the time, they say windows were broken all over town and doors were forced off their hinges. The story doesn't end there. In World War II, people would take acorns and leaves from the tree and send them to loved ones abroad. Which means there are trees thousands of miles from Liverpool that are the descendents of the Allerton Oak."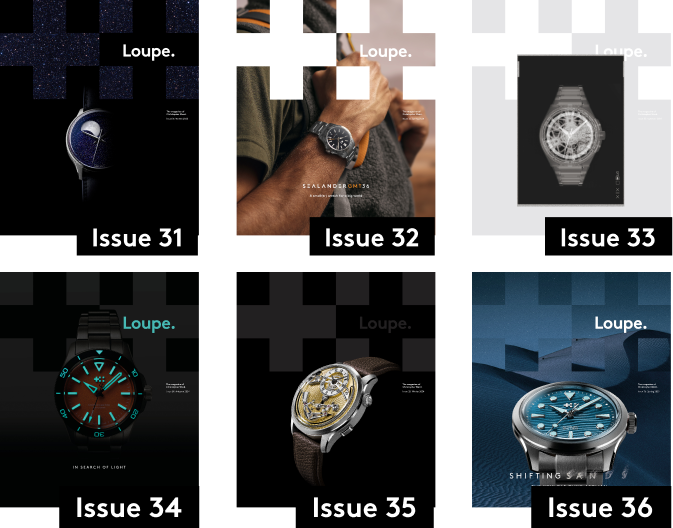 Sign up to Loupe magazine
Loupe is Christopher Ward's quarterly in-house magazine. If you want to know what's happening at CW (and you love great journalism), this is where to start. Alternatively, you can read all our back issues on your computer, tablet or phone.
Order your free copy
Read Loupe online