How Arkonik takes old Land Rovers – and refurbs them beautifully for the 2020s
The Land Rover is an undisputed icon of British motoring.
Those boxy, quasi-military trucks we've learned to call Defenders, but from 1948 until the early '90s were simply 'Land Rovers'.
Defenders may have gained better engines and suspension over the decades, but right till the end remained intimidating beasts: heavy and slow, surprisingly cramped, a car you wrestled through every corner and gear change. Made by Jaguar Land Rover, the final one came off the production line in 2016.
Enter Arkonik, a West Country outfit that knows what's right about old Defenders
– and what's wrong, too. It takes a used example – one at a time, so each is unique – and rebuilds it for you: upgrading, replacing or reshaping components so it's better than new.
It's an extensive process, and you can spend 'Aston' money without even trying – though, of course, many customers do try, happily ticking away at a seemingly endless option list. Want to replace the engine with a brand new 430 horsepower Chevy LS3 V8? Of course, sir. How about a new leather-and-tweed interior? Absolutely.
The dream
takes shape
It all began in 2006, when Arkonik founder Andy Hayes – a petrolhead and adventurer "with a lust for V8 engines that stems from childhood" – built his first modified Landie, then another one, which he sold almost immediately. Andy kept to a strict formula: retain the original chassis, keep things authentic, but evolve the car through carefully considered upgrades.
"There's an organic nature to each of our builds," Andy says. "For me, a Land Rover represents the strengths of man himself: vulnerable, rugged, adventurous. We simply enhance the recipe with fine-tuned ingredients."
Andy originally built his cars for the UK only, but for over a decade has concentrated on the huge US market – where, to meet safety regulations, each car needs to be at least 25 years old. Right now, he employs 79 people and completes around six builds a month.
"UK and European sales had started to decline around 2012, thanks to the global downturn," he explains. "But enquiries from America increased. Defenders are a rarity there – factory-built cars were only imported from '93 to '97 – so demand remains high.
Building for Britain
It was only last year that Arkonik returned to the UK market, a decision encouraged by the development of a car named 'UJO' – "our new signature build," Andy says, "built as a 'restomod' recreation of my own personal '83 V8 110CSW" – and the subsequent launch of a new 'Special Vehicle Operations' division.
This is intended to allow for more radical builds, often revolving around larger capacity engines, such as those mighty LS3 V8s. Base cars are sourced from Europe's warmest, most rust-free corners, though occasionally a customer will supply their own. Right now, for instance, Arkonik's first UK client since 2014 has his own RHD Defender in for restoration.
The results are always more polished and easy to live with than the original car, but you never forget they're old Land Rovers – and you still bang your elbow on the door while twirling the giant steering wheel.
Though each car is different, most revolve around one of three styles – Classic, Urban or Adventure – tailored for its intended use. "Some will have a road-bias with lowered suspension, others will boast a host of overland accessories, but the same 4WD functionality is always present,"
Andy says.
"Our clients cover a broad range, from car collectors who'll have a number of exotic vehicles to families who want to treat every journey as an adventure."
Understanding
the process
Most cars take about 18 months to complete, with prices starting at around $150k for a D90 soft-top, though a fully specced D110 with Special Vehicle Operations package might top $250k. In the near future there'll be a full camper conversion, and they're currently developing an electrically powered EV version too.
"But whatever we do, it's vital that every Arkonik Defender remains true to the marque," Andy says. "We don't try to mask its identity by using body kits or ridiculously large wheels. Instead, an Arkonik build is authentic to its core. By using OEM paint codes, parts and carefully selected accessories, we strive to protect, enhance and celebrate its DNA."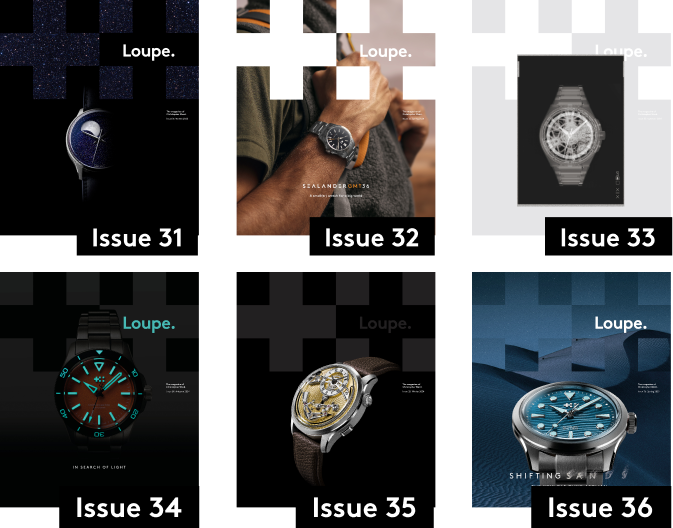 Sign up to Loupe magazine
Loupe is Christopher Ward's quarterly in-house magazine. If you want to know what's happening at CW (and you love great journalism), this is where to start. Alternatively, you can read all our back issues on your computer, tablet or phone.
Order your free copy
Read Loupe online