Watch aficionado Ken Kessler turns the clock back to find sustainability in watchmaking is nothing new
It's never simple: like all good causes, the drive for sustainability has unforeseen effects and considerations. It's not just a case of using materials which are renewable, and thus crowing about how one is doing one's part. I'm reminded of one of the arguments presented by vegetarians and vegans to carnivores, when they say that giving up meat does more than save animals' lives. Who knew cows contribute more greenhouse gasses than cars? If we reduce herd sizes globally, we all benefit.
For the watch industry, sustainability is yet another complication – the real meaning of the word, not the Swiss misuse of it to describe a timekeeping function – to add to a litany of modern concerns which includes diversity, gender recognition, equal pay, and all those other things that make being an employer in the 21st century about as much fun as root canal surgery. One cannot function as a modern manufacturer of anything and remain aloof to the subject. It's now part of what was once called "civic duty". But there is an upside: use of the 'S' word denotes a caring, sharing company, something that's hard to convey when hawking £130,000 tourbillons to people with private jets and carbon footprints the size of Gargantua's.
Forgive any seeming cynical slant, but sustainability is precisely the sort of virtue-signalling which can manifest itself in the actual product, or better still, how the product is perceived, unlike, say, boasting about whether or not a manufacturer uses only electric vehicles. It is an umbrella that embraces recycling and the use of renewable materials, energy or other resources, but also supporting ventures of an ecological nature. What old hands know, however, is that this is nothing new, and that the watch industry has been at it longer than most. Sustainability in the watch biz did not arrive with hipsters wearing tattoos up to their Adam's Apples.
Timepieces are
the tools that environmentalists require if marine life, and thus diving, are involved
Mechanical watches are among the most environmentally-friendly objects humankind has
ever produced
Without turning the clock back too far – I have no idea if Breguet or Harrison or Mudge or Arnold were particularly green – one can cite, for example, the Rolex Submariners and Blancpain Fifty Fathoms supplied to Jacques Cousteau and crew during the diving expeditions of the 1950s, undertaken for a better understanding of the seas. This was the start of the aquatic obsession which carries on to this day, with nearly every manufacturer of diving watches finding a maritime cause, charity or project to support.
Indeed, so popular is the concern for sea-life that it is hard to find brands not connected to some underwater venture. From Certina and its participation in the Sea Turtle Conservancy (STC) to IWC and involvement with the Galapagos Islands, Omega's partnership with the GoodPlanet Foundation and the preservation of coral reefs, and Blancpain's Ocean Commitment to Christopher Ward supporting Blue Marine Foundation (BLUE), which seeks to protect the oceans by combatting over-fishing, one would rightly suggest that watches and good causes are a natural fit, as these timepieces are the tools that environmentalists require if marine life, and thus diving, are involved.
Simply supporting such noble causes is the sizzle, which alerts the consumer to the brand's integrity. As for the steak, this can include the use of completely recyclable packaging, recyclable case materials, a plethora of new environmentally-friendly strap materials, or other green traits which make a new watch a more attractive proposition to the customer concerned with the planet's woes. It even goes so far as the development of super-green, super-efficient factories, despite most customers remaining unaware of this aspect of a brand's sustainability.
Typical of the most modern of manufactures are those of Greubel Forsey and Panerai, which have addressed everything from the air filtration systems to the reuse of water. Panerai's works, for example, have been designed to reduce carbon dioxide emissions to zero, while incorporating devices for energy saving and the recovery and reuse of waste materials. Greubel Forsey's radical HQ looks like a wedge of cheese – amusingly and appropriately Swiss – which benefits the watchmakers within who operate under ample natural light. Indeed, any new factory – beyond the latest building regulations – will be conceived with green credentials as part of the brief.
All watch brands are taking the matter of sustainability seriously, irrespective of the commercial benefits. IWC, as but one example, has publicly stated on its website a list of nine operational targets for 2022. It includes not just human resource-related aims such as doubling the share of women in management positions, but sustainability goals including the purchase of 100-per-cent renewable energy globally, the developing and implementation of a green IT strategy and the phasing out of the purchase of non-FSC (Forest Stewardship Council)-certified forestry products.
Ultimately, though, there are watches to be made and sold, and there's no harm in declaring one's contribution to the green cause. Christopher Ward's new C60 #tide comes with a high-quality fabric strap of #tide ocean material®, made from plastics fished from the ocean, like certain mineral water bottles, bags-for-life and other applications. Certina's logo is a turtle, and it predates the company's ecological concerns. How so? The creature was chosen as the Certina symbol because the company's novel DS case promised the structural integrity of a turtle's shell, just as Rolex opted for an oyster.
Ulysse Nardin – also with a long history in the creation of marine chronometers and diving watches – has used material recovered specifically from abandoned fishing nets to produce the strap for its celebratory Diver Lemon Shark, launched to mark World Ocean Day on June 8, 2021. This 300-piece model, a classic diving watch, is the manifestation of Ulysse Nardin's support of the United Nations' guidelines for 17 sustainable development goals (SDG) to be met by 2030. The aim is to reduce marine pollution by integrating materials retrieved from the ocean whenever possible into its new products. And sharks are as meaningful to Ulysse Nardin as turtles are to Certina, as the caseback shows.
Somewhere in between the breast-beating and the self-flagellation – and apologies to the dozens of brands involved with sustainability which I didn't name-check – much has been forgotten about the most fundamental element of the wristwatch. It is an element that completely transcends any guilt-tripping about sustainability. Yes, there are aspects beyond the watches themselves that must be dealt with during the current concerns about sustainability, such as manufacturing practices and respecting environmental issues. But there is almost a bizarre denial or forgetting of one immutable reality: mechanical watches are among the most environmentally-friendly objects humankind has ever produced.
How so? Cars wear out and are discarded unless museum-worthy. Clothing wears out. All electrical goods have finite lifetimes. Computers, smartphones and tablets have less of a lifespan than their physical forms provide because they become operationally obsolete; they're dumped before they wear out.
But watches? They can, with only a few exceptions, be made to last for as long as there are watchmakers. Until plastic and rubber infected the watch industry, all watch straps were cloth, canvas, or leather – each and every one a biodegradable material – while bracelets were metal, either base or precious metal, both recyclable.
And who ever threw out an expensive wristwatch? Nobody – that's who, aside from jewellers during the immediate post-WWII decades, when watch cases were melted down due to a shortage of metals (the unforeseen consequence being watch repair shops full of uncased movements). So it's like the famous advert says: You never actually own a Patek Philippe. You look after it for the next generation. Which is exactly what sustainability is all about: the next generation.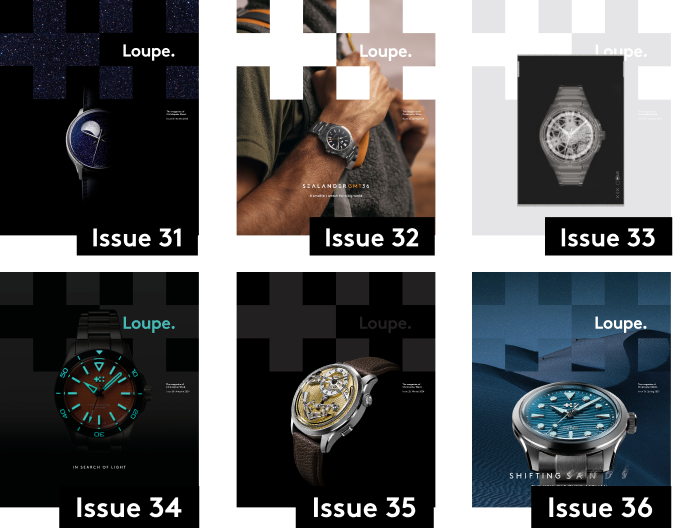 Sign up to Loupe magazine
Loupe is Christopher Ward's quarterly in-house magazine. If you want to know what's happening at CW (and you love great journalism), this is where to start. Alternatively, you can read all our back issues on your computer, tablet or phone.
Order your free copy
Read Loupe online