Christopher Ward's C1 Moonphase pairs the remarkable Calibre JJ04 with perhaps the most insane dial – and one of the brightest moons in watchmaking
Everyone, it seems, loves a moonphase, even if few of us can put a finger on exactly why. We all suspect they're of little practical value. Because nobody – bar werewolves – really needs to keep track of what the moon is doing day in, day out. But then you remember the romance and our long love affair with the moon, which shows little sign of waning (or waxing). Remember, it's earth's only natural satellite, a companion to the lonely, a witness to secret liaisons, every poet's muse. That "silver deity of secret night" – to quote the poet Lady Mary Wortley.
Bigger than all known dwarf planets (in fact, it's not far off the size of Mercury), central to our art and religion and sense of time, noted for its impact on tides and – some believe – brains, there's real magic to the moon.
Pair that with our similar devotion to mechanical timekeeping and ingenious complications, and you get quite the heady brew. Moonphase watches represent a place where art dances with craft, where the chief requirement isn't even that the movement of the moon is reproduced smoothly and accurately – though yes, that's crucial too – but more that it looks bloody good while doing so.
There have been numerous practical applications for keeping mechanical track of the moon, but by the time Patek Philippe built the first moonphase wristwatch in 1925, most had been forgotten. From the beginning, moonphase watches were aimed at the heart, not the head.
Christopher Ward has made remarkable moonphases before – the current C1 Moonglow springs to mind – but the new C1 Moonphase represents a step beyond. Using the company's proprietary Calibre JJ04 in its most refined form yet, it's a technically elegant and glorious-looking piece, pairing CW's brightest representation of the moon with a stunning depiction of the star-strewn night sky. Christopher Ward has become renowned for its bold designs, but it's rarely been this audacious or strikingly glow-in-the-dark (more on that soon).
Moonphase watches represent a place where art dances with craft
Our moonphase pedigree
"Most moonphase watches only offer a small aperture to display the moon," says Mike France, company co-founder and CEO. "These are most often at 6 o'clock, and though they more or less do the same job as ours, they don't centre the moon in the same way. Years ago, when our master watchmaker Johannes Jahnke – now Director of Development at Sellita – was first working on Calibre JJ04, one of his key aims was to present a moon of genuine scale. JJ04 has many important qualities, but placing the moon aperture at 12 – and making it gigantic – was crucial."
In addition, this is a genuine perpetual moonphase, normally the preserve of very expensive brands. This means that the movement of the moon across the face is linked to the hour hand and so is in constant motion, albeit at a realistically snail-paced rate, so that all phases of the moon are represented in a single smooth movement.
It also means that your watch accurately represents the state of the moon for 128 years, without the need for adjustment – as long as you keep it constantly wound, of course. "You may not expect to be around that long," Mike says "But some mathematical models suggest 150 years – or even 300 – may be possible in the not-too-distant future, so you never know."
All very clever. But if this watch is about anything, it's about good looks – and that dial. Trust us when we say, no matter how crazy-good it may appear in the pictures, it's even more spectacular in the flesh.
Only the most careful watchmakers can be trusted with an aventurine dial
The magic of aventurine
It's made of aventurine, a type of glass infused with tiny reflective flakes of copper oxide, first created in 18th century Italy. (Confusingly, 'aventurine' also refers to a mineral – a form of quartz, mostly green with a silvery sheen – but when you hear the word in a watch context, it almost always means the glass.) "It's a thing of beauty, which changes as the watch moves, the light catching each tiny flake," says Mike.
A thing of beauty, but also delicate. "Aventurine is incredibly fragile," says Jörg Bader Jnr, Head of Product at Christopher Ward. "So when you push it too hard, it breaks. Indeed, only the most careful watchmakers can be trusted with an aventurine dial. Just machining the window is difficult, as you want to ensure there are no burrs or cracks. But wrestling with all this is so worthwhile – and means we've ended up with one of the most beautiful and striking moonphase watches anywhere. Indeed, only Arnold & Son's Perpetual Moon is comparable for the size of its window and moon."
"Most watches using aventurine give you but a single piece, most often the dial," says watch designer William Brackfield. "But we've such a huge moon aperture that we felt we simply had to make the rotating disc beneath of aventurine, too. This posed huge challenges – not least that it inevitably adds thickness, as the inner rotating disc, holding the twin luminous ceramic moons (one always hidden out of sight), needs brass backing to keep it secure. The result is a tiny bit thicker than a Moonglow dial, but this is something we all felt it worth compromising on, as getting the joy of aventurine right across the watch is quite something – and highly unusual."
Speaking of lunar representation, the moon you see here is both increasingly domed and delicately patterned, for a more accurate three-dimensional look than that used on the C1 Moonglow. It's also rendered in bright white Globolight© (a type of luminous ceramic) rather than glowing green."
We decided that the slim dauphine hands should have no lume at all," William says. "So the only glowing thing is the moon itself." For similar reasons there's no date window – and no twin-flags logo on the face, either. No writing at all, in fact, except for the legend 'Swiss Made', with the only Christopher Ward references on the crown and rotor.
This is a genuine perpetual moonphase, normally the preserve of very expensive brands
Nothing but the moon
"Dropping the logo represents the confidence of the brand," Mike says. "It's no small decision to pare things back this far, but we all felt it was the right way to go. You don't buy a moonphase to time things to the microsecond. It's all about looking gorgeous, and evoking the ongoing relationship between mankind and our closest celestial neighbour."
Above all, the watch is elegant. "We've an updated Light-catcher™ case, which – thanks to the use of a box sapphire crystal – actually looks a little slimmer than previous moonphases," William says. "It's similar to the Bel Canto case, and though specific to this watch, we'll be using it again for a second iteration of the Moonglow next year."
Also elegant and fresh-from-the-drawing-board – or virtually so – is the latest Christopher Ward bracelet, The Consort™, which provides the perfect partner to the C1 Moonphase. The five-link Consort™ is polished in parts, brushed in others, built of 127 individual links (and over 200 components) and boasts an ultra-slim 3mm profile and an unobtrusive butterfly clasp. "It's dressier and more refined," Mike says. "And it particularly suits the new Moonphase's cultured lines."
Of course, this is the sort of watch that looks great on a strap, too – smooth leather from Mastrotto with a Bader buckle, in this case – and there's some debate within Christopher Ward as to which option will prove most popular.
Whatever your choice, however, the new Moonphase is both reassuringly classical and strikingly modern. A watch that revels in a look that – unlike other moonphases, which can come across as refugees from a Jules Verne novel – has a bold, jewellery-like feel to appeal to fans of this most traditional of complications. A watch that will also be attractive to women, the Asian market (where the moon takes on special significance), and a younger demographic who enjoy a bit of subtle bling, too.
In fact, a watch for the world – inspired by its faithful celestial companion.
The C1 Moonphase is available now from christopherward.com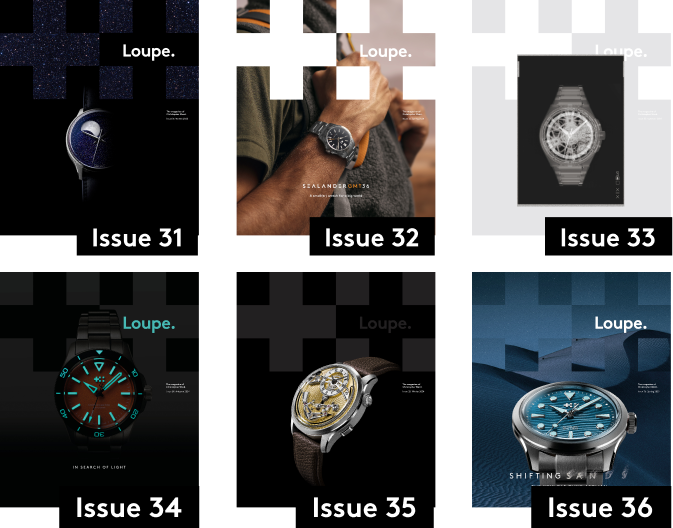 Sign up to Loupe magazine
Loupe is Christopher Ward's quarterly in-house magazine. If you want to know what's happening at CW (and you love great journalism), this is where to start. Alternatively, you can read all our back issues on your computer, tablet or phone.
Order your free copy
Read Loupe online