Reclaiming one of the classic watch sizes for men, while adding new accessibility for women, The Twelve (36) is one of the most radical pieces Christopher Ward has ever made

Words: Matt Bielby
The Twelve, Christopher Ward's first integrated bracelet watch since 2010's C20 Lido, has been such a smash hit that additional variations were a certainty. Meet, then, one of the company's least surprising (and radical) pieces: a fresh incarnation of The Twelve at the practical and inclusive size of 36mm.
What's a couple of millimetres between friends? In most walks of life, not much. But in the world of watches, where everyone has an opinion, each millimetre matters. "I've got big wrists so I need a hefty timepiece," say some. "Mine are skinny: anything large looks ridiculous," claim others. What's easy to forget, however, is that what seems big or small has as much to do with fashion as the watch itself.
Thirty-six millimetres then. For men, this is a classic, elegant size, the same width as the original Rolex Datejust, and larger than many vintage men's watches (the likes of John Wayne and Muhammad Ali sported pieces far smaller than this). And for women, it's visible and striking, but so wearable.
There's a paradigm shift going on across the industry right now, with men's watches getting smaller and ladies' watches getting bigger. The Twelve (36) is where they meet in the middle.
And for Christopher Ward – which has long taken an 'agender' approach – this isn't a man's watch or a woman's watch, it's just a watch, and it's up to you to decide if it works for you or not. What lends heft and strength to one sex offers crisp elegance to the other – and a feel-good factor to both.
The Twelve is Christopher Ward's contribution to perhaps the hottest category in watchmaking in recent years, the integrated bracelet sports watch. Originally a high-end 1970s style – known for sharply creased edges and unusual bezel shapes – models boasted bracelets and watch heads that appeared to be hewn from a single piece of metal. Today, thanks to classics like the Audemars Piguet Royal Oak and Patek Philippe Nautilus, integrated watches are read as confident, desirable and reassuringly expensive.
Or they were, until The Twelve arrived.
This isn't a man's watch or a woman's watch – it's just a watch
As is the Christopher Ward way, the task with The Twelve was to create a groundbreaking new version, with all the enticing looks and feel of the best of the breed, but very little of the cost. The result is strong, stylish and undeniably more jewellery-like than most Christopher Wards, a quiet riot of light play and sparkle, perfect for those with a bit of magpie in them – or who simply like to show off a little.
With The Twelve (36), intriguingly textured 3D dials – another feature of the classic integrated bracelet watch – come in a range of enticing colours, including Nordic Blue, a lighter Glacier Blue (both familiar from the 40mm version), plus a new twist on the bestselling Arctic White, which here becomes warmer, softer and dressier thanks to the use of rose gold hands and markers. Also exclusive to The Twelve (36) is a new shade – a pale green called Frosted Lichen.
And there's another significant difference between the two Twelves: the 40mm has a date window at six, while the 36mm has no date window at all. "To include one, we'd have to lose the entire six o'clock hour marker," says CEO and co-founder Mike France. "On a smaller dial like this, we prefer the clean, simple look. It encouraged us to change the dial furniture too, so the hour markers are proportionately slimmer and perhaps even more elegant than on the larger version."
On the reverse, the display caseback remains, but now features a snap-back design, again necessitated by the size. "There's just not enough metal to have a screw back and retain the quick-release strap capability," designer William Brackfield says. "And, as one of the joys of The Twelve is swapping between the bracelet and optional custom-designed rubber straps, keeping the quick-release was vital." Happily, water resistance remains at 100m.
The Twelve (36) is a watch with incredibly broad appeal, but also one that lives or dies by its details. "See it in the metal and you'll realise just what a remarkable achievement it is, especially in terms of design detail and level of finish," says Mike. "The reaction we're getting is astonishing."
And key to this is that size – at the same time both shocking and anything but.
For most people, most of the time, 36mm simply works. Whoever you are, whatever your age or style or sex, you might find The Twelve (36) – like Baby Bear's porridge – is just right.
"The reaction we're getting is astonishing"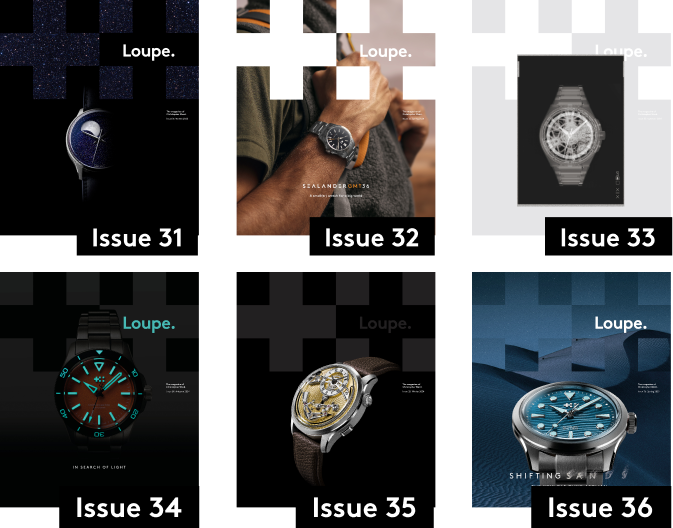 Sign up to Loupe magazine
Loupe is Christopher Ward's quarterly in-house magazine. If you want to know what's happening at CW (and you love great journalism), this is where to start. Alternatively, you can read all our back issues on your computer, tablet or phone.
Order your free copy
Read Loupe online