Matt Bielby talks to CW Technical Director Frank Stelzer about the genius of Calibre JJ04, Christopher Ward's remarkable moonphase movement
Frank Stelzer, Christopher Ward's current Technical Director, worked with Johannes Jahnke on the development of Calibre JJ04 and, for the first time, talks about its creation – and the legacy it has left CW.
Hi Frank! Do you remember the early development of CW's first in-house moonphase?
Yes. It was a fascinating journey that exemplified our commitment to pushing watchmaking boundaries. Johannes had a clear vision from the start. He wanted to create a moonphase complication that went beyond the traditional sub-register approach. The goal was to achieve an 'astronomical' moonphase, more captivating and accurate than what was available.
When developing a module to 'piggy-back' on an existing movement, what are the considerations?
Compatibility is paramount – the module must seamlessly integrate with the base movement, aligning with its dimensions, tolerances and functional aspects. Any modifications made to the base movement need to be well-thought-out to ensure a harmonious interaction between module and movement.
Adding a module to an existing movement can increase its complexity and dimensions, and ensuring the additional components fit within the available space without compromising the watch's aesthetics or wearability is crucial. Ultimately, the successful development of JJ04 relied on striking a balance between the innovative vision for the astronomical moonphase complication, and the constraints imposed by the base movement.
The goal was to achieve an astronomical moonphase more captivating and accurate than what was available
What do you admire about JJ04?
It's an ingenious complication that's both visually captivating and technically proficient. The key qualities of JJ04 lie in the smooth, perpetual motion it offers. The central positioning of the moon, coupled with its continuous, uninterrupted journey across the dial, creates an animated and captivating display rarely seen in other watches. It enhances interaction between wearer and the watch, bringing the moon's cycle to life in a tangible and engaging way. With the new Moonphase watch, we've refined the calibre to enhance its overall stability, ensuring the complication operates with the utmost accuracy and reliability.
What sets it apart from comparable movements?
Obviously the size of the moonphase window, but the smooth tracking of the moon is equally significant. And then there's Calibre JJ04's precision. In 128 years, the deviation is only one day! While this may seem like a theoretical feature, it speaks to the level of meticulous engineering and craftsmanship that now defines Christopher Ward.
Do you feel any great romantic attachment to the moon?
Actually, I do – it resonates deeply with me – and what I find captivating about moonphase watches is their ability to meld art and science. On one hand, they evoke a sense of wonder and romanticism, reminding us of the vastness of the universe and our place within it. On the other, there's the technical challenge. This intersection of emotion and precision reflects the essence of watchmaking itself.
Finally, you're now developing your own calibres for Christopher Ward. What's it like following in Johannes' footsteps?
I see our current efforts as a continuation of the principles Johannes championed. His ability to find elegant solutions to complex problems has inspired us to tackle challenges in a similar manner. We're carrying forward his legacy of striving for simplicity, where each component and mechanism is designed to work harmoniously within the overall calibre.
But while we respect Johannes' contributions and guidance, we need to evolve and innovate ourselves, too. Calibre FS01, developed for the Bel Canto, is a prime example of our ongoing commitment to elegant, innovative solutions, guided by the core values that Johannes instilled in us.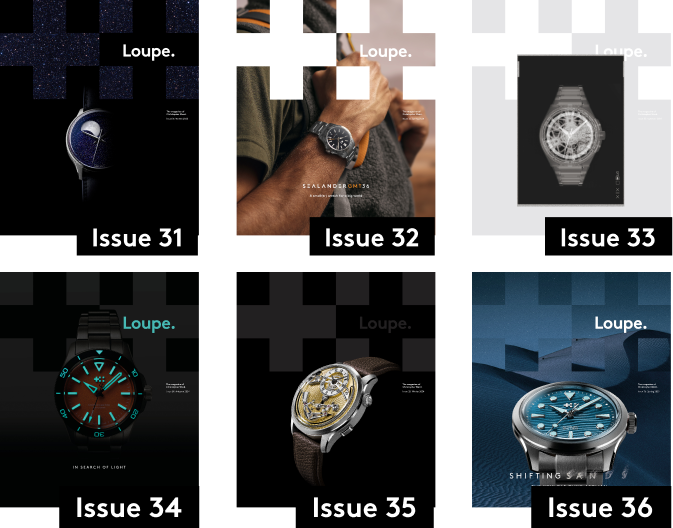 Sign up to Loupe magazine
Loupe is Christopher Ward's quarterly in-house magazine. If you want to know what's happening at CW (and you love great journalism), this is where to start. Alternatively, you can read all our back issues on your computer, tablet or phone.
Order your free copy
Read Loupe online