If you're scuba-diving one kilometre down, you need a timing instrument you can rely on.…
Something that's been engineered not just to tell the time. But to function under unimaginable levels of pressure.
If Christopher Ward was going to make a watch for those conditions. What would it look like? What would it need to do?
And if you loved the idea of functionality at 1000m but had no intention of diving that far, what else would you want from it?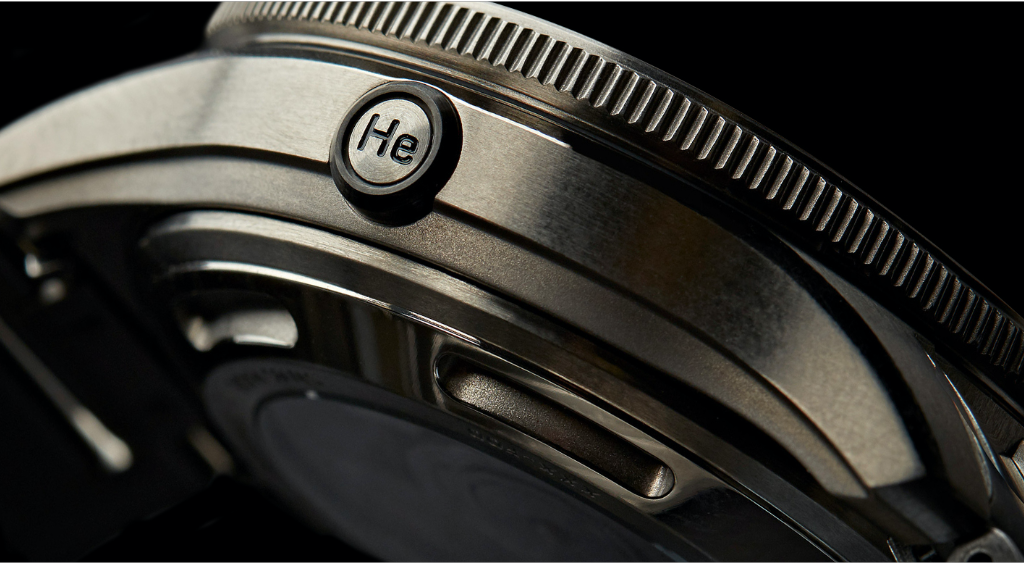 So went a conversation between Christopher Ward CEO and co-founder, Mike France, and senior designer Adrian Buchmann.
"We'd just launched the C60 Elite 1000 – a watch that's waterproof to 1,000m," says Mike. "Adrian had worked incredibly hard on it, and it felt like a real milestone. But then we got talking, and started to wonder where we could go next."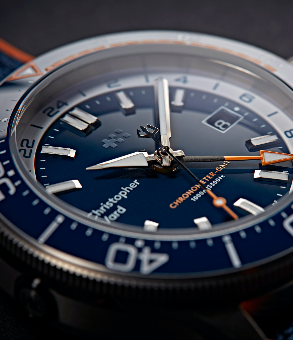 Several months later, and the result of that discussion plus the subsequent work that followed it, is a reality: the C60 Elite 1000 GMT. A watch that combines the deep-dive capability of the C60 Elite 1000 – witness the helium release valve for proof – with something unexpected: a GMT complication.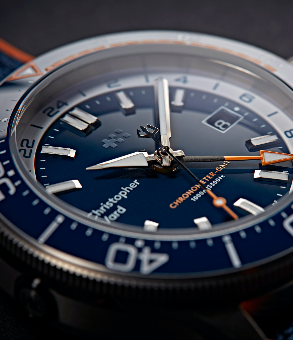 "We'd gone as far as we could in terms of withstanding water pressure, but we wanted to try something else," says Adrian. "And then we thought about a GMT complication. They're always popular as people love to monitor the time elsewhere."
Holding the C60 Elite 1000 GMT in the metal shows just how smart Adrian's design is. With the outer bezel used for diving purposes, he had to think of another way to work the GMT. The solution is an inner bezel which displays the 24-hour clock, and which you use alongside the fourth hand to monitor the time in another timezone. It functions perfectly.
Like the C60 Elite 1000, the GMT is made of Grade 2 titanium, a metal renowned for its ultra-high strength-to-weight ratio and anti-corrosive properties. At just 77g, it's so light you could be forgiven for forgetting you're wearing it. That is until you steal a glance at it.
"There's no doubt this is a beautiful watch," says Mike France. "We've produced it in two colour schemes. The first is a black-and-steel model, which recalls the great diving tool watches of the past. The outer bezel, with its brushed titanium finish, is particularly striking and contrasts perfectly with the red of the GMT hand. The other model, in blue and orange, is just so fresh. It's not the first time we've used these colours together, but they never fail to astound. I love the glossy blue ceramic of the bezel."
We're so proud of this watch – it really is an elite timing instrument. But it comes in at a price that means many more people can own it.
While the watch is feature-packed, on the wrist, it feels particularly comfortable. That's partly down to Adrian's light-catcher™ case and the watch diameter of 42mm – surprisingly small for a timepiece with this many features.
"It sounds obvious, but this watch is meant to be worn," says Adrian. "What I mean by that is that while the technical aspects are important, you also need to be able to wear it anywhere. This is something you can wear in the office or at the pool. With a suit jacket, shirt or T-shirt."
We're so proud of this watch – it really is an elite timing instrument. But it comes in at a price that means many more people can own it.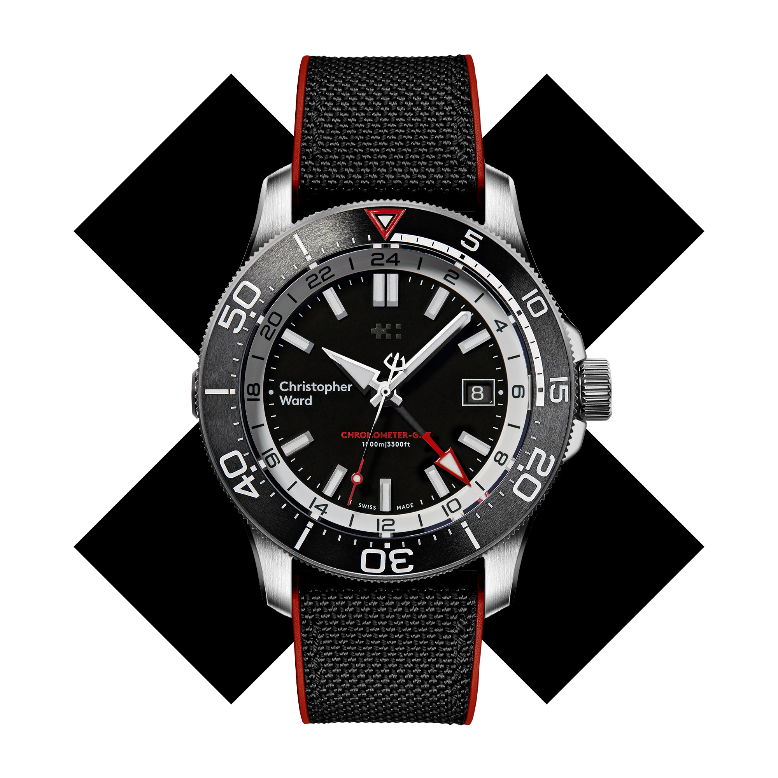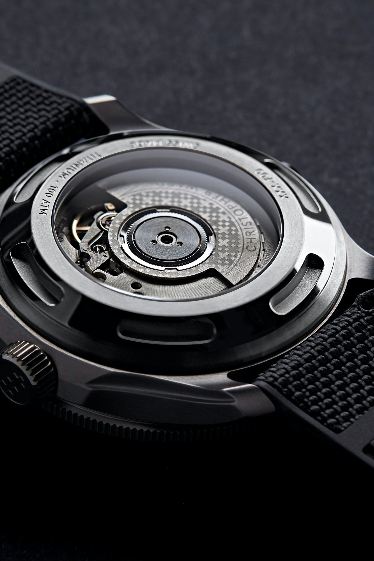 A watch of this stature deserves a movement to match, which in this case means the Sellita SW330, an automatic GMT calibre known for its smooth running and reliability.
"We've used the SW330 before," says Mike France. "It's a great movement. But here we needed to go further, so decided to go with the chronometer version. At 1,000m under the water, you need total accuracy."
For those who don't know, a 'chronometer' is a particularly accurate watch movement. This Sellita SW330 has been thoroughly tested by the Contrôle Officiel Suisse des Chronomètres, which puts it within the top six per cent of all Swiss-made watches for accuracy.
Finally, the straps. Whether you choose the titanium bracelet or the hybrid strap, you'll be fastening something that not only looks and feels comfortable but can also be changed in an instant thanks to Christopher Ward's quick-release mechanism.
Mike France has the last word. "We're so proud of this watch – it really is an elite timing instrument. But it comes in at a price that means many more people can own it. And, from what we can see from the first reactions, they like to show it off and tell everyone where they got it."
The C60 Elite GMT 1000 is available now, from £1,495 $1,705.00 €1,870.00 C$2,230.00 S$2,335.00 CHF1,680.00 HK$13,080.00 A$2,230.00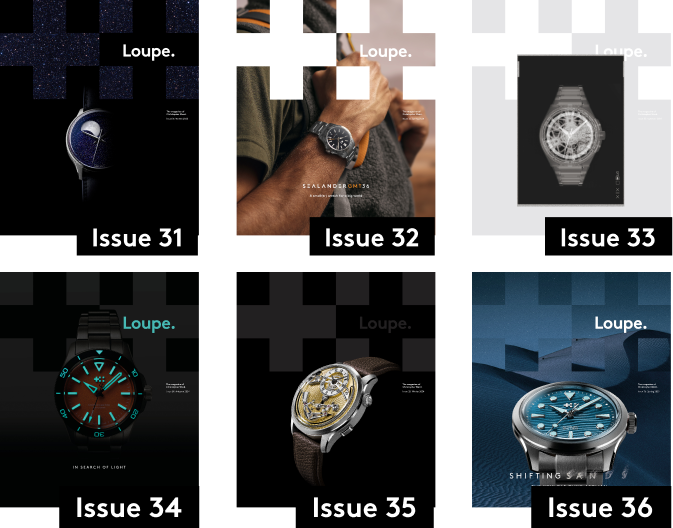 Sign up to Loupe magazine
Loupe is Christopher Ward's quarterly in-house magazine. If you want to know what's happening at CW (and you love great journalism), this is where to start. Alternatively, you can read all our back issues on your computer, tablet or phone.
Order your free copy
Read Loupe online