Our new motto, 'Ingeniously English, Unsurprisingly Swiss', encapsulates the two sides of our company's character: here we look at how our watches are steeped in the tradition of British design
What do you think of when we say iconic British design? The Spitfire? The Aston Martin DB9? The best of UK design is bold, solid, easy to understand and works flawlessly. It's often egalitarian too, no small achievement considering the country's obsession with class.
How does this apply to watches? It's not an easy question – and not just because 'British design' is defined as much by attitude as specific design cues. Yet it's something Christopher Ward has been addressing since the company was founded in 2004.
At first glance, British design seems contradictory. It's a leader in both traditionalism, and tomorrow's pop culture; it's steeped in convention but adores flamboyant flair; it likes the rule book, but loves to rip it up even more.
Often the innovator, rarely the follower – the British never want to be like each other, let alone anyone else. It's the product of a country of brilliant boffins and doggedly inventive problem-solvers, from Isambard Kingdom Brunel to vacuum cleaner king, James Dyson. These people offered radical change, yes, but born from the requirements of engineering rather than artistic whim.
Except that's not the whole story, for parallel to the practical Brunels and Dysons runs another strand – one that sells wild, romantic fantasy to the world. Not for nothing do the Paris haute couture houses keep an eye on London for the next John Galliano or Alexander McQueen, or the German and Japanese automotive giants set up London design studios. Meanwhile, Newcastle Polytechnic alumnus Jony Ive sits in Apple's HQ in Cupertino and defines the things we all hold and look at for more hours than we'd care to admit.
Then there's Britain's watch history, which – though rich – is mostly small scale. It means there are few direct influences to take, and many that there are – such as the famous 'Dirty Dozen' military watches from the tail end of World War II – tend to be Swiss interpretations of British design specifications.
"When I first came to Christopher Ward, I knew an important part of my job was to give the watches a British feel," says our Swiss head of product design, Adrian Buchmann. "But at first I had no idea of how to do that. Eventually, I found that the best way into it was to look at the landscape and the people."
For Adrian, who's spent time in the Cotswolds and the Malvern Hills, there's something gentle and polite about Britain's smoothly rolling ridges and valleys, and about the folk who live there too. "The more I stay in the UK, I see how the weather – rarely very warm or very cold, and constantly changing – is crucial too," Adrian says. "It's reflected in the things Britain creates. Everything here is very much as it's always been, but at the same time, it's constantly changing. There's great tradition undercut by playful eccentricity – and understanding that is key to understanding British design."
When Adrian began at Christopher Ward, he knew the watches needed to be classy, but always with a twist or a hidden surprise – like the secret pocket or brightly-coloured lining you might get on a Savile Row suit.
We're now a true premium watch brand, and you can see it in everything but the prices" – Adrian Buchmann, head of product design
The first crucial thing to get right was the cases – a key building block of any watch – which has now resulted in the light-catcher™ range, each with its different textures and finishes, and smooth, vaguely retro curves.
These were initially paired with simple, utilitarian dials while the team worked on their next challenge, developing increasingly sophisticated and intricate details: from the hands to the crown, the indexes to the sapphire crystal. It was important there were pleasing design details everywhere you looked, even if the watches themselves didn't always shout too loudly. After all, one of the great strengths of British design has always been the way it's so closely allied with craftsmanship.
"We work with premium suppliers, who create cases and hands for the most expensive brands," Adrian says. "In the past, we requested simple designs they could make in their sleep. They looked good, but they weren't distinctive. Today, though, we're pushing each supplier to do their best work, really showing what Christopher Ward is capable of. We're now a true premium watch brand – and you can see it in everything but the prices."
With all this achieved, the company has a solid base to work from – which is why you're going to see a noticeably different Christopher Ward over the coming years. With the finesse and professionalism nailed down, the company can experiment with pieces that are more bold or daring – the watch equivalent of the E-Type Jaguar or Mary Quant mini skirt, maybe. "It's time for us to concentrate on the fun, innovative side of things," says Adrian. "We can turn our creativity up to the max."
You can see signs of this in the Apex range, and the C1 Moonglow – so different to any traditional moonphase complication – and even more so in the colourful chronographs or innovative dive watches coming up in the next couple of years.
And in the meantime, the innovation and ongoing product improvements will never stop – another key element of British design. "We're open to new ideas, new processes, new techniques," says CW co-founder and CEO, Mike France. "And though the C60 will always be a practical diver's tool watch, and the C65 will forever have a retro look, we'll be improving them both all the time. The big sellers will always be our core watches, but we need a constant stream of specialist, innovative models, too. They keep the company buzzing, add sizzle and excitement, and tempt in people who've never considered Christopher Ward before."
As with all the best British design, we've never put form before function and we never will" – Mike France, CEO
Expect more anarchic vigour than ever before. But don't expect more frippery. "With each of our watches, the design process serves to tell a truth about its core function," says Mike. "As with all the best British design, we've never put form before function. And we never will."
In an increasingly fast-moving, international world, it sometimes feels harder than ever to identify those design qualities that make something recognisably British – or French, or Italian, or German, come to that – but think on this. If you see expected tropes transformed or re-energised, if you see a desire to explore the far reaches of possibility coupled with a commitment to keeping everything clear and fit for purpose, and if you see the established order celebrated and subverted both at once, then that's British. And you'll be seeing more of it from Christopher Ward.
This article first appeared in Loupe magazine. To get your free copy of the current issue, click here.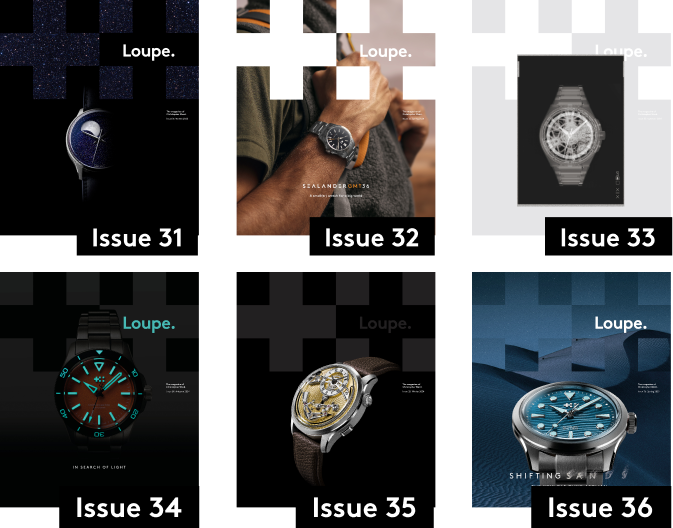 Sign up to Loupe magazine
Loupe is Christopher Ward's quarterly in-house magazine. If you want to know what's happening at CW (and you love great journalism), this is where to start. Alternatively, you can read all our back issues on your computer, tablet or phone.
Order your free copy
Read Loupe online