After the C60 BLUE generated £250,000 for the charity, CW plans to go one better with its latest watch series
The ocean has inspired horology for centuries.
From the first global navigators to today's extreme divers, accurate timing has always been integral to the safety of those who explore the sea. In England, 18th-century clockmaker John Harrison is still revered for his 'marine chronometer' clocks which enabled mariners to accurately calculate their longitudinal position for the first time.
So it's appropriate that Christopher Ward is dedicated to supporting Blue Marine Foundation (also known as 'BLUE'), an ocean preservation charity. So far, the company has raised over £250,000 for BLUE through sales of the C60 BLUE watch and the #tide strap – made from recycled ocean plastic.
But that's just the start. As Blue Marine Foundation seeks to raise the profile of the ocean as a climate change solution, Christopher Ward will donate five percent of proceeds from the Aquitaine Collection to BLUE.
The charity says: "We're looking to increase public awareness of marine habitats such as seagrass meadows, kelp forests and saltmarshes, all of which suck up and store 'blue' carbon – some seagrasses can capture carbon 35 times faster than rainforest. And money from the sale of the Aquitaine Collection will help us in our mission."
Christopher Ward CEO and co-founder Mike France says:"The Aquitaine is inspired by the coast where diver and environmental filmmaker Jacques Couteau was born. So it's only right that we donate some of its profits to help BLUE's work with marine habitats."
"In the last 10 years, BLUE has become a driving force in the mission to create a healthy ocean"
Blue Marine Foundation is supporting the evolution of a blue carbon market that could unlock massive investment in marine conservation and restoration projects. It's also working with a University of Exeter programme that seeks to understand the seabed's role in storing carbon – and encourage the public and political campaigning necessary to take blue carbon seriously.
Christopher Ward's relationship with BLUE began in 2019 when it donated five percent of proceeds from its six best-selling models. One of Christopher Ward's key values is sustainability – as its eco-packaging shows – so a watch partnership was a natural next step. Limited to just 500 models, the C60 BLUE became an instant hit with CW fans.
"And when we saw how much it had raised, we were immensely proud," says Christopher Ward CEO and co-founder, Mike France.
Blue Marine Foundation was launched in 2010, and that year brokered a deal to enable the creation of a vast 'marine protected area' (MPA) around the Chagos islands, funded by the Bertarelli Foundation. Since then, it's overseen a variety of projects: from helping to secure a commitment from the UK government to protect four million square kilometres of ocean around the UK's overseas territories to leading efforts to save the yellowfin tuna stock from collapse.
Charles Clover, executive director of BLUE, says: "In the last 10 years, BLUE has become a driving force in the mission to create a healthy ocean. We're deeply grateful to Christopher Ward for marking our 10th anniversary with the exquisite C60 BLUE. And we're even more excited about how Christopher Ward can help us in our quest to promote blue carbon and save endangered marine habitats."
Mike France says: "I grew up by the sea, and live on the coast for part of the year, so have a deep affinity with what BLUE is trying to achieve. When the idea of a watch designed with BLUE was suggested, we jumped at the chance. And while we're pleased with how much we've raised so far – we know that's only the beginning. I'm hopeful the money generated by Aquitaine will make a real difference in the fight against climate change."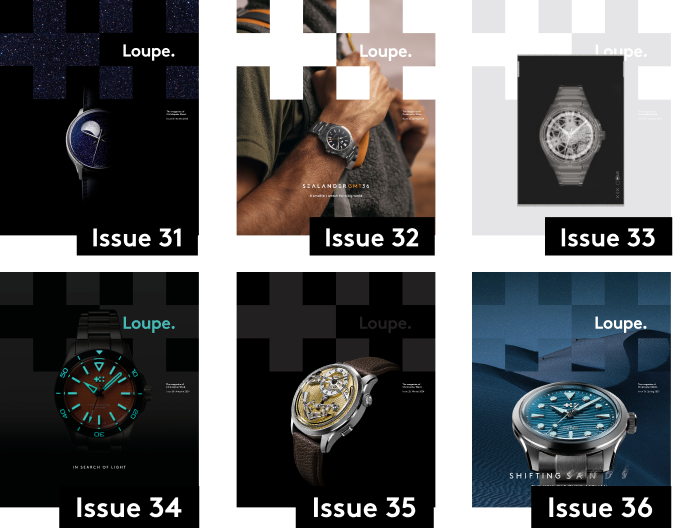 Sign up to Loupe magazine
Loupe is Christopher Ward's quarterly in-house magazine. If you want to know what's happening at CW (and you love great journalism), this is where to start. Alternatively, you can read all our back issues on your computer, tablet or phone.
Order your free copy
Read Loupe online