An extraordinary skeletonised watch that shows off Christopher Ward's in-house SH21 movement – and one that also points to the future of its best selling dive range
When Christopher Ward launched the astonishing C60 Apex in 2019, it represented the best the brand could possibly achieve – at that time.
Two years on, comes a watch to eclipse it. The C60 Concept typifies CW's greatest strengths – innovative design, exceptional attention-to-detail, a determination to go the extra mile – while also celebrating the company's remarkable in-house movement, Calibre SH21. Stripped bare and mounted on a skeletonised base plate and bridges, it's revealed in all its intricate, robust glory.
From £3,495 in a limited run of 210, by Christopher Ward standards it's an expensive watch. But at the same time, it demonstrates the CW value proposition like little before. A titanium case? A fully skeletonised in-house movement? And crucial parts finished to a standard that compares with Audemars Piguet? Suddenly, it's a bargain.
"If anyone else were to bring out this watch, it would sell for at least £10,000, and probably a lot more," says CEO and co-founder Mike France. "But that's not the way we operate. We pulled out all the stops here not to jack up the price, but because we thought we could make an extraordinary piece. With the C60 Concept you can really see the beauty of SH21, and by hand-finishing parts most people couldn't even name, it comes to life in front of your eyes."
"If anyone else were to bring out this watch, it would sell for at least £10,000"
"SH21 is special, not just because it's ours, or because it's so dependable – but because it actually outperforms
its rivals"
The C60 Concept is a genuine dive watch, with 300m of water resistance and a ceramic bezel – although, admittedly, a minimalist dial ring that might not be immediately readable in the murk of a shipwreck – but it's also a test-bed for design concepts that may appear on future mainstream models (more on that later).
"What's the number-one element that separates truly high-end watches from everyday ones?," asks head of product design Adrian Buchmann. "Extreme levels of finishing. And that becomes even more important when a watch is open-worked, front and rear. With the C60 Concept you can see the balance moving from the dial side for the first time, while both barrels are skeletonised. Everything has to be exquisite, because there's nowhere to hide."
To this end, components are sandblasted, brushed and hand-polished. Moving parts are coated in silvery rhodium, and non-moving ones in grey rhutenium.
Instead of the three or four wheels you could see moving on the C60 Apex, here you see all of them. The end result is gloriously 3D, so bridges slope down into crevices then rise out of them again, while the inner workings catch the light in ways to rival CW's celebrated cases. "As much of the base plate and bridges as possible have been removed, and what remains has been redesigned and finished impeccably," Adrian says. "It should come as no surprise that this is both the prettiest and the lightest automatic SH21 there's ever been."
"Our strength has always been in bringing aspects of watchmaking previously only available at ultra-high price points to more people"
When Christopher Ward's former master watchmaker, Johannes Jahnke, created SH21 seven years ago, he wanted a 'tractor' of a movement: one that was both solid and reliable, and though it's been refined a number of times since, how little has changed bears tribute to the rightness of that original design. There are now around 8,000 examples 'in the wild', and it's proven to be the most robust and reliable movement CW has ever offered. But this is far from its only virtue. "One thing often forgotten about SH21 is its signature twin-barrel architecture," says Mike. "This gives it an outstanding power reserve of five days, or 120 hours. At any price point, you'd be hard pushed to find many watches to rival that – and fewer to beat it. SH21 is special, not just because it's ours, or because it's so dependable. It actually outperforms most rivals in crucial ways, too."
Back in the day, watches were often judged on the quality of their movements – their accuracy, yes, but the materials and workmanship, too. The Swiss industry rejoiced in a 'synergistic' environment, where specialist suppliers concentrated on what they did best, and watchmakers used their individual skills as required. Specialists like this still exist, of course – but they're rarely talked about outside companies like CW, where transparency is valued. Another important part of the thinking behind the C60 Concept, then, was that it should provide an excuse to celebrate some of CW's remarkable collaborators – and two of them, in particular.
First up, there's Armin Strom, a near-neighbour of the CW atelier in Biel. Specialists in unusual, intellectually pleasing engineering solutions, their own watches – often selling at prices more commonly associated with luxury cars – are exquisite examples of horological nous, utilising esoteric movements that demand to be viewed.
As such, they've become experts at highly skeletonised designs, where each element is placed for visual appeal as well as technical elegance. Naturally, they were the ideal partners to provide the Concept's striking base plate and bridges.
"We're thrilled Armin Strom chose to work with us, though we usually operate at opposite ends of the industry," says Frank Stelzer, CW's technical director. "But they understand what we're about, and enjoy the intellectual challenge of helping us get close to their quality, but at our price points." And then there's Chronode, hand-finishing specialists who've detailed the SH21 you see here to standards higher than Christopher Ward has ever previously attempted; indeed, their work on the base plate and four different bridges takes almost six hours per watch.
"If their workmanship is good enough for Czapek and MB&F, two ambitious indie brands which sell at prices often north of £100,000, then it's good enough for us," says senior product manager Jörg Bader Jr. "Our parts are finished alongside theirs, and to exactly the same standards."
As its name might suggest, the C60 Concept has one additional role: as a test-bed for designs and ideas earmarked for regular CW models further down the line. Since this is a C60, of course, we're talking about the next generation of Trident Pros. "May 2023 is the date we've pencilled in for the launch of our fourth-generation C60 Trident," says watch designer Will Brackfield. "And the Concept previews some of our thinking about that family, particularly in terms of detail design elements and materials used. For instance, that prominent orange triangle at 12 o'clock is particularly interesting. It's made of an amazing luminous ceramic material, Globolight XP©, created by a company called Xenoprint, which can be moulded then machined into all sorts of 3D shapes. It's something we're looking at doing more with in the future."
For now, though, let's just enjoy the C60 Concept itself, and all the ways in which it pushes Christopher Ward forward. It's not only the most impressive watch the company could possibly create at this precise moment in time, but also sells at a price accessible enough to send ripples throughout the industry.
"Our strength has always been in bringing aspects of watchmaking previously only available at ultra-high price points to more people," Mike says. "That's why my famous challenge remains open. If you can bring me an objectively better watch at a comparable price, I'll give you our equivalent model for free. Nobody's ever taken me up on it."And we doubt they will any time soon. After all, the C60 Concept is a £3,495 piece that would be genuine value at five times that. For now, it's the ultimate Christopher Ward.
C60 Concept: from £3,495 / $4,370 / €4,440 - Sold out
If interested, please contact us:
customerservices@christopherward.co.uk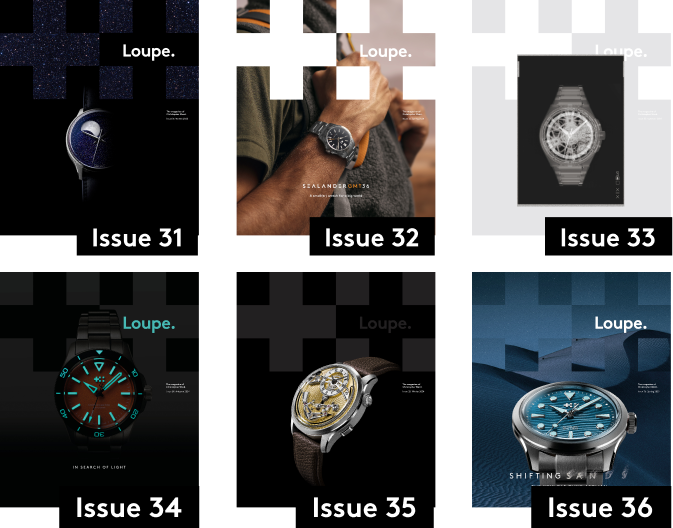 Sign up to Loupe magazine
Loupe is Christopher Ward's quarterly in-house magazine. If you want to know what's happening at CW (and you love great journalism), this is where to start. Alternatively, you can read all our back issues on your computer, tablet or phone.
Order your free copy
Read Loupe online