Christopher Ward's design and engineering teams tell the tale of how they created the first super compressor in 50 years: and why it's got better with age
Released in 2020, the C65 Super Compressor is the first watch in 50 years to carry an authentic 'super compressor' mechanism.
Two and a half years after its launch, the Super Compressor is now an acknowledged cult hero, the 'diving watch with a difference' beloved of watch-lovers and vintage style aficionados alike.
Here, three of the main players in its development – designer Will Brackfield; head of design Adrian Buchmann; and technical director Frank Stelzer tell the tale of a unique timepiece.
Hi guys. How did you feel when you were asked to create a genuine Super Compressor?
Will Brackfield: I was excited to revive a case that hadn't been produced in over 50 years. At the time, compressor-style cases were coming back into favour but no one had revived a true compressor case. They'd only used the design codes such as the case shape/double crowns.
Adrian Buchmann: It's always nice to be given a new challenge – to dig into archives to understand the evolution of the piece. And at the same time, to try to honour it the best way possible with today's technical standards.
Frank Stelzer: It's a great feeling to give old systems new life again: often these have been forgotten due to new techniques and standards. Being a big fan of retro watches myself, this was a great challenge and exciting to revisit the technical considerations of the era.
Which watch did you use as inspiration?
WB: There was no single watch – it was more the vibrant and colourful watches of the late '60s early '70s that inspired me. But we were determined this watch would use colour in a way we hadn't previously.
"The Super Compressor gave us the confidence to do watches like the Bel Canto"
What makes a super compressor a super compressor?
FS: For diving watches, the case backs had to be tightened firmly to guarantee 100 percent water-resistance. The rubber seals used at the time could withstand this mechanical pressure for only a few dives. They had to be constantly renewed. Not practical! As sealing materials were not so advanced, another way was needed to ensure diving watches were also watertight in deep waters. The solution was a spring-loaded case back. With this system, the watch becomes more waterproof the deeper you dive.
How did the design team in the UK work with engineers in Switzerland?
WB: There was no one we could go to that had that specific knowledge so we had to rediscover it ourselves. We bought an old super compressor and reverse-engineered it. We were able to improve certain elements and we also realised we could create the first super compressor with a display back, so you could see the compressor spring at work.
Why is there a cross-hatch design on the crown?
WB: The crosshatched crown was a design element Ervin Piquerez SA – the manufacturer that held the patent – added to their cases to denote it had the super compressor technology.
Frank: Why is the countdown bezel an internal one?
FS: This is a typical feature of super-compressor watches. From a practical point of view, there's only one advantage: the rotating bezel is well protected from external influences such as sand or mud. However, with diving gloves, it's difficult to adjust the bezel via the relatively small crown. That's why the external rotating bezel became popular later on.
What difficulties did you face during the reverse-engineering process?
AB: We had to convince the case supplier we weren't totally stupid to recreate a mechanism that – in today's era of waterproof cases – is obsolete. But I'm glad they took the challenge on board.
FS: With the sealing material used today, many tests had to be carried out to evaluate how thick the seal had to be and what force the spring in the case back had to have in order to guarantee functionality.
What did you add to the new mechanism to take it up to 21st century standards?
WB: The original compressors and the bold colour palates of the time they were released. It's also a dial where we focus on the play of light. Placing lume on the end of the markers allowed us to have huge polished facets that make the dial come alive.
What was your inspiration for the dial?
WB: I think the watch still feels really fresh and fun, I haven't really tired of it. I think it's the novelty of the case shape seeing the compressor spring through the caseback and all the detail and colours on the dial side that keep it feeling interesting.
Why do you think CW was the first watch brand in 50 years to make an authentic super compressor?
WB: I think it's linked to our curiosity and sense of fun, crossed with the fact we're a small company so we always feel like we have something to prove. And demonstrating our technical capability is a great way to do that. Projects like the C65 Super Compressor gave us the confidence to do what we're doing today with models like the Bel Canto.
AB: The brand has always had an all-or-nothing approach on its development. That's what makes CW special.
FS: Although the super compressor system is technically brilliant, it's no longer necessary due to the use of new sealing materials. Today, it's mainly interesting for enthusiasts of great watchmaking inventions that shouldn't be forgotten. We're doing our part with projects like this.
How do you feel about the watch today?
WB: It still feels fresh and fun. I think it's the novelty of the case shape, seeing the compressor spring through the caseback and all the detail and colours on the dial side that keep it interesting.
AB: It's the highlight of the C65 vintage range as it has such a good story about it.
FS: I love this watch and wear it myself. The retro look combined with the technical functionality makes it a classic!
Why our co-founder, Peter Ellis, loves his C65 Super Compressor
My SC gets lots of wrist time with me – not just because its technically wonderful and reminiscent of a by gone age – as its it's so cool. Great dial with all the various contrasting elements working in perfect harmony. With the light catcher case the added bonus on top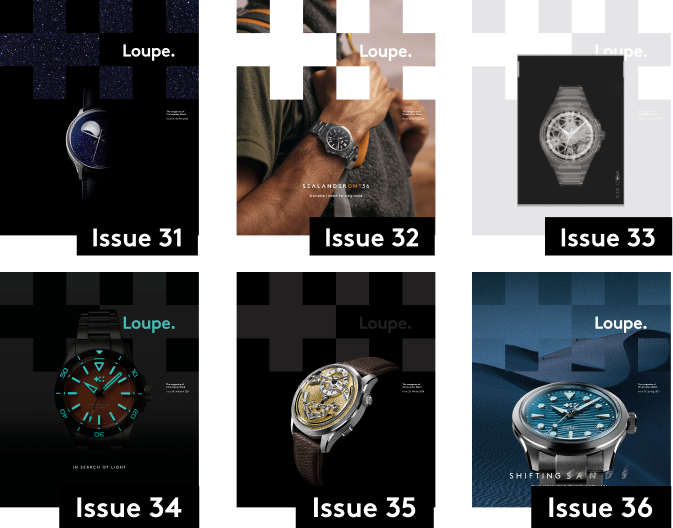 Sign up to Loupe magazine
Loupe is Christopher Ward's quarterly in-house magazine. If you want to know what's happening at CW (and you love great journalism), this is where to start. Alternatively, you can read all our back issues on your computer, tablet or phone.
Order your free copy
Read Loupe online