After a successful first season in the top tier of UK motorsport, Team BRIT – sponsored by CW – are looking to tear up the track in 2023
Christopher Ward is a proud sponsor of Team BRIT – the world's first all-disabled motorsport team.
Last year, drivers Chris Overend and James Whitley, driving the adapted BMW M240i, came first in the Britcar Trophy. While Aaron Morgan and Bobby Trundley in the McLaren 570s GT4 – took second place in the Pro-Am GT4 arm of the elite British GT Championship.
As the new season approaches – and with another McLaren ready to be rolled out – Team BRIT commercial director Mike Scudamore tells us about their plan to do even better this time around.
Last year was your first in the British GT championship. How did you get on?
Competing in the most prestigious championship in the UK was a proud moment. The tournament is split into two categories – GT3 and GT4 – then sub-classes within each category. We competed in the Pro-Am GT4 category and finished second in class at the end of the season!
Was the win at Spa a highlight?
Our McLaren 570s GT4 was well suited to Spa, but it was the fantastic drives from Aaron and Bobby that made the difference. Bobby fending off Le Mans-winner Darren Turner lap after lap was a highlight of mine. While we won our class, it was finishing third overall in the GT4 category that caught the attention of our peers. We're not there to make up the numbers, and this result proved that.
How is the McLaren 570S GT4 performing?
The McLaren served us well last season – so much so that we bought another to replace our Aston Martin! Having two similar cars helps with set-up knowledge, spares and driver comparisons. The cars are 'homologated' – which means they can't be changed from the factory spec regarding performance parts. So it's all down to fine-tuning the set up, which you can change – whether that's suspension settings, castor, camber or tyre pressure.
"We've bought another McLaren!"
What's your ambition for this season? With a season of experience under our belts, we can't wait to get back on track at Oulton Park at Easter. Our drivers and crew are refreshed and ready for action. We want to improve on last year with a target to win the Pro-Am championship and finish more regularly on the overall GT4 podium. Motorsport is about marginal gains, so it's not one thing that will make the difference but everyone making minor improvements.
How did your drivers do in the other competitions? Chris Overend and James Whitley set a high bar in their first season, becoming the first all-disabled driver pairing to win a national championship! They'll be stepping up to drive our second McLaren in the British Endurance Championship, having just returned from a successful test in Portugal.
Andy Tucker and Luke Pound got a great start in the Aston Martin Vantage, winning their class at Silverstone: they finished third overall in the GT4 class at the end of the season. In 2023, Andy is racing for a new team, and Luke will be taking a year off from racing with his young family.
Meanwhile, Paul Fulliuck and Tyrone Mathurin missed a couple of races early on as their car was damaged in a test session. They completed a faultless season and are stepping up to the championship-winning BMW 240 in the Britcar Trophy. No pressure, guys!
What else is happening with Team BRIT? We're delighted to add a Citroen C1 to our 2023 programme. The C1 championship offers low-cost endurance racing and is an excellent way for our rookie drivers to learn their craft. We have four drivers competing in that championship and will announce the driver line-up shortly.
Are the team still wearing their CW watches? Absolutely. And proudly so! James and Chris were presented with engraved versions of the C60 Chronograph in recognition of winning their championship last season. The new crew members have been asked to pick a watch for 2023. The only challenge is which one to choose!
Team BRIT:
2023 calendar

MARCH
25th - British Endurance - Silverstone
26th - Britcar Trophy - Silverstone


APRIL
10th - British GT Championships - Oulton Park
22nd - British Endurance - Brands Indy
23rd - Britcar Trophy - Brands Indy


MAY
7th - British GT - Silverstone
27th - British Endurance - Oulton Park
28th - British GT - Donington GP
29th - Britcar Trophy - Oulton Park


JUNE
18th - British GT - Snetterson
24th - British endurance - Silverstone GP
25th - Britcar Trophy - Silverstone GP

JULY
23rd - British GT - Portimao (Portugal)


SEPTEMBER
10th - British GT - Donington National
16th - British endurance - Donington National
17th - Britcar - Brands Hatch GP


OCTOBER
14th - British Endurance - Donington GP
15th - Britcar Trophy - Donington GP
22nd - British GT - Donington GP


To find out more visit www.teambrit.co.uk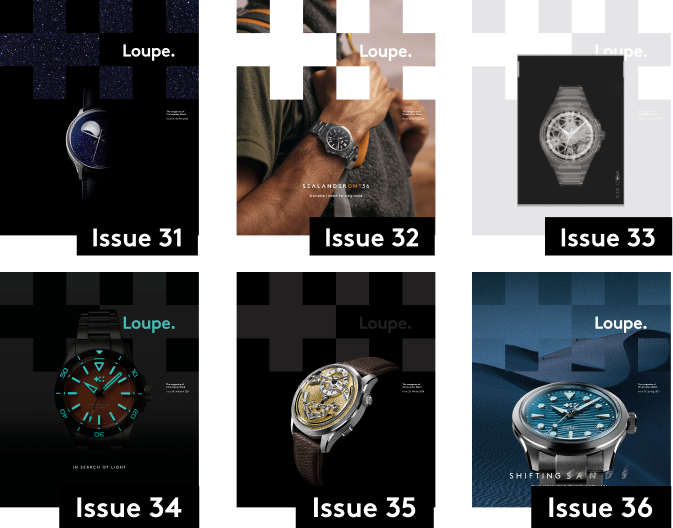 Sign up to Loupe magazine
Loupe is Christopher Ward's quarterly in-house magazine. If you want to know what's happening at CW (and you love great journalism), this is where to start. Alternatively, you can read all our back issues on your computer, tablet or phone.
Order your free copy
Read Loupe online