Off the coast of Thailand an eco business is reclaiming sea plastic and turning it into a material that can be used in watch straps (and more) – as seen on the #C60 tide
Deep in the island archipelagos on the Andaman Sea and along the southwest coast of Thailand, lives the Moken tribe. Indigenous sea gypsies, these people's ancestors have lived as nomads on the sea for centuries.
Following the destruction caused by the 2004 tsunami, increasing red tape surrounding conservation efforts by the Thai authorities has meant they've had to struggle to keep their families, quite literally, afloat. New employment opportunities are scarce. Meanwhile, the problem of plastic waste washing up on nearby shores is rapidly mounting.
Enter #tide ocean material®, a Swiss company which upcycles oceanic plastic waste and converts it into a premium material that CW uses for its #tide collection of straps.
Seeing the connection between the rising tide of plastic waste filling the Andaman, and the needs of local people like the Moken and other sea nomad tribes across Asia, #tide connected with Thai and Philippine social enterprises to pay fishermen to catch not fish, but plastic waste. "Our solution makes ecological and social sense.
"We believe small changes can make a difference"
These people are facing big threats," explains Marc Krebs, co-founder of #tide. "Overfishing has made it hard for them to catch fish, and plastic is killing marine ecosystems and endangering the people's way of life. Now we train and pay fishermen to collect, sort, process and transport ocean-bound plastic."
#tide then works with the Swiss University of Applied Sciences to engineer a process to extrude the ocean material into granules, yarn and filament, for varied applications, from 3D printing to bikinis. "It's fantastic to see brands like Christopher Ward pioneering the use of #tide for watch straps," says Thomas Schori, the entrepreneur behind #tide. "CW was one of the first with the courage and determination to change the material and change its perspective. It proves it's possible to create a luxurious strap with a social and environmental value."
"We worked with #tide to create a one-off strap for the C60 BLUE limited edition – which raised money for Blue Marine Foundation," says Mike France, Christopher Ward's CEO. "The success of that watch taught us two important things: our team gets inspired by environmental concerns, and our customers want to see us do more with eco materials." The #tide strap collection and C60​ #tide dive watch were the logical next steps.
The C60 #tide is, like the rest of the C60 Trident line, a powerhouse of a dive watch. Undeniably rugged, but with characteristic elegance, the C60 316L steel case with its flowing Light-catcher™ lines looks as good under a shirt cuff as it does with a rash vest – and is watertight to 600 metres. Differences here though, are discreet, yet distinctive and plentiful – and that's before we get to the bracelet, hybrid Cordura® and#tide strap options.
Continuing the story of CW's pre-eminence in the art of sapphire dial- making, here we have a dial that looks 3D in nature, thanks to its organic wave pattern, wrought in lines of Super-LumiNova® Pantone 2189c BL Grade X1. Like bio-luminescent algae, or a monster from the deep, the watch shines in darkness, yet maintains a cool and discreet look in daylight. Like the entire Trident line, of course, it has a full-lume ceramic bezel, which adds to the coruscating effect.
None of this was achieved without considerable technical expertise. "The SLN self-colour dial was a real challenge to achieve with sapphire," says Will Brackfield, CW watch designer. Colour-matching between dial, bezel and lume colour was challenging, too. "The polycarbonate wafer that gives our sapphire its deep blue hue is just 0.2mm thick, and the sapphire disc is strong, yet brittle to machine," explains Will. "There's a lot that can go wrong between concept and reality."
The overall effect of the dial is captivating; shimmering like water, yet with the chronometer movement's mechanics just visible in the depths.
On the case back, the 3D trident typical of the range is replaced with a deep-stamped #tide mark and a second blue ring of #tide material. Thanks to #tide's flexibility as a raw material, it colour-matches to Pantone® references; in this case, the iconic blue of the C60 Trident Pro.
It's in the extended range of strap options, now encompassing #tide variants in blue, black and orange and one with the dial's wave patter woven into its fibres (specifically created for this watch) that CW reveals its strongest statement of intent. "We wanted to rethink our use of materials by creating uniquely designed #tide straps available across the whole CW range," explains Adrian Buchmann, CW's head of design. "We started with the C63 Sealanders and extended across the entire collection."
The open-series C60 #tide is powered by a Sellita SW200 COSC movement, making its accuracy and reliability as unshakeable as its materials. "Like a COSC-certified movement, #tide ocean material® is rigorously tested," says Adrian. "It's sun-, rain- and weather-proof. Much like the watch itself."
This symbiosis of the technical and the material highlights the urgency of the cause the watch supports. "Solutions are urgently needed, or otherwise the ocean will contain more plastic than fish by the year 2050," says Thomas, who also runs Braloba, CW's longest-running watch strap supply partners.
#tide straps are now available across the CW collection, and the customer response is undeniable. "We now have the widest selection of ecologically-produced watch straps on the market," says Mike. We believe small changes can make a difference."
Together, CW and #tide will donate £5 from every strap that's sold – either on a watch, or individually – to Blue Marine Foundation, to support its vital work in marine conservation.
C60 #tide is available
from £1,025 / $1,225 / €1,325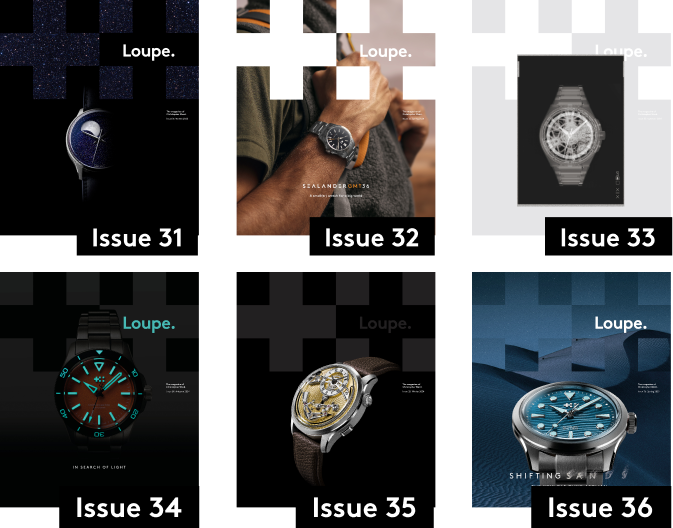 Sign up to Loupe magazine
Loupe is Christopher Ward's quarterly in-house magazine. If you want to know what's happening at CW (and you love great journalism), this is where to start. Alternatively, you can read all our back issues on your computer, tablet or phone.
Order your free copy
Read Loupe online