The ocean has inspired horology for centuries.
From the first global navigators to today's extreme divers, accurate timing has always been integral to the safety of those who explore the sea. In England, 18th-century clockmaker John Harrison is still revered for his 'marine chronometer' clocks which enabled mariners to accurately calculate their longitudinal position for the first time.
So it's appropriate that Christopher Ward is a strong supporter of Blue Marine Foundation (also known as 'BLUE'), a charity which seeks to protect the oceans by combating overfishing.
A charity which is now £200,000 to the good after CW donated all the proceeds from its recent C60 BLUE dive watch.
Christopher Ward's relationship with BLUE began in 2019 when it donated five percent of proceeds from its six best-selling models. One of Christopher Ward's key values is sustainability – as its eco-packaging shows – so a watch partnership was a natural next step. Limited to just 500 models, the C60 BLUE became an instant hit with CW fans.
"And when we saw how much it had raised, we were immensely proud," says Christopher Ward CEO and co-founder, Mike France.
Blue Marine Foundation was launched in 2010, and that year brokered a deal to enable the creation of a vast 'marine protected area' (MPA) around the Chagos islands, funded by the Bertarelli Foundation. Since then, it's overseen a variety of projects: from helping to secure a commitment from the UK government to protect four million square kilometres of ocean around the UK's overseas territories to leading efforts to save the yellowfin tuna stock from collapse.
The ultimate goal for BLUE is to see 30 percent of the world's oceans under protection by 2030, with the remaining 70 percent managed responsibly.
Charles Clover, executive director of BLUE, says: "In the last 10 years, BLUE has become a driving force in the mission to create a healthy ocean. We're deeply grateful to Christopher Ward for marking our 10th anniversary with this exquisite watch. Donations from its sale have helped our mission to restore the ocean to health, starting with a network of marine parks around the British Isles."
Mike says: "I grew up by the sea, and live on the coast for part of the year, so have a deep affinity with what BLUE is trying to achieve. When the idea of a watch designed with BLUE was suggested, we jumped at the chance. And we're really pleased we could raise such a substantial amount."
While the C60 BLUE is now sold out, the concepts, techniques and finishes used in its production may well resurface in the near future. "But more of that when the time is right," says Mike.
Christopher Ward continue to support Blue Marine Foundation and their initiatives by promising 1,000 hours of support by helping the charity prepare oysters to dropped back into the Solent.
Find out about Blue Marine Foundation here.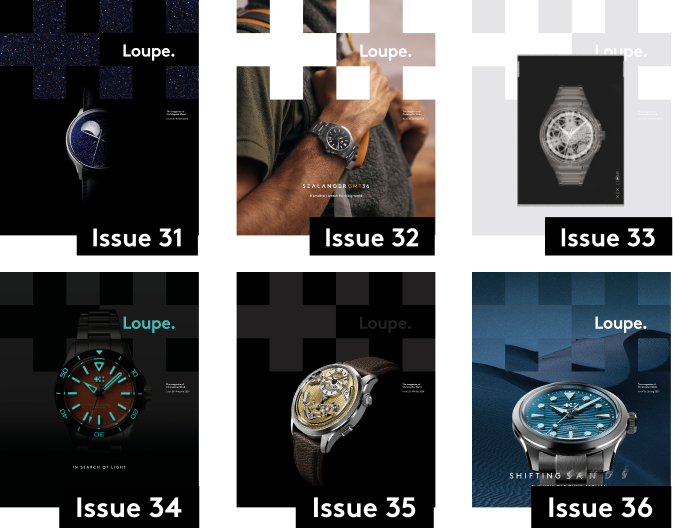 Sign up to Loupe magazine
Loupe is Christopher Ward's quarterly in-house magazine. If you want to know what's happening at CW (and you love great journalism), this is where to start. Alternatively, you can read all our back issues on your computer, tablet or phone.
Order your free copy
Read Loupe online