The see-through bestseller gets a magical moody makeover
Welcome to the dark side – a diver's watch that lets you see the movement from the front. Agonising hours spent by the watchmaking team in Christopher Ward's Swiss atelier have resulted in the C60 Sapphire Black, a fusion of the skill and technical excellence it takes to create a sapphire-dialled watch, and the moody, black aesthetic of darkness. Within a steel bezel reminiscent of the Trident 316L iterations, a smoked-sapphire dial sits beneath the iconic Trident 3 handset, exposing the inner workings of the watch's Swiss-made automatic movement on the wrist – while an exhibition caseback reveals it from behind.
"The C60 Sapphire was a monster," Mike France, Christopher Ward's CEO says. "It caught the eye because of its arresting looks combined with the exceptional engineering. But to create this black version, we had to pull out all the technical stops," says Mike.
"With the C60 Sapphire, the dial was constructed from a single piece of pure sapphire crystal, backed with a very thin sliver of polycarbonate to give it its blue colour," says Jörg Bader, senior product manager in the Swiss atelier.
"We've made something of a specialism in creating sapphire crystal dials. It's a very beautiful yet durable material"
"Here, the dial is made of a single piece of sapphire crystal that's been smoked to give it a dark, almost-black hue."
Indeed, as you stare into the movement's inner working parts, revealed at the front by the smoked-sapphire dial, and to the rear by an exhibition caseback, it's easy to get lost in the wonder of its tiny, moving components.
"We've made something of a specialism in creating sapphire crystal dials – the Moonglow shares elements of this technology. It's a very beautiful, yet durable material. Now the team's challenge was to bring this into a more accessible piece," explains Mike. One sometimes gets the feeling that, as CEO, Mike can be a bit of a… taskmaster.
"It's not been easy, given the delicacy of each dial," says Jörg. "Sapphire crystal is very hard and scratch-resistant, so it's great if you want to attack it with a screwdriver but it can be exceptionally brittle to machine. So many accidents can happen; with over 20 steps and 80 operations being completed every time, each one is a risk and there's often a high rejection rate. That's what makes it such a challenge to do affordably."
Despite the delicacy of its construction, this piece is a workhorse (as well as a dark horse); its translucent front and crystal back are both waterproof to 600m. Strap options are similarly pragmatic: two hybrid colourways, an integrated steel bracelet or a #tide ocean material® strap available in black and red, all quick-release, of course. A 316L steel bezel, on which the distinctive red triangle at 12 o'clock is applied by hand, encases the Swiss Sellita SW200 automatic movement, with CW's twin flags in a 'Colimaçoné' (spiral) design on the rotor.
"The amount of work that has gone into this piece is no joke!" says Jörg. "But the result is a watch that really speaks to our company philosophy, like full transparency, or the fascination of microscopic engineering. Everything we do comes back to that in the end."
The C60 Sapphire Black is available
from £905 / $1,090 / €1,165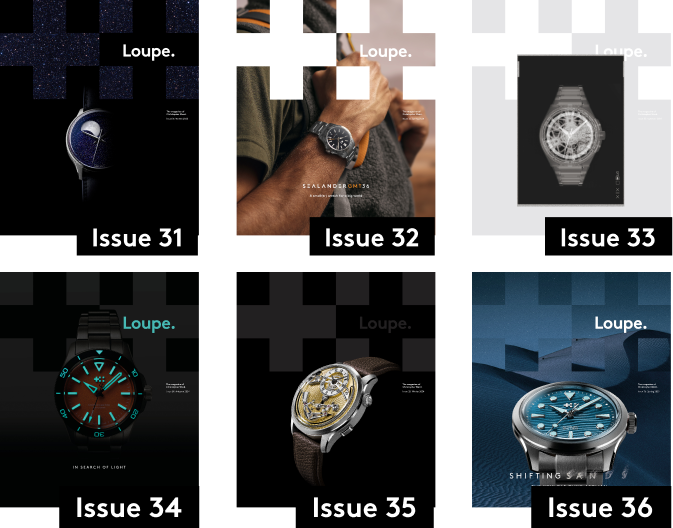 Sign up to Loupe magazine
Loupe is Christopher Ward's quarterly in-house magazine. If you want to know what's happening at CW (and you love great journalism), this is where to start. Alternatively, you can read all our back issues on your computer, tablet or phone.
Order your free copy
Read Loupe online