When photographer – and surfer – David Wren decided to spend two months exploring Europe's most beautiful corners (and coasts), he brought four CW watches along for the ride. Here's what happened on the first part of his adventure
Dreams of the open road have filled my mind for years. I had a taste of it while spending ski seasons in the Canadian Rockies, combined with films like The Endless Summer and stories from friends about their adventures around the world. But now it was time for a new experience of my own.
Over a couple of months, I spent evenings and weekends adapting my simple day-van set up into a small home on wheels and hit the road in early March. The plan? Can you call "Surfing loads and seeing Europe in roughly two months" a plan? Sure you can. There were a few landmarks to see along the way and a short list of countries to visit, but I intentionally left space for the unknown, the unforeseen and the unbelievable.
Over eight weeks I travelled 6,000 miles. While heading south I hugged the coast of France, Spain and ultimately Portugal where I stayed for a month. I then traced my way north via inland Spain and France, then Belgium, Holland and then after a ferry trip to England, to Cornwall.
A journey of this magnitude and variation relies on accurate timekeeping (try surfing without checking the times of the tides!), so I approached Christopher Ward with an idea: I would borrow four different watches, and put them through their paces on the road, at sea and in the city. As a surfer, I'd become a fan of CW through the brand's #tide strap – made from recycled ocean plastic – and its support of Blue Marine Foundation, the ocean preservation charity. Four watches were sent to me: a C65 Dune Automatic, two C60 Trident Pro 300s and a C65 Aquitaine GMT in nautical blue and white. With my timepieces sorted, I was ready to go.
"Over eight weeks I travelled 6,000 miles"
I've always been drawn to new places and friendly faces within my photography and it was in Plage de Bud Bud, France that I met Laurent – a local guy working in social housing, making the most of his day off. These chance encounters are some of the best moments of a road trip, swapping stories of great waves and recommendations for campsites. Laurent and I shot a handful of pictures together before I joined him in the water for a few waves. It was my first day in the water on my trip so it took a while to shake the cobwebs off but it was worth it.
The time on the road gave me the chance to take the word 'professional' away from my photography, if only for a while. There'd be days where I'd shoot hundreds of images and others where I'd shoot none at all, all with the hope of letting my decade-long passion for the craft guide my camera with no pressure to perform.
On one of the more creative days I met Beau and Hana: a lovely young couple from Belgium and Germany respectively. No waves that day meant we explored the Spanish seaside town of Deba. Going for a coffee in the town square and wandering the side streets.
These small towns remained a strong theme throughout my journey around Europe. Following my nose and stopping where I felt like it. I saw sunrises and sunsets, surfed countless waves and met a bunch of fantastic people.
Throughout the journey, I changed up my watches, wearing the Dune one day, the Aquitaine the next – and rocking the Trident Pro 300 when confronted with the most challenging of surfing conditions. And it's those escapades in and around the sea, you'll hear a lot more of in the second instalment of my European road trip.
Discover more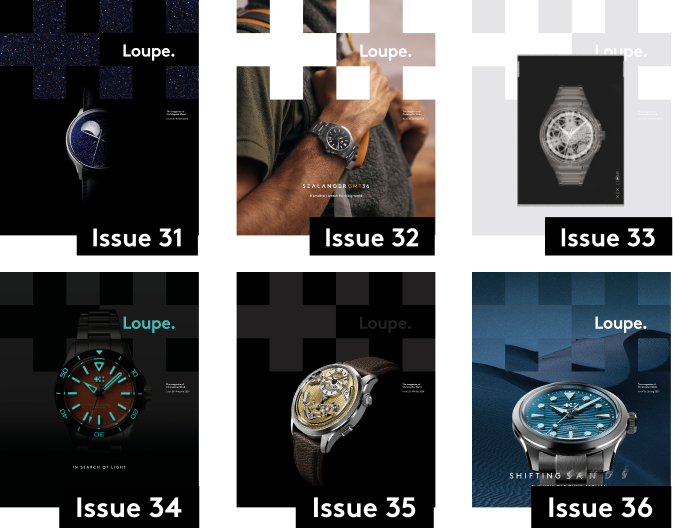 Sign up to Loupe magazine
Loupe is Christopher Ward's quarterly in-house magazine. If you want to know what's happening at CW (and you love great journalism), this is where to start. Alternatively, you can read all our back issues on your computer, tablet or phone.
Order your free copy
Read Loupe online