With its svelte profile, the new C60 Trident Pro 300 is not just a more affordable baby brother to Trident 3, but a chic all-rounder made for day-to-day wear
A deep-seated love of dive watches is hard-wired into most watch aficianados. This, despite the fact few of us ever go underwater with one – and if we do, we're unlikely to venture more than 20 metres down. It makes the average 100m-rated dive watch – let alone a beast like Christopher Ward's C60 Trident Pro 600 – seem almost over-specced. So, what's the appeal?
Partly, it's that divers are tough and practical, the wrist's frippery-free equivalent of a sports SUV. These are versatile working watches that say, "I'm durable and dependable and (almost as an aside), I'll always look good, too." Then there's the fact James Bond wore one, of course, and we'd all like a little of his confidence.
All this capability has a price, however, and that price is bulk. With less in-your-face watches currently trending, the most capable divers – wide as a saucer, thick as a hockey puck – look less ideal as daily wearers, no matter their many virtues. May we suggest an alternative?
The new C60 Trident Pro 300 is just as handsome as its broad-shouldered Pro 600 big brother, but in a more accessible package: one that's lighter, notably slimmer, and easier for more of us to enjoy more of the time. Yes, it inevitably sacrifices underwater performance – 300m is now your limit, which should be plenty – but the upsides are legion. "And anyway, even at 300m, you'll explode before your watch does," says Mike France, Christopher Ward CEO and co-founder.
Although its everyday name is the C60 Trident Pro 300, this watch has another in-house moniker too: 'Trident 3.1'. Though not a replacement for Trident 3 – the existing Pro 600 3.0 and new Pro 300 will be made alongside each other – it does improve a range of details, as a car facelift might, and points the way to more extensive changes that will come with Trident 4 in 2024.
From this point on, Trident should be considered a two-tier line of watches, with the thicker, heavier, slightly more expensive (and more capable) C60 Trident Pro 600– plus assorted other full-fat Tridents – near the top, and the new, slimmer, slightly cheaper Trident Pro 300 just beneath.
The list of changes made for Pro 300 may sound insignificant, but add up to far more than the sum of their parts. Many are a result of CW's increasing cooperation with the independent Christopher Ward forum, now consulted on new models much earlier than before.
"The forum's a brilliant source of opinion," Mike says. "And we don't influence what's said on there. But that's great: you always learn more through criticism than praise. When they speak, we listen. We asked detailed questions about what they'd like to see for Trident 4, and some of their answers are incorporated here."
A more accessible package: one that's lighter, notably slimmer, and easier for more of us to enjoy more of
the time
Like what? Well, most noticeably, the new watch is slimmer. Yes, both 600 and 300 come in three classic dive watch sizes – 38mm, 40mm and 42mm – but a decrease in height, rendered possible by reducing water resistance, makes this latest model easier to slip under cuffs, and less likely to smack against door frames. It's only shorter by 1.65mm or so – depending on case width – but size really does matter with watches, and each millimetre makes a difference.
Then there's the overall look, which embraces the latest iteration of the ever-evolving Christopher Ward design language. The twin-flags device is now at 12, the date at 6, and the word mark 'Christopher Ward' relocated to the rotor visible at the rear. There are exhibition casebacks across the range too, showing off Sellita's SW200-1 movement in its most highly finished form.
"This will be many people's first mechanical watch," Mike says. "So the fact you can see the movement working is really important. Plus – to debunk an old myth – exhibition casebacks don't impact water resistance."
A strong use of colour has been one of the big stories in watchmaking recently, and the Trident Pro 300 launches with extended choices: the familiar black, blue or white dial options from the Pro 600 line, plus a brand-new olive green, somewhat military in feel. Also new is the bezel, which now comes in two parts: the regular rotating outer section with its coloured ceramic insert, and a fixed steel inner ring, with minute increments all the way around. It's an aesthetic improvement as much as a functional one, first trialled on the C60 #tide, but it certainly gives a more polished and detailed feel. Or, as product designer Will Brackfield, says: "It just looks cooler."
The twin-flags device is now at 12, the date at 6, and the word mark 'Christopher Ward' relocated to the rotor visible at the rear
There are further incremental improvements. The Pro 300 boasts more lume than the 600, as the hour markers are marginally larger, and the new date window placement means fewer are truncated, too. The date wheel colours match the watch face; a more aggressive and technical arrow-head seconds hand, influenced by the C60 Concept, replaces the standard Trident design; and the bracelet is the new screwed pin version from the Aquitaine, with its increased taper down to 16.5mm at the clasp.
It has extended micro-adjustment and an enhanced release system, making it easier to swap between straps. "As up to 65 percent of these watches will be bought on a bracelet, this makes a real difference," Will says.
The C60 Trident Pro 300 is an important watch, and likely to be an immediate best-seller, but it wouldn't have happened – at least, not just yet – if Trident 4 hadn't been bumped a year to September 2024 to make room for a whole new line. This will debut in 2023 and be, in its way, as significant as Sealander or Aquitaine – though what it is, of course, remains under wraps for now. But it's because of this that we now get to enjoy a slimmer Pro, which would otherwise have arrived as part of the Trident 4 range, earlier than originally planned.
"Make no mistake," Mike says, "this is a Trident Pro fully deserving of the name, just more refined and wearable than any we've made before. It's a true all-rounder, and opens up Trident ownership to everyone."
That the entry price can be kept to under £700 on a #tide strap, amazing value for any premium dive watch – and making each Pro 300 roughly £100 cheaper than the equivalent Pro 600 – just adds to its appeal.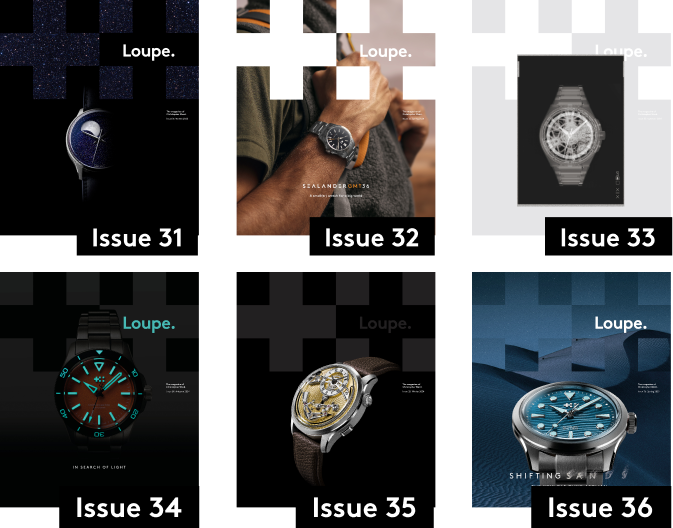 Sign up to Loupe magazine
Loupe is Christopher Ward's quarterly in-house magazine. If you want to know what's happening at CW (and you love great journalism), this is where to start. Alternatively, you can read all our back issues on your computer, tablet or phone.
Order your free copy
Read Loupe online