Introducing the C65 Dune, the tough-yet-elegant fusion between a field watch and a dressier piece – and one of Christopher Ward's most versatile daily wearers to date
When it comes to appealing to both head and heart, the new Dune series has both bases covered.
The three-watch range – named after Aquitaine's Dune du Pilat, the tallest sand dune in Europe – pairs the elegant new C65 Sandhurst case (with an exhibition back) with the rugged do-anything ability of a field watch. This is one premium timepiece that doesn't mind getting its hands dirty, and represents Christopher Ward in its most pure and progressive form.
At first glance, it's easy to spot the field-watch DNA here: Dune shares its simple, compact good looks with those infinitely capable outdoor timepieces born of two world wars and designed with singular purpose: to reliably tell the time. Look twice, though, and there's more – a lot more. Yes, this new C65 speaks of outdoor adventure and no-nonsense practicality, but it's a decidedly civilian piece. There's no military matte-black here; rather, Dune is bejewelled with subtle glittering details, more polished and elegant all round. Perhaps better to think of it as simply a tool watch, like the fixed-bezel Tudor Black Bay – or the original 1950s Omega Seamaster.
"Calling Dune a field watch explains it," says Mike France, CW co-founder and CEO. "But it doesn't do it justice. Yes, it's all-purpose and fuss-free, but it's sophisticated, too."
It retains the C65 Aquitaine's box crystal but loses its rotating bezel, delivering a case width of 38mm. The domed crystal is vital to the ensemble, adding a vintage look that recalls sports watches of the 1960s and '70s.
Where Sealander is unabashed in its modernity, Dune is chilled in its timelessness
"Box crystals aren't cheap," says Mike. "But there was no way the watch could reach its potential without one. And once you see it, you'll see why we couldn't compromise."
"One of our influences was a limited-edition retro-futuristic piece we did in collaboration with US website Worn & Wound," says watch designer Will Brackfield. "The C65 Sandstorm was inspired by dusty, dirty desert races, and looked particularly fine on camel-coloured canvas straps. It got us thinking that we needed something like it in our permanent collection. Could we make a casual, contemporary watch that referenced that world, but was less macho than a field watch like the C65 Sandhurst?"
Unlike the specialist Sandstorm or Sandhurst, Dune features popular everyday features familiar from much of the CW range. There's an exhibition case back, for instance – "People love being able to see the movement," Mike says – and sunburst dials, while the classic size makes it the perfect fit for any wrist.
"Despite their versatility, dive watches are specialist pieces," he continues, "which leaves the Sealander and the Dune as our two do-anything ranges. But though their specs and sizes are quite similar, they're different: one formal, the other relaxed. And where Sealander is unabashed in its modernity, Dune is chilled in its timelessness."
What we have here, then, is a versatile watch for weekends and downtime that's happy to dress up for the week – rather than the other way around. "The first time we saw Will's designs, everyone at Christopher Ward said, 'That's a no-brainer'," Mike says. "It's an easy watch to live with, but even easier to love."
C65 Dune Automatic
As is so often the case, the entry-level Dune is perhaps the purest iteration of the theme: three hands, a date, and plenty of lume.
At 38mm across, and 11.7mm high, it's perfectly sized for any wrist. And when it comes to straps, it's incredibly flexible: looking great on leather or webbing in a variety of colours, as well as its steel bracelet. The watch comes in four dial colours: Black Sand (which you'll also find on the GMT), Marine Blue, Beachgrass and White Sand.
"I've been wearing the White Sand one these last few weeks, and love it," Mike says. "It has the same flexibility as the Sealander, the same low-key style, but a different, more relaxed feel. And where the hard-edged Sealander suits a steel bracelet, this watch seems to love swapping straps as much as possible, subtly changing character each time. Right now, I'm enjoying it on the simplest webbing – but that might change tomorrow."
And, of course, with Christopher Ward's quick-release technology, changing things up could hardly be easier.
Movement: Sellita SW200-1
Case: Steel
Bezel: Steel, fixed
Diameter: 38mm
Height: 11.7mm
Weight: 55g
Lug to lug: 43.6mm
Water resistance: 15 ATM / 150m
Timing tolerance: -20/+20 seconds per day
Power reserve: 38 hours
Dial colours: Black Sand, Marine Blue, Beachgrass, White Sand

From £695 | $850 | €895
C65 Dune Bronze
Bronze as a case material is one of those unexpected trends – and the Dune seems particularly suited to this most alive of alloys. Famously, bronze changes as you wear it, developing a unique protective patina through its exposure to the air, though it's little effort to polish things back to a near-new sheen whenever you want to.
Christopher Ward's commitment to both this metal and Dune itself can be seen in two ways: the bronze version is available with a choice of dial colours – Marine Blue or Beachgrass – and there's a new bracelet to go with it, too. Only previously offered with the Sandhurst Series 2, this is CW's first-ever bronze bracelet, complete with micro-adjustable clasp and bold taper.
Now your entire watch will change as you wear it, not just the head. "All mechanical watches are living, breathing machines but few more than this," Will says. "And that it boasts the only chronometer movement among the initial Dune range is an added bonus."
Movement: Sellita SW200 COSC
Case: Bronze
Bezel: Bronze, fixed
Diameter: 38mm
Height: 11.7mm
Weight: 61g
Lug to lug: 43.6mm
Water resistance: 15 ATM / 150m
Timing tolerance: -4/+6 seconds per day
Power reserve: 38 hours
Dial colours: Marine Blue, Beachgrass

From £885 | $1,065 | €1,140
C65 Dune GMT
Finally, there's the GMT version, limited to just 200 pieces, and in some ways the most striking of the three, not just because of its bold extra hand, but also the distinctive Old Radium-coloured band on the bottom half of the dial. Since this is a GMT watch without an external bezel, a new way was needed to show the GMT scale, and a printed inner ring was perfect. In terms of power, the watch uses Sellita's SW330-2 GMT movement with its extended 56-hour power reserve.
"Instead of just printing the desired information around the edge of the dial, we wanted to give the watch extra depth," Will says. "So this is actually on a raised outer ring, sloping upwards slightly to meet the sides of the case. It adds a new level of visual life, and references 1960s design language – familiar from watches like Enicar's Sherpa Jet GMT – that really suits the Dune."
Movement: Sellita SW330-2
Case: Steel
Bezel: Steel, fixed
Diameter: 38mm
Height: 11.7mm
Weight: 56g
Lug to lug: 43.6mm
Water resistance: 15 ATM / 150m
Timing tolerance: -20/+20 seconds per day
Power reserve: 56 hours
Dial colours: Black Sand

From £995 | $1,195 | €1,295
Capture the flags
In one small yet crucial matter, the C65 Dune represents a new first for Christopher Ward: it introduces an applied, rather than printed, twin-flags logo. This now sits proud just under 12 o'clock, and will become the default style for CW's going forward, save those where a printed version would be more appropriate.
"Achieving this is a tricky operation, as the logo is made of five parts," says Will Brackfield. "And the four small squares have to be applied individually. That's why each one, even though they're only 0.7mm across, has two tiny feet on the underside, which slip through equally small holes on the dial. Now we know how to do this successfully, the look is so worth it – and illustrates the attention to detail and strict quality management of Christopher Ward."
As for the twin-flags logo flying solo itself, that's currently being rolled out across the range, with each line that acquires it getting a corresponding 25 percent uptick in sales. "I couldn't believe it," Mike France says. "But it's impossible to ignore the correlation. Whether it's that people enjoy the simplicity or symmetry, or something else, the new design is a hit."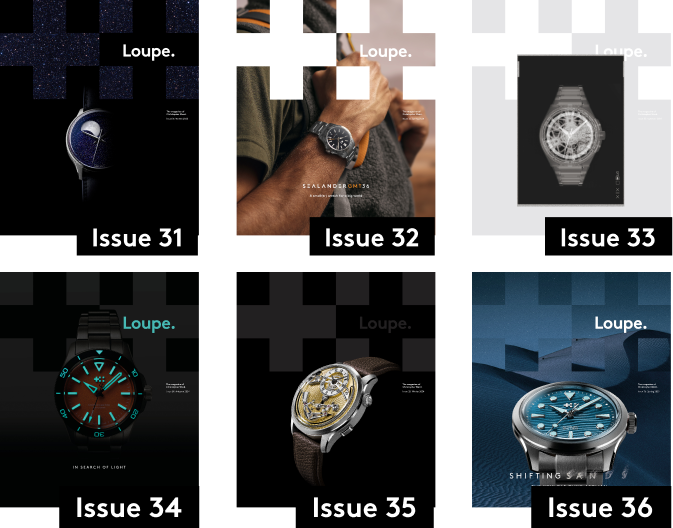 Sign up to Loupe magazine
Loupe is Christopher Ward's quarterly in-house magazine. If you want to know what's happening at CW (and you love great journalism), this is where to start. Alternatively, you can read all our back issues on your computer, tablet or phone.
Order your free copy
Read Loupe online