From the Manic Street Preachers to St Etienne: we celebrate a quintessentially British record label
Soho, late spring, 1999.
The grid of streets south of London's Oxford Street has always attracted the misfits and rebels: where call girls rubbed shoulders with gangsters; politicians buttered up journalists and actors, musicians, artists and writers drank their talents away in Gerry's, the Colony, the French and of course, the Coach And Horses.
You stroll down Berwick Street, popping into the Record And Tape Exchange for second-hand Bowie albums, and Vinyl Junkies for straight-off-the plane house music imports. Down Old Compton Street, then back up Frith. Grab a cappuccino from Bar Italia – one of the few places to serve decent coffee in pre-millennium London – then over the road to that doorway.
You press the buzzer – the one that says 'Heavenly'.
Up the stairs and you're in the office of the most important record label in the country. A label that's given us the Manic Street Preachers, St Etienne, Beth Orton, Doves and Flowered Up in less than a decade. On the walls are enormous posters of the Happy Mondays and the Manics. The stereo is cranked up high and label boss Jeff Barrett is enthusing about a new band he's about to sign, while assorted visitors – DJs, journalists, barbers, gadflies – mill about, relishing their place in the centre of the musical universe. Heavenly Records is where you absolutely need to be right now.
"If you didn't manage to sneak out by 6pm, you were tied to the mast and probably hailing a cab around 2am"
Spring, 2020: London is a very different place. The hum of traffic has gone, the pubs are shut and everyone's working from home. You turn on 6Music, the BBC's 'alternative' station and an extraordinary tune comes on, halfway between the yacht-rock funk of The Cars and the feminist pop-punk of The Go-Gos. "Take back the radio and move along," she sings. You Shazam it and find it on Spotify. It's Katy J Pearson's Take Back The Radio. The label? Heavenly. Obviously.
Robin Turner was Heavenly's press officer during the 1990s and 2000s. His new book, Believe In Magic, catalogues the label's journey over three decades, from the release of St Etienne's Foxbase Alpha album (still a masterpiece), through Doves, The Vines and Magic Numbers to Katy J Pearson and Aussie disco-nutters Confidence Man.
"The Frith Street office was above Ronnie Scott's and opposite Bar Italia," he says. "That meant anyone could find it without detailed instructions, which is both a good thing and a bad thing. It meant that if you cranked the music up around 4pm, threw the windows open and filled the fridge with cans of Red Stripe, you'd have a room full of people within about an hour. If you didn't manage to sneak out by 6pm, you were tied to the mast and probably hailing a cab around 2am. I really miss it."
"They did it purely for the love of a great band, a good idea and a good time. That's why there was never a 'Heavenly sound'" Heavenly was started by independent press officer (and gig promoter/all-round good egg) Jeff Barrett in 1990. At the time, he was doing press for the likes of the Happy Mondays and Primal Scream (having previously been at Creation Records – later home of Oasis). So when acid house transformed the musical landscape in 1988, he was in the perfect place to harness this explosion of energy into something tangible – a record label. A record label called Heavenly.
Andrew Harrison was the editor of Select magazine, the bible of British pop in the early 1990s. He's also a devoted Heavenly fan.
"They were and are an independent who really walked the walk," he says. "They did it purely for the love of a great band, a good idea and a good time. That's why there was never a 'Heavenly sound' – Jeff and the crew would pile in on anything that got them excited. And while there might not have been a Heavenly sound, there was a Heavenly aesthetic: a love of pop, a sense of style and a sense of humour. A need to make the world brighter. Every act was a caper, a break-and-enter, a smash-and-grab against industry rules that said there was only one way to do things."
Throughout the '90s, Heavenly released a stream of records that still define everything good about that most joyful of decades. St Etienne's Only Love Can Break Your Heart; Beth Orton's Central Reservation and Flowered Up's It's On. Early signings The Manic Street Preachers crossed into the mainstream, while Manc rockers Doves (previously techno-disco outfit Sub Sub) released a series of anthems and became stalwarts on the festival circuit.
Club culture and dance music were always at the core of Heavenly's philosophy, if not its output. And no more so than its club, the Heavenly Sunday Social, which took place over 13 weeks in 1994 at The Albany, a pub on London's Euston Rd. Music was provided by the Dust Brothers – later the Chemical Brothers – whose sets provided the soundtrack to scenes of near-unimaginable carnage.
"They played a unique mix of psychedelic rock 'n' roll, soul, hip-hop, punishing techno and anything else that took their fancy," says Robin Turner. "DJs like Andrew Weatherall, David Holmes, Tricky and Tim Burgess all happily warmed up for them. It got busier and busier until it felt like the venue was going to split at the seams, so, like The Beatles, we decided to quit at the top of our game."
The Social was reborn at Turnmills nightclub in Farringdon and ran throughout the '90s, while Heavenly opened a couple of bars (also called 'The Social') in London and Nottingham. In 2015, 21 years after the heady days of the Albany, the label began putting on Heavenly Weekender events at the Trades Club in Hebden Bridge, West Yorkshire.
Like many record labels, Heavenly faced periods of uncertainty in the 2000s/2010s, often because deals with major labels meant they couldn't move as quickly as they wanted to. Yet it survived, signing groups like The Vines and The Orielles, as well as the aforementioned Confidence Man. Jeff Barrett and Robin Turner even used a pause in releases to start a fishing/lifestyle/literature website, Caught By The River.
Today, Heavenly is truly independent and releasing music that's every bit as compelling as it did in the 1990s – certainly in Andrew Harrison's eyes.
"The current crop of Heavenly acts – Working Men's Club, The Orielles, Stealing Sheep, Katy J Pearson – are every inch the equal of the good old days. Bands who understand that the world can always be brighter and there's always a reason to stay up a little longer."
For Robin Turner, it feels like things have gone full circle.
"All the time we were with major labels, you'd have to wait around for major-label people to agree to let you do things. It meant lots of great bands didn't get signed, and some big bands had to shift out of the way of even bigger bands. The label is now much more like it was at the start – there's a hustle, and it's fun. I've not worked there for 10 years, but I kind of wish I could again. Just maybe missing every other Monday."
Believe In Magic: Heavenly Records, The First 30 Years by Robin Turner is out now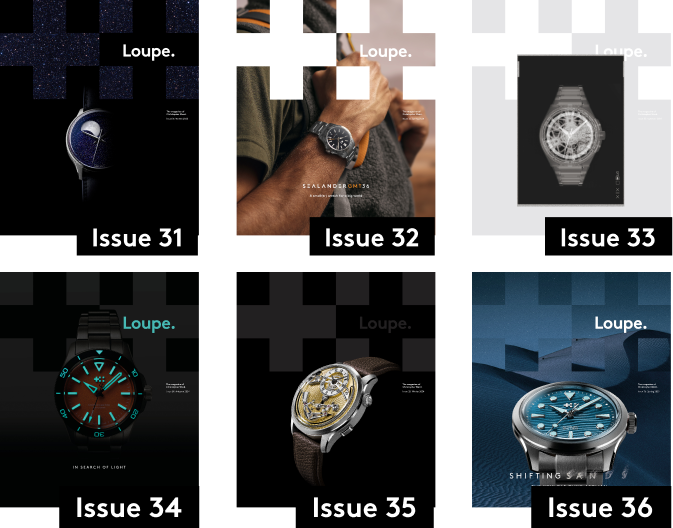 Sign up to Loupe magazine
Loupe is Christopher Ward's quarterly in-house magazine. If you want to know what's happening at CW (and you love great journalism), this is where to start. Alternatively, you can read all our back issues on your computer, tablet or phone.
Order your free copy
Read Loupe online