In their striking black-and-gold livery, the John Player Special Lotuses of the 1970s were the undisputed kings of Formula One – and it was all down to the genius of one man
The Lotus story is a strange one. Still, two things are undeniable: in the 1970s and early '80s, their Formula One cars were very fast indeed. And throughout, they carried the most striking, sexy and beautiful colour scheme of any racing car ever: the black-and-gold of John Player Special.
Back in the 1970s, motor racing was dangerous – and racing Lotuses possibly more dangerous than most – so it's fitting that the cars of the time were often painted in the colours of that riskiest of habits, tobacco-smoking. And while the red-and-white of Marlborough McLaren was cool, the JPS colours linked the sex appeal of both death (black) and money (gold) like nothing else.
Team Lotus was the sister company of Lotus cars, maker of lightweight, beautifully-handling glass-fibre sports cars and junior-league supercars like the Elan, Europa, Elite and Esprit. Founder and chief designer Colin Chapman was the driving force behind both companies, and Team Lotus was a massive hit in all sorts of motorsport series – Formula Two, IndyCar and Sports Car racing, as well as Formula One – for 40 years from the mid-'50s till the mid-'90s. They'd bag seven Formula One Constructors Championships and six drivers' championships, not to mention other races like the Indianapolis 500.
Part of what made Lotus cars successful was their bold, lightweight design, courtesy of Chapman's experimental innovations. But they were also fragile, and many of the greats were injured or even killed driving Lotuses, including celebrated Scottish driver Jim Clark in 1968.
That same year, Lotus had experimented with four-wheel drive; in 1969 with a gas-turbine car; and things got wild for the 1970 season, with the arrival of the wedge-shaped, highly aerodynamic Lotus 72. Featuring hip-mounted radiators, torsion bar suspension, inboard front brakes and an overhanging rear wing, it was one of Chapman's most innovative designs yet, and – after early teething problems – proved to be the fastest car on the grid.
In it, driver Jochen Rindt dominated the championship – until he was killed at Monza when a brake shaft broke and he crashed into a barrier head-on. The chasing Ferrari team started closing in on Rindt's now-undefended lead, but a young driver called Emerson Fittipaldi was promoted to Lotus's No.1 driver and started winning races too.
At the United States Grand Prix, Fittipaldi won again, while chasing Ferrari driver Jacky Ickx finished only fourth. This meant Rindt won the championship, the only driver ever to do so posthumously.
Lotus's glory days were the '60s and '70s – glory days too for the entire Formula One circus, before the '80s ban on 'ground-effect' aerodynamics, the arrival of electronic driver aids, and the domination of large, manufacturer-owned teams. This was a time when smaller, privateer teams could still compete – and compete hard.
Lotus were always good, and the Lotus 72 was better than good, but one final piece of the puzzle was needed. It arrived in 1972 when the Imperial Tobacco sponsorship was kicked up a gear by the arrival of a brand new livery, based on the John Player Special brand. Lotus cars had been British racing green in the '60s, and the red, white and gold of Gold Leaf tobacco more recently, but the new black-with-gold-pinstripes was jaw-dropping. Designed for both cars and cigarette packets, it channelled 1970s glamour like little else – though, of course, it didn't hurt that the cars kept winning too.
In 1972, a now 25-year-old Emerson Fittipaldi surprised many when he became the youngest ever world champion – a distinction he'd hold for over 30 years – and Lotus continued to dominate with American ex-IndyCar driver Mario Andretti in the hot seat and a run of new cars.
These pioneered the effective, controversial ground-effect aerodynamics, which shaped the car's underside to generate downforce while adding little penalising drag – and reshaped Formula One. The Lotus 78, and particularly the Lotus 79 of 1978, became two of the greatest racing cars of all time. In it, Andretti won six Grands Prix and took the 1978 title – but there was little celebration, as his teammate and friend Ronnie Peterson crashed, and later died, in the decisive race.
Lotus would attempt to take ground-effect even further with the Lotus 80 and 88, the latter an all-carbon-fibre car banned for its 'twin-chassis' tech, but Chapman – full of ideas – never gave up innovating. Indeed, he was working to develop active suspension for racing cars when he died from a heart attack at the end of 1982, aged just 54. The team was not finished – Chapman's wife, Hazel, continued to run it for years – but rarely rechallenged McLaren or Ferrari. When, at the end of 1986, Lotus lost its iconic JPS sponsorship (to be replaced by the less-cool Camel), an era was over.
It took a while, though, for the world to forget the JPS glamour. The black-and-gold had extended way beyond Formula One – Norton Commando motorcycles would race in it, and Ford produced a limited edition Capri in 1975 wearing the livery – but would be forever linked to a particular era. Lotuses were dressed like the bad guys, but they looked great doing it. Together with their charismatic drivers (a young Ayrton Senna would later cut a dash in black) and a risk-taking, forward-thinking leader they generated a glamour that even Ferrari couldn't match.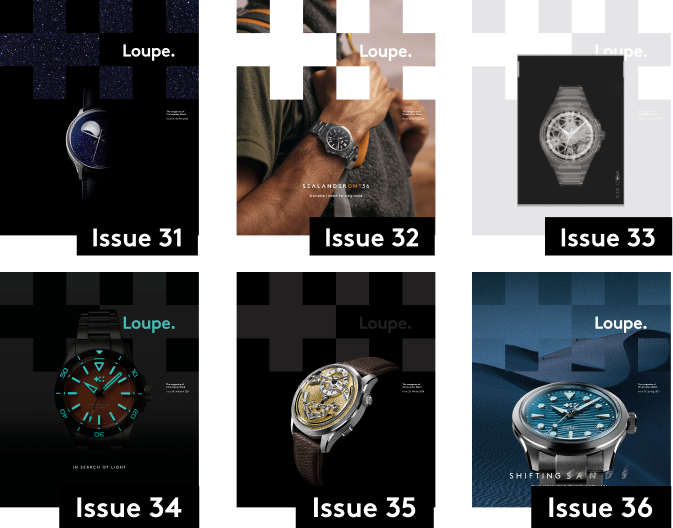 Sign up to Loupe magazine
Loupe is Christopher Ward's quarterly in-house magazine. If you want to know what's happening at CW (and you love great journalism), this is where to start. Alternatively, you can read all our back issues on your computer, tablet or phone.
Order your free copy
Read Loupe online