Inspiring those with PTSD, mental health issues and life-changing injuries to compete with the elite, Team BRIT is revolutionising the world of motorsport – and CW is proud to become its official timekeeping partner.
Christopher Ward has announced a sponsorship deal with an inspirational motorsport team who are challenging perceptions – as well as battling for podium finishes. From 2022, the company will be the official timekeeper of Team BRIT, a racing team that trains people with disabilities to become world-class racing drivers.
Team BRIT was formed in 2015 to support, inspire and motivate people facing physical and psychological challenges by demonstrating what can be achieved through motorsport.
Team BRIT uses state-of-the-art hand controls to race against able-bodied drivers/teams, and aims to make history by becoming the first all-disabled team to compete in the 24 Hours of Le Mans endurance race. In the 2021 season, the team raced in the Endurance and Trophy categories of the Britcar Championship – finishing third in the former – just two points off second place. GT4 drivers Bobby Trundley and Aaron Morgan also secured race wins and podium positions at the start of the season and throughout the championship, while three drivers received 'Driver of the Day' accolades.
"We're in awe of what Team BRIT has achieved in such a brief time," says Mike France, CEO of Christopher Ward. "We've always seen ourselves as a 'challenger brand', but Team BRIT is of different magnitude. We're so honoured to be their official timekeeper – and we can't wait to see them compete at Le Mans."
From this season, Team BRIT will also be competing in the British GT Championship – and they'll be driving a brand new McLaren 570S GT4.
"When I get in
the car, I leave my wheelchair behind"
The McLaren boasts a 3.8 litre twin-turbocharged McLaren V8 engine linked to a seven-speed transmission. It's equipped with hand-controls which lets paraplegic driver Aaron Morgan compete on equal terms with able-bodied competitors. He'll be joined by 22-year-old Bobby Trundley, who, as well as being an incredible racing driver, happens to be autistic.
Aaron says: "Even though I'm paralysed from the waist down, when I get in the car, I leave my wheelchair behind."
The Christopher Ward logo will be seen on the McClaren, the driver's gloves and the team truck.
With Morgan and Trundley racing the McLaren in the GT Championship, the team's Aston Martin V8 Vantage GT4 will now be raced in the British Endurance Championship by Andy Tucker and Luke Pound. Team BRIT also races two specially adapted BMWs – an M240i and 118i – while the Racing Academy uses an adapted VW Polo GTI to train new drivers.
Recently Team BRIT – led by commercial director Mike Scudamore, and with the McLaren in tow – came to Christopher Ward's Park Street HQ. As well as giving CW staff a close-up look at the new car, the squad were also able to choose the CW watch of their choice. Mechanic Joshua Spencer opted for the super-light C63 Sealander Elite, Aaron Morgan chose the C60 Trident Pro 600 while Bobby Trundley was wowed by the ultra-tough C60 Lympstone – a favourite with many of the crew.
"Gifting some of our favourite watches was a real pleasure," says Mike France. "As fellow engineering enthusiasts, we loved talking to the team about the mechanics behind our timepieces. And teaching new watch owners how to use the GMT function is always fun."
For team founder Dave Player, the next year promises to be the best so far.
"Our entry into British GT means we're racing in the highest level of endurance racing in the UK and the most iconic British championship. The strength of our intent should not be underestimated. We will do this and we will make history."
Or, as Aaron says: "Make no mistake, we're out there to turn heads."
Team BRIT:
2022 calendar

MARCH
12th - British endurance - Silverstone
13th - Britcar Trophy - Silverstone


APRIL
3rd - British endurance - Oulton Park
16th - British GT - Oulton Park
18th - British GT - Oulton Park
23rd - Britcar Trophy - Croft


MAY
8th - British GT - Silverstone 500
15th - Britcar Trophy - Snetterton
28th - British GT - Donington GP


JUNE
18th - British endurance - Silverstone GP
19th - Britcar Trophy - Silverstone GP
25th & 26th - British GT - Snetterson

JULY
23rd - British GT - Spa (Belgium)
31st - Britcar Trophy - Brands Hatch Indy


AUGUST
20th - British endurance - Donington


SEPTEMBER
10th & 11th - British GT - Brands Hatch


OCTOBER
15th & 16th - British GT - Donington GT
22nd - British endurance - Donington GT
23rd- Britcar Trophy - Donington GP


DECEMBER
22nd - British endurance - Donington GT
23rd - Britcar Trophy - Donington GP


To find out more visit www.teambrit.co.uk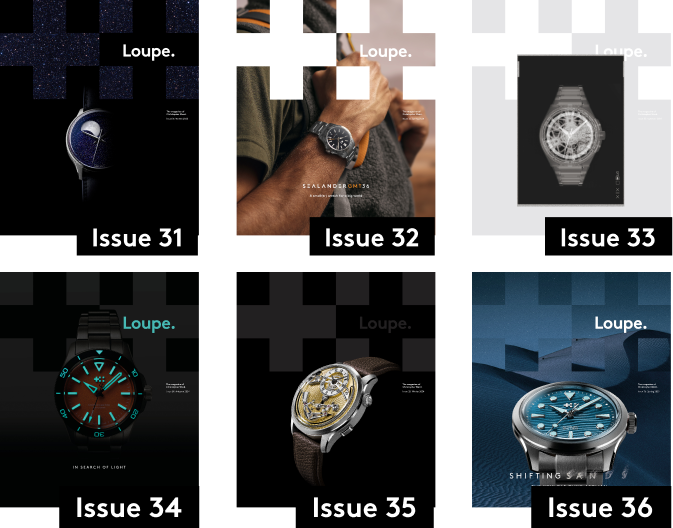 Sign up to Loupe magazine
Loupe is Christopher Ward's quarterly in-house magazine. If you want to know what's happening at CW (and you love great journalism), this is where to start. Alternatively, you can read all our back issues on your computer, tablet or phone.
Order your free copy
Read Loupe online