Taking its cues from the steel sports watches of the 1970s, The Twelve brings industrial design together with a sculpted silhouette and an extraordinary integrated bracelet
Watchmaking, like everything, moves through trends – but they're slow. We've had neo-vintage for the past 20 years; blue dials dominating the last decade; and the '70s luxury sports watch look – all integrated bracelets, sharp edges, exposed screws, textured dials and unusual shapes – epitomising the term 'desirable'.
These watches look expensive; present amazingly on Instagram; and allow a conservative industry to go wild with bezel designs and surface finishes.
For Christopher Ward, building its own integrated bracelet watch has been a long-term dream, though it hasn't come easily. But after years of work, finally, it's here: The Twelve.
A watch that's as gorgeous and covetable as the high-end pieces that inspired it, while retaining the company's unique value proposition. In the words of watch designer, Will Brackfield: "When it came to The Twelve, we took our time, we thought differently, we built beautifully."
CW co-founder and CEO Mike France, agrees. "It's an astounding achievement. But there were times we weren't sure we'd be able to do it at all."
Before we take an in-depth look at The Twelve, though, a bit of history. The luxury stainless steel sports watch is a genre associated with one man – Gérald Genta, the only watch designer most people have ever heard of. In a remarkable five-year burst of creativity, he applied his distinctive semi-industrial, quasi-nautical aesthetic to three innovative pieces, two of which have since become classics.
The 1972 Royal Oak for Audemars Piguet came first, offering an octagonal bezel, exposed screws, a heavily textured petit tapisserie dial, and an integrated bracelet, while making a distinct virtue of its prosaic, everyday case material. Named after a British warship, taking inspiration from diving helmets, and created at the behest of the Italian market, where mechanical watches were beginning their fight back at the height of the 'quartz crisis', it was expected to ruin the company. Instead, it guaranteed Audemars Piguet's survival, and boosted its prestige.
"It's an all-purpose sports watch designed to be worn on a bracelet"
The smoother, even chunkier 1976 Patek Philippe Nautilus came next: rugged and waterproof but elegant and comfortable, too. This more subtle and versatile iteration refined the concept, its rounded octagon shape taking inspiration from the portholes of ocean liners, while the name came from Jules Verne's unruly fictional submarine. Genta also contributed the broadly similar 1976 incarnation of the IWC Ingenieur, and inspired a range of fellow travellers: from the Vacheron Constantin 222 to the Rolex Oysterquartz.
All were initially controversial, some didn't sell, but by the end of the decade they were catching patrician eyes with all the panache of Bianca Jagger astride a white horse on the dancefloor of Studio 54.
More recent years have seen all sorts of high-end brands trying to replicate the success of these original gangsters of the integrated bracelet world, while more modest versions, notably the Maurice Lacroix Aikon and Tissot PRX, have been huge hits, too.
Christopher Ward first became interested in this market in late 2017, though long-term fans of the brand may remember two earlier attempts: the quartz C2 Lido and automatic C20 Lido. "Watches before their time," Mike says. "That this is the C200 shows how far we've come!"
Discussions stalled, however, when the company became serious about the C63 Sealander, a project that set some of the same challenges, but in less intimidating form.
"Ultimately, Sealander proved a great stepping stone to The Twelve," Mike says. "It's also an all-purpose sports watch designed to be worn on a bracelet – just not as style-forward – and it helped focus our ideas. We knew from the start the biggest problem was going to be the bracelet itself. It needed to be of extremely high quality, yet not so expensive that we couldn't sell the watch at a Christopher Ward price."
Bracelets had been a problem back in the 1970s too, and Royal Oak and Nautilus were only made possible by the skills of Gay Frères, a specialist supplier known for the likes of Rolex's famous Oyster bracelet. For The Twelve, the bracelet breakthrough came with the idea of building it from a series of single links, all of the same design but at different lengths and widths, allowing it to be easily sized. "We could have used a traditional three-link bracelet," says designer Will Brackfield. "But we would have had to compromise on finishing. Our single links allow the looks and detailing to remain top-notch, while keeping the price down."
The bracelet opens and shuts thanks to an elegant, next-to-invisible butterfly clasp, operated by pushers at the side. "Butterfly clasps were actually invented by my father in his early 20s," says Jörg Bader Junior, head of product at CW's Biel atelier. "But, unfortunately, he never patented the design!"
"We're all about going the extra mile with tiny details"
Though The Twelve's case isn't the familiar Christopher Ward Light-catcher™ model, it operates on similar principles: the middle-case is high and slim, to visually reduce what's already a skinny watch.
"Because of its unique 12-sided dodecagonal bezel, with its scalloped, arched look, The Twelve is distinctive in profile or at an oblique angle," says Will. "For us, the term 'beautiful finishing' doesn't just refer to the highly polished surfaces, but also the way we've executed transitions from one finish to another. We've three types on the bezel alone – sandblasting, polishing and linear brushing – and getting them all to interact perfectly is one of the most challenging things we've ever done."
More attention was paid to the dial, too. "We wanted a pattern that would interact with light in interesting ways," Will says. "The idea of using the twin-flags logo came early, which is how we ended up with a repeating pyramid shape – though you wouldn't necessarily realise it with the naked eye."
Such a heavily textured dial brought its own problems, not least how to present text upon it. "Some get around this by mounting the text on a flat plate on the dial," Jörg says. "But we've actually stamped the words 'Automatic' and 'Swiss Made' onto the dial itself, with colour then applied to the raised surfaces. It's hard to get right, but it looks amazing."
Hands and markers had to be distinctive too, using shapes perhaps best described as elongated, rounded-off triangles. "We needed classier, more understated and refined triangles than those on other Christopher Wards," Will says.
"It has to feel as if carved from a single piece of metal"
In a tip of the hat to the Royal Oak, exposed screw heads appear too, most prominently on the rear, where they hold down the 12-sided case-back surround. "We're all about going the extra mile with tiny details," Will says, "and giving people more than they expect."
The Twelve comes in two versions, a classic stainless steel model and a yet-more-impressive version in Grade 2 titanium, a strong, light metal that's notoriously difficult to finish. "At our price point, we were one of the first companies to attempt polished facets on a titanium case," Mike says. "Even today, not many companies offer an integrated bracelet sports watch in titanium. But we wanted to – partly because its light weight makes wearing one a whole new experience, and partly just to prove that we could."
The titanium version has a better, more compact movement than the standard steel model – the Sellita SW300-1 Automatic COSC, with its chronometer certification and 56-hour power reserve – which allows for a thinner case, just 8.95mm tall, as opposed to the 9.95mm of the steel model. And it has a different look too, the dial here treated to a graduated tint, from charcoal at the edges to a bright colour – electric blue or purple – at the centre. Overall, it's a lighter, more comfortable, more sporty, and better performing Twelve, and still starts at under £1,200.
Not that the steel model is a slouch. Arguably the version that most closely replicates the appeal of the Royal Oak and Nautilus, it uses a Sellita SW200-1 and is reassuringly heavier – although, at 65g, it's no 'gym wrist' weight either. The dial is a single solid colour, available in five shades – available in five shades with prices starting at £850.
All in all, The Twelve raises the standards yet again for Christopher Ward. "It's no Bel Canto, of course," says Mike. "But in some ways the effort we've put in is comparable. To get the details as precise as we needed them to be – and this sort of watch lives or dies by the details – was crucial; it has to feel as if carved from a single piece of metal, and really warrant the use of the term 'luxury'."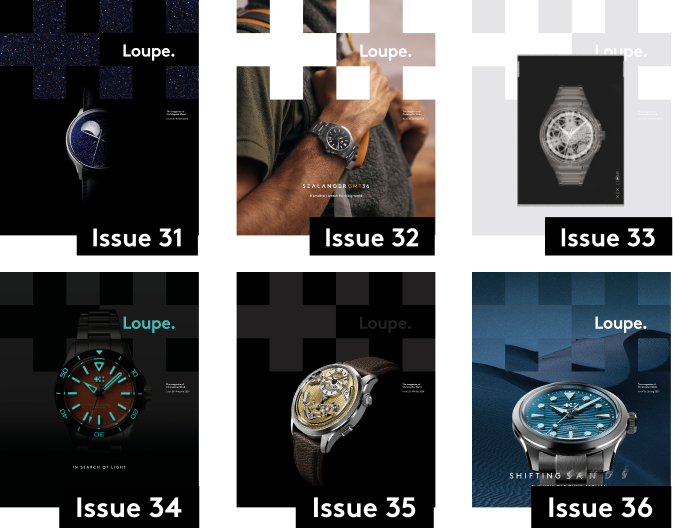 Sign up to Loupe magazine
Loupe is Christopher Ward's quarterly in-house magazine. If you want to know what's happening at CW (and you love great journalism), this is where to start. Alternatively, you can read all our back issues on your computer, tablet or phone.
Order your free copy
Read Loupe online