The C65 Trident is reborn as the Gallic-inspired C65 Aquitaine: a radically redesigned and upgraded retro dive watch that comes in three superlative editions
Marvel's Inhumans are a hidden offshoot of humanity, genetically modified to become living weapons; they start out looking like you and me, but at puberty enter a chamber awash with mutagenic Terrigen Mists to be reborn. At last, their true natures are revealed.
The C65 Trident Diver has just undergone a similar metamorphosis, emerging more beautiful and more capable than before. It's got a new name, too: Aquitaine.
No longer a mere offshoot of the Trident range, the new C65 commands its own, distinct identity. Aquitaine is an historic French coastal region that's home to Bordeaux and its wines; noted 12th century beauty Eleanor of Aquitaine; and – most pertinently – undersea explorer Jacques Cousteau, '60s icon of both ocean conservation and the development of scuba gear. Evocative, intriguing and awash with history, Aquitaine provides the perfect inspiration for Christopher Ward's new, improved take on the retro-diver theme.
CW hit the jackpot four years ago with the C65, a complementary line to the full-fat C60 professional dive watches, which offered a sleeker, smaller case, and styling cues reminiscent of the great sports watches of the 1960s. And now the new version – don't call it a MkII, for reasons that will become clear – hits the water running with a confident three-model collection: a bronze version, with a Marine Blue face; a GMT in White Sand; and an automatic with either of those dials, or one in striking Seagrass Green.
The colours are new, and so are the watches that carry them – seriously, there's hardly an aspect of the new C65s that hasn't been modified, often radically. Water resistance is up, from 150m to 200m. There's a new open case back, revealing automatic Sellita movements with a higher degree of finishing than before. And the date has moved from 3 o'clock to the less obtrusive 6; this will become the default arrangement for all new CWs.
Perhaps most immediately noticeable, however, the bezel now has a curved and highly polished sapphire insert. "It makes Aquitaine a more refined, almost more feminine, dive watch than we've offered before," says Mike France, CW's CEO and co-founder. "But feminine like a lioness or an E-Type Jaguar; there's real muscle to it, too. The beauty of this bezel is that it catches the light wonderfully, and allows us to make more effective use of colour than with steel or ceramic. Combine that with a new glass box crystal, and the entire look of the watch has changed."
And then there's the logo – or, rather, the lack of it. At the top of the dial, a printed version of the twin-flags device sits alone, the word mark 'Christopher Ward' relocated to the rotor at the back of the watch. It removes some clutter, creates an easy symmetry, and spearheads a new look for the brand. The next C60 Trident, and other future models, will share this approach.
There are further changes too, which we'll explore as we look at each variation in turn. Make no mistake, though: which- ever you choose, this is a ripped yet urbane do-anything watch that demands to be admired. "The Aquitaine is such a step on from the first C65, we couldn't have just called it the Trident Diver MkII," Mike says. "For my money, it's jumped four generations in one go."
The beauty of this bezel is that it catches the light wonderfully, and allows us to make more effective use of the colour than with steel or ceramic
C65 Aquitaine Automatic
The original C65 was a key part of the retro-diver trend of the last decade, influenced by the easy-wearing skin-divers of the early '60s. The Aquitaine's roots run deeper, however, reaching right back to the early '50s and the launch of the iconic Blancpain Fifty Fathoms, the first of the modern dive watches. The result is a piece that wears its inherently rugged nature lightly, combining go-anywhere confidence with an almost dressy elegance.
"The Fifty Fathoms came out in 1953, a year before the Rolex Submariner, and was a revelation," Mike says. "It was larger, tougher, and could survive to greater depths than anything around at the time – but was remarkably wearable, too. So when we started looking around for inspiration for our new C65, we naturally went straight to the source."
Jacques Cousteau had once been a combat diver for the French Navy, and it was only a few years after he left their employ that the Nageurs de combat – a celebrated frogman unit, in his tradition – started searching for a watchmaker willing to work to their exacting specifications. After a number of false starts, they found it in Blancpain, and the result was a game-changer that set the template for every dive watch since, combining a tough case with remarkable water resistance, large luminous markings, and a unidirectional bezel. It sounds like a standard list of ingredients today, but was unheard of in the early '50s – and even now, few watches have put the recipe together with quite such élan.
At the heart of the Aquitaine range is the Automatic. As with all the new C65s, its 41mm light-catcher™ case has been tweaked in numerous ways, not least that the lugs are nearly a millimetre shorter than before. This might sound insignificant, but can be crucial to the way a watch sits on your wrist; Aquitaine, naturally, should fit most of us beautifully.
Then there's the remarkable new bezel, highly reminiscent of the one used by the Fifty Fathoms, which started life with a curved bakelite affair but has rocked sapphire in recent decades. It brings an unexpected level of soft, curvaceous luxury to what's still, at heart, a tool watch. And, although it might seem counter-intuitive, sapphire's actually 50 percent harder than even ceramic, making this the toughest, most difficult-to-scratch bezel CW has ever offered. (If you want to get technical, the Mohs scale of mineral hardness rates synthetic sapphire at 9, with watch ceramic at 6 or 7.) The bezel is easier to grip too, and now uses the superior mechanism from the C60 Trident, while the bezel markings are printed in lume, which they weren't before.
"There's a depth and richness to sapphire you don't get with anything else," says head of product design Adrian Buchmann. "Which makes me wonder why we don't see sapphire bezels more often. Perhaps it's simply that they're so expensive to make – which might explain why the Fifty Fathoms, around £15,000, remains their best known proponent."
As befits the mainstay of the range, the Aquitaine Automatic comes in the widest range of colours and straps. Dials are Marine Blue, Seagrass or White Sand, the first two with matching bezels and white markings, and the last with a contrasting bezel in Seagrass and creamy 'Old Radium' lume. Each also has the option of a dark blue tropical rubber strap, and vintage oak leather in dark or light brown. The Seagrass and the White Sand versions get an additional leather option, too: vintage oak leather in a dark green-grey.
Aquitaine's core model teams rugged do-anything capability with seductive grace
C65 Aquitaine GMT
Like the most benevolent of super-villains, Jacques Cousteau stalked the world's seas in the coolest of ships (an ex-Royal Navy minesweeper called Calypso), futuristic submersibles (Denise, a bright yellow Diving Saucer built to his own design), and classic flying boats (a Consolidated Catalina). He was also a true internationalist: partly brought up in the US, as likely to speak English as French, and a worldwide star following 10 years of his hit TV series, The Undersea World of Jacques Cousteau. Doubtless he lost track of the time at home on occasion, a perennial issue for the inveterate traveller. Little wonder, then, that the GMT function has become one of the most popular and useful complications you can add to a sports watch.
Almost a year to the day before the launch of the Aquitaine, Christopher Ward became one of the first companies to use Sellita's excellent new SW330-2 movement in the C63 Sealander, and it now sits at the core of the Aquitaine GMT, too. Although not a 'true' GMT – watches that allow you to independently adjust the local hour hand, an expensive and complicated arrangement – it remains highly impressive, with a mighty power reserve of up to 56 hours. For ease of use, the bezel is bidirectional here, though unidirectional on other pure diving models.
The GMT has a slightly different look to the other Aquitaines, and not just in that the regular hands share dial space with an eye-catching GMT hand with its bold, blue arrowhead tip. "As with all Aquitaines, there are more polished surfaces, and fewer brushed ones, than on the old C65s," says product designer Will Brackfield. "Overall, it's just shinier. It feels more jewellery-like, with a more elegant, dressy feel."
This is helped by the tapered new bracelet, moving from 22mm at the lugs to just 16.5mm at the clasp; CW has offered tapered bracelets before, but normally the change in width is less radical than here, giving this watch a particularly refined feel – and aiding comfort, too.
The quick-change mechanism has also been modified, making tool-free strap swapping even easier than before. For some, though, it's the move from pinned to screwed links that will be the most exciting aspect of the new bracelet. "This is the single thing we've been most asked for over the years," Mike says. "Some simply prefer the look, others believe it to be technically superior, but whatever the reasons behind the clamour, it's become a big deal. And now it's here. What's more, screwed links will become the standard for all our bracelets moving forward."
There are further fresh details too, including a new crown lock indicator called the 'Dry Marshal'. Basically,Aquitaine's crown reveals a band of bright red when it's not fully screwed down – a simple but effective warning message. The original C65s lacked a screw-down crown, and although it was eventually added, the Dry Marshal adds further security. The Aquitaine GMT comes in soft, eggshell-like White Sand with a Marine Blue bezel, and is available on the new steel bracelet, a Marine Blue tropical rubber strap, or vintage oak leather straps in dark or light brown.
The traveller's favourite complication in charismatic new clothes
C65 Aquitaine Bronze
Finally, the bronze version: a truly glorious looking watch, with the Marine Blue of the dial and bezel contrasting with this richest, most charismatic of case materials perfectly. Bronze is not just horology's hottest metal, it's one particularly well suited to dive watches – and, considering its historical associations with maritime adventure, retro dive watches in particular. Not that we need to convince you of how well the Aquitaine works in bronze: just look at it!
Bronze isn't an especially shiny metal, not least once it's acquired its famously distinctive patina, but it works brilliantly with precise, shiny details – something the Aquitaine Bronze, as with the other models in the range, is awash with.
"The look of the dial has changed considerably from the old C65s," Will Brackfield says, "with round markers now combining with triangles. We liked the 'sunray' finish on the C65 Super Compressor dials so much, we've introduced it here, too: it really brings the dial to life. Although the Aquitaine has the same basic 41mm diameter as the old C65, the bezel is bigger and the dial opening noticeably smaller, which – together with the lugs shrinking – makes the watch feel smaller overall. From extreme angles, the box crystal distorts the shape of the hands too, giving real character and an authentic vintage feel. It could be considered a weakness, perhaps, but is actually something to celebrate – a 'flaw' that makes the watch better."
Speaking of the hands, the simple batons of the old C65 have been replaced by a softer version of the triangular hour hand/baton minute hand aesthetic of the current C60; there's a super-sized blob of lume on the seconds hand, too. "It's now the superior Grade X1 lume, as on the C60, and glows blue, whatever its colour in daylight," says Will. A small thing, perhaps, but in the past CW watches have had either blue or green lume, and from now on it will always be blue, unifying the look and helping tighten up Christopher Ward's overall design DNA."
The raft of small but important improvements even extends to the straps, which are of better quality leather than before – almost suede-like in its softness – and introduce a new, patented system to keep the second loop secure. A potential weak spot, this second keeper has its own little keeper holding it in place, preventing messiness, as well as wear and tear. Aquitaine Bronze comes on a range of strap options: blue canvas webbing, blue rubber, and leather in a dark brown vintage oak. It's also – an important point – the only chronometer in the launch line-up, using the COSC version of Sellita's SW200-1.
The organic appeal of bronze meets Christopher Ward's most tactile watch yet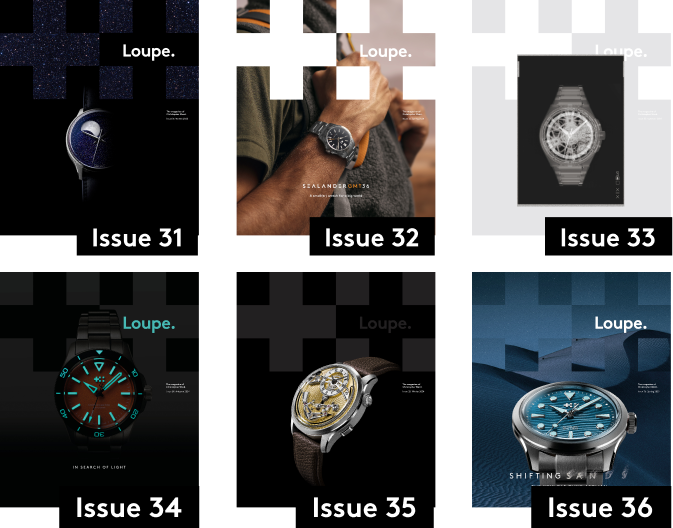 Sign up to Loupe magazine
Loupe is Christopher Ward's quarterly in-house magazine. If you want to know what's happening at CW (and you love great journalism), this is where to start. Alternatively, you can read all our back issues on your computer, tablet or phone.
Order your free copy
Read Loupe online