With more links, increased polishing and super-slim construction, The Consort is Christopher Ward's most jewellery-like bracelet yet
Christopher Ward has launched a stunning new dress bracelet: The Consort.
Designer William Brackfield says: "The bracelet is thinner and more dressy than our sporty 'Bader' bracelet. It also has more links per row – increasing comfort and flexibility."
At just 3mm deep, The Consort bracelet has five links from left to right, with polished links around the centre of each row and polished flanks on the side. And while it's debuting on the latest Sealander watches, it will be rolled out across the whole collection soon.
A considerable amount of work and research has gone into The Consort, according to CW's head of production in Biel, Jörg Bader Jr. "When you take in every component – from links to screws, rivets to clasps – Consort has 200 individual parts," he says. "There are 120 individual links alone."
According to Jörg Jr, each bracelet undergoes around 100 production stages before it's ready. And an element which plays a vital role is the laser-etched butterfly clasp.
"The Consort has 200 individual parts"
"The hand-made clasp is taken from The Twelve's bracelet – though here there's increased polishing," says William. "This makes it feel more luxurious and gives the wearer an undisturbed 'journey' around the bracelet. You might not notice the clasp when you're wearing it – it's so well-engineered."
The first two watches to feature The Consort are the 36mm C63 Sealander Automatic in 'Mulberry Red' and 'Dragonfly Blue' C63 Sealander GMT. "We choose these two models because the fresh colours and sunray dials work well with the jewellery-like feel of Consort," says Jörg Jr.
For Christopher Ward CEO Mike France, The Consort is a natural progression for the company – offering customers greater choice and enabling them to change the character of their watch without buying a new timepiece.
"The Consort bracelet exists because there's a clear demand for a dressier, more elegant bracelet," he says. "A consort supports a monarch, and The Consort bracelet fulfils this role perfectly with a watch."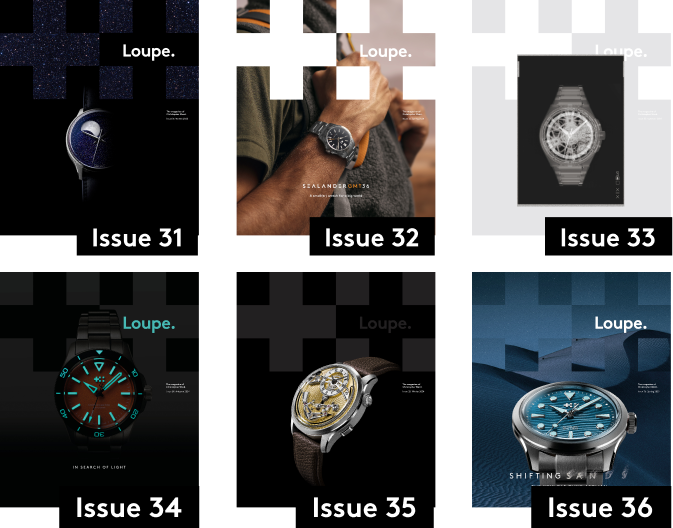 Sign up to Loupe magazine
Loupe is Christopher Ward's quarterly in-house magazine. If you want to know what's happening at CW (and you love great journalism), this is where to start. Alternatively, you can read all our back issues on your computer, tablet or phone.
Order your free copy
Read Loupe online