No one knows our watches like our founders, owners and team leaders in Maidenhead and Biel. So if you're looking for guidance on a watch that's right for you (or the person you're buying for) here's where to start.
Peter Ellis, co-founder
C65 Bronze Aquitaine
Best for: Those who love a vintage feel to their watches
"There's something about bronze watches I find hard to resist – which is why I have several in my collection. I like how a bronze case adds a vintage feel to any watch and recalls the diving bells from the early 20th century. That's why my favourite watch this year has been the C65 Aquitaine Bronze. I've been wearing it since it was released, and I love how the dark blue dial contrasts with the case, especially as the bronze is starting to patinate. I also like the fact it's a chronometer."
Jörg Bader Senior, CEO Switzerland
C1 Moonglow
Best for: Those who appreciate the art of horology
"Few watches have made me as proud as the C1 Moonglow. Thanks to its JJ04 modified mechanism it will follow the moon's movements for 128 years – nearly two human lifetimes. Then there are the looks. We've created two textured 'moons', which you can view through the sapphire dial and watch their progress around the night sky. Even though I've been close up with the watch since its launch, I'm still in love with it."
Jörg Bader, Head of Product Switzerland
C63 Sealander Lucerne Blue LE
Best for: Those who love a pop of colour
"During summer, I always start the day with a swim in Lake Biel. That's why this Christmas, I'll be wearing the 39mm version of Sealander Automatic in Lucerne Blue. The colour is inspired by Lake Lucerne, so it reminds me of sunny days by the lake. It's a perfect watch: the design is simple and sophisticated, the size is ideal for my (thinnish) wrist and the colour is so chic. Which is probably why my wife 'borrows' it on a regular basis!"
Mike France, CEO and co-founder
C63 Sealander Elite
Best for: Those who want a lightweight sports watch
"The C63 Sealander Elite has already been championed by endurance cyclist (and CW Challenger) James Hayden. And while I'm not up to completing the Silk Road Mountain Race quite yet, I've just won a place to cycle in the Ride London event. There, I'll be wearing my titanium C63 Elite. One, it's incredibly light – just 45g. Two, it's powered by a super-accurate chronometer so I can time myself, and three: its ingenious retractable crown will protect the back of my hand while riding."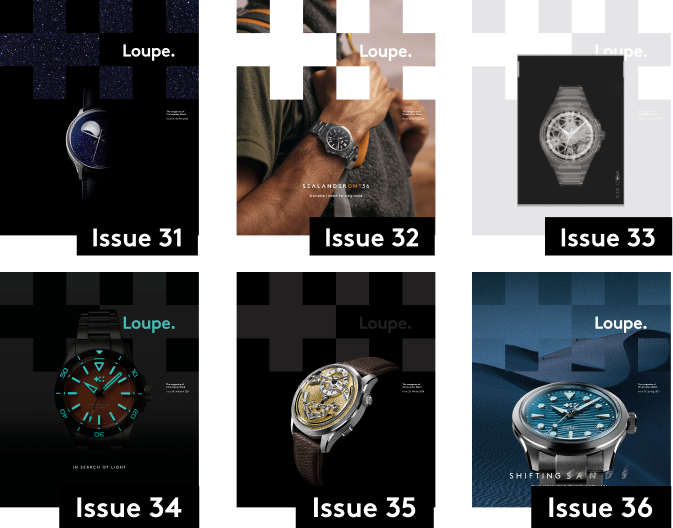 Sign up to Loupe magazine
Loupe is Christopher Ward's quarterly in-house magazine. If you want to know what's happening at CW (and you love great journalism), this is where to start. Alternatively, you can read all our back issues on your computer, tablet or phone.
Order your free copy
Read Loupe online